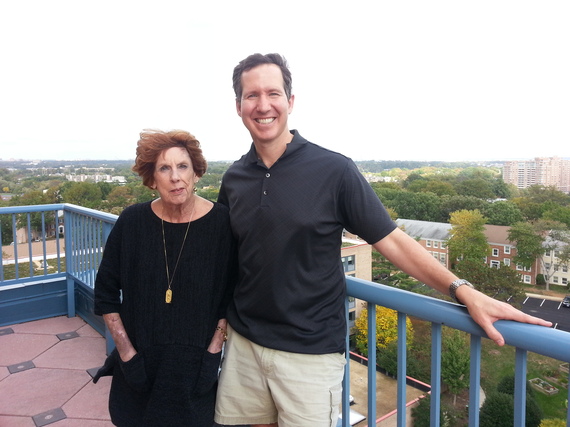 I only knew Sarah Brady for a short time. We met in June of last year, in time for a final interview with her and Jim. For the next several months, Sarah and I would reconvene to record her story. As anyone who has spent even a few moments with Sarah can attest, she was a genuine and caring person who just enjoyed life. For someone who experienced a lifetime of tragic events, from her husband's near fatal injury to repeated bouts with lung cancer, Sarah always seemed to find the wonder of things. One time when I went to meet her at the reception area of her building, she was nibbling on some candy corn from a tray at the front desk.
"Candy corn is my absolute favorite. Have some!" Sarah exclaimed, holding out the tray to me.
As someone who was welcomed into her world with a smile and an outstretched hand, I feel very fortunate. On one of my earlier trips to Washington DC, Sarah joined my family and I at the Press Club. My two young boys were more elated with their toy spy gadgets from the Spy Museum than being in the presence of someone as famous as Sarah Brady and that was fine by Sarah. She was genuinely interested in engaging my sons on their level, asking about what each of the gadgets did and getting to know them as she had countless other people over time.
"Wanna' hold my pen?" my 7-year-old Jamie asked, holding out his brand new electric shock pen.
"Sure!" Sarah replied enthusiastically.
Now, I was not going to allow my son to shock Sarah Brady. I explained the gag, but Sarah just brushed away my protestations and grasped the pen anyway.
That's how Sarah rolled. She knew how to connect with people young and old, rich and poor, of every background. She was one of us.
I was with Sarah at the Brady Campaign's Bear Awards, held one torrential night in Manhattan last October. I marveled at Sarah's poise, giving an emotional speech in front of hundreds of people after Jim's passing only weeks earlier. How many of us could get up and do that so soon after the death of our beloved? But that was Sarah Brady, a woman who worked tirelessly for the cause she most believed in; a woman who would fly all over the country to speak to people about the Brady Bill when she was absolutely terrified of being on an airplane; a woman who beat lung cancer with a survival rate of 20 percent; a woman whose life was defined by the title of her book: A Good Fight.
After Sarah left the podium that night in October, she told me she was leaving the event early to catch a train back to Washington. I escorted her outside to hail her a cab, only to discover that none were available due to the downpour. For a moment it looked as though Sarah might not make her train. Then, in the watery light of the street emerged a pedicab, its back hatch sporting a zippered plastic cover.

"Sarah, what do you think about riding in a pedicab?" I asked.
"Sure!" Sarah said enthusiastically.
So, I hailed this cyclist and we climbed into the crazy contraption on the back and got zippered in. The pedicab swerved between cars, hitting pothole upon pothole and we were bounced back and forth as if on a rickety roller coaster. I turned to Sarah to make sure she was okay and she had the biggest grin on her face.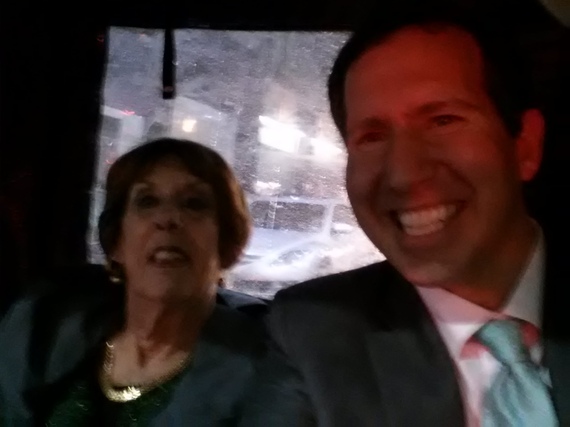 "This is the most fun I've ever had in New York!" she joyfully exclaimed.

Soon after, I brought Sarah to her train and made sure she got onboard okay.
"You're so nice, Dana," she said to me and all I could muster was, "No, Sarah, you're so nice."
"Nice" really does not sum it up when one has saved countless thousands of people's lives as Sarah did. Some have debated the Brady Law's impact, but it has prevented over 2.4 million gun sales to criminals or mentally ill people since its inception. I believe people were spared the devastating affects of gun violence thanks to Sarah Brady.
I said my goodbyes to Sarah that night and her train left Penn station. Although we would communicate regularly from a distance, it was the last time I would see her.
I miss Sarah. I miss her fierce sense of joy and determination. She will always have a place in my heart. I was honored that Sarah and Jim shared their lives with me, so that I could share their story with a much larger audience. It is a true privilege to be making this film about two of our greatest American heroes.
__________________________
Dana H. Glazer is an award winning filmmaker who is making the feature documentary, Brady and Goliath: Gunfight on Capitol Hill, about Jim and Sarah Brady's battle against the NRA to get the Brady Bill passed. To learn more please visit www.DaneGramp.com or @bradyandgoliath.
REAL LIFE. REAL NEWS. REAL VOICES.
Help us tell more of the stories that matter from voices that too often remain unheard.