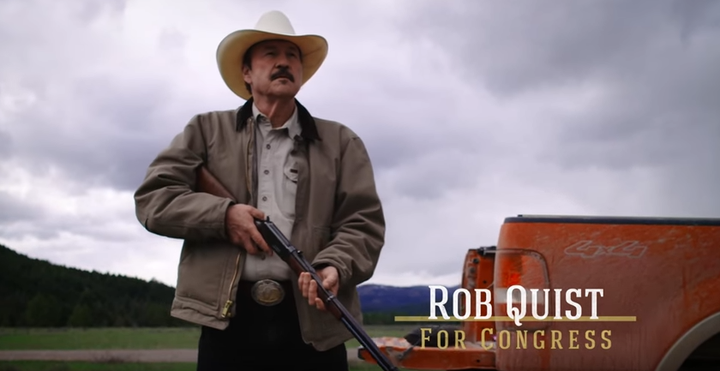 Shots have been fired in the campaign leading up to Montana's May 25 special election. Literally.
Both Republican candidate Greg Gianforte and Democratic candidate Rob Quist have aired ads in which they load a rifle and obliterate a computer and a TV screen, respectively. In his ad, Gianforte accuses Quist of wanting to create a national gun registry on a "big government computer, making it easier for federal bureaucrats to grab your guns." Gianforte blasts away at a computer screen, saying, "Some folks just don't get it. Our Second Amendment rights are not up for negotiation."
Quist speaks out against a separate attack ad from Gianforte in his spot. "I won't stand by while a billionaire from New Jersey attacks my Montana values," Quist says before firing at a TV screen.
Gianforte and Quist, along with Libertarian Mark Wicks, are running to fill Montana's at-large congressional seat in the special election, which was called after former Rep. Ryan Zinke (R-Mont.) became secretary of Interior in President Donald Trump's cabinet. Montana skipped a primary election, instead asking party leaders to nominate candidates.
Quist, a folk musician with no political background, has been leaning on his Montana roots to give him an edge over Gianforte, a software entrepreneur who is originally from New Jersey. Gianforte's political experience is limited to an unsuccessful 2016 gubernatorial campaign.
Jeffrey Greene, a political science professor at the University of Montana, said Gianforte has the advantage considering he lost only narrowly to the state's Democratic incumbent, Gov. Steve Bullock, last year; that race helped him develop name recognition that Quist lacks.
"Democrats have had trouble coming up with strong candidates for the state's lone seat on the House for a long time," Greene said. "This election will likely not be different."
A Democrat hasn't represented Montana's congressional district since 1997, when Pat Williams held the seat. In fact, the state has sent a Democrat to the House just five times in its history, including the brief period when Montana had two seats instead of one.
The Congressional Leadership Fund, a super PAC, has led the spending with outlays of nearly $2.3 million. Some of the group's most generous contributions in the last month, according to FEC data, have come from the American Action Network, a politically active nonprofit that doesn't have to disclose its donors; RAI Services Co., a subsidiary of tobacco conglomerate Reynolds American; and Steven A. Cohen, the founder of Point72 Asset Management. Together they've given the super PAC almost $3 million in contributions.
Of the two candidates, Quist has been the more successful fundraiser — though not at first. From the start of 2017 until the end of March, he brought in about $900,000. In the same period, Gianforte raised roughly $1.6 million. From the beginning of April to May 5, however, Quist raised about $2.4 million, according to the FEC, while funds reeled in by Gianforte stayed about the same at approximately $1.8 million.
Two things make Quist's haul somewhat more impressive: Gianforte's total includes a $1 million loan from the candidate; and Quist does not accept money from lobbyists or corporate PACs, unlike Gianforte.
In 2016, Democrats criticized Gianforte for spending about $5 million of his own money in his campaign for governor.
Since May 5, Quist has received just over $61,000 in donations of $1,000 or more from his supporters, according to reports he's filed with the FEC. Gianforte has brought in $95,300 in contributions of that size since then.
There is currently no FEC data for Libertarian candidate Wicks.
The Montana special election is one of several such races being held this year to pick replacements for House members who have joined the administration — and will be the first general election. It's also an early signal of whether the Democrats can hope to win the 24 additional seats they'd need to regain control of the House by the time votes are counted in November 2018.
The Trump factor, of course, could play big. In his 2016 gubernatorial campaign, Gianforte distanced himself from the Republican presidential nominee, but after Trump won and was especially favored in Montana, Gianforte aligned himself more closely with the incoming commander in chief. Donald Trump, Jr., and Vice President Mike Pence have made appearances at campaign events for Gianforte in the past week — even as events in Washington played against Trump: his firing of FBI Director James Comey; the revelations that he shared highly sensitive information with Russian officials and that he'd asked Comey to stop investigating former National Security Adviser Michael Flynn; and the appointment by the Justice Department of an independent counsel to continue the investigation of possible collusion between the Trump campaign and Russia.
Meanwhile, Quist is taking the populist route: Sen. Bernie Sanders (I-Vt.) is scheduled to campaign for Quist at a rally this weekend. In the 2016 Democratic presidential primaries, Sanders won Montana over former Secretary of State Hillary Clinton.
In the GOP's favor, Greene, the University of Montana professor, said he suspects voter turnout will be light next week, as it often is for special elections with only one race at issue. And that will most likely help Gianforte, he said, since Republicans tend to have higher voter turnout rates regardless of the election.
Update, May 18: Republican candidate Greg Gianforte has received $95,300 in contributions of $1,000 or more since May 5. We have updated the text of the story to reflect that.
Calling all HuffPost superfans!
Sign up for membership to become a founding member and help shape HuffPost's next chapter
BEFORE YOU GO