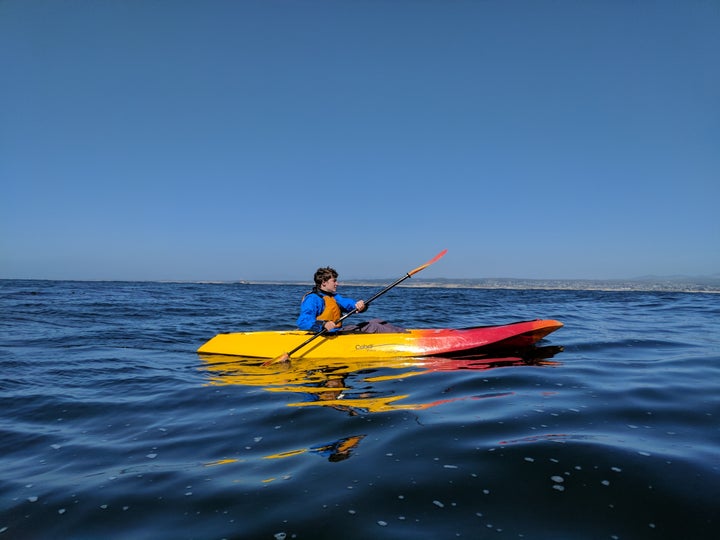 For days, the Humpback whales had been taunting us from the bay as if they knew what we wanted.
Every now and then they'd breach the surface or send a spout of water high into the mist, as if to say, "Catch us -- if you can." The rare sea otters teased us, too, playfully popping their heads above the surface near the Monterey Bay Aquarium.
"Here we are!" they'd chirp -- if they could talk.
They all seemed to know that in Monterey, a quiet town on Northern California's coastline, the action is on the water. You need to get down into the waves. And that's where we wanted to be, too.
Except that we couldn't. High winds had been kicking up whitecaps since the day we checked into the Monterey Plaza Hotel & Spa, making a sea kayaking excursion impossible for this family of four. A more adventurous and experienced outdoorsman might brave the swells and currents, but this wasn't for me and definitely not for my three kids, ages 10, 12 and 15. It was as if the undersea creatures were aware of our dilemma.
Fortunately, there's plenty to do while you wait. The Monterey Bay Coastal Recreation Trail, a rails-to-trail project that runs 18 miles from Castroville to Pacific Grove, begged to be explored. The path winds through Cannery Row, past the Aquarium and Point Cabrillo, to a stretch of rocky coastline overlooking Lovers Point State Marine Reserve. Yet every time the kids looked at the ocean, they saw the marine life and they wanted to be there.
"We'll get there," I assured them.
But I had no idea if we would. Weather is hard to predict, and even if we could get on the water, I wasn't sure if we should. As a former scuba diving instructor, I know how dangerous and unpredictable the ocean is.
After several days of wandering up and down the trail and spending the rest of our time wistfully watching the waves from our room at the Monterey Plaza, we finally caught a break. The weather cleared, the winds calmed, and we walked over to Adventures By The Sea just across the street and rented kayaks.
Here's the thing about a three-on-one -- three kids, one adult -- in the ocean. Each child wants to go in a different direction. My 15-year-old son, Aren, paddled his way to the aquarium to see the otters as if he were racing (he came in first by about ten minutes). My 12-year-old had other ideas and headed directly into the bay, despite repeated requests to follow me. We eventually found him, exhausted, on the way back in. Even their younger sister, who is only 10, had her own ideas, which involved splashing me in the back of our tandem kayak with her oar.
And yet, we made it, and our efforts to get into the water -- however chaotic -- were rewarded when a bevy of otters swam over to greet us as we returned to shore.
"They're so cute!" exclaimed my daughter, who is the arbiter of cuteness in our family. Yes, they are.
But the short trip into the bay only whetted our appetite for sea life. Melissa, our project manager, had a lead on a guided kayaking trip in the Elkhorn Slough, so that's where she ordered us to go. And I'm glad she did. Our guide from Monterey Bay Kayaks not only managed to persuade all three kids to paddle in the same direction, but kept their attention fixed on the water.
Elkhorn Slough is a playground for southern sea otters, with their cat-like faces and bubbly personalities. At last count, there were 125 of them in the estuary, along with hundreds of harbor seals and noisy California sea lions. Speaking of loud, the real noise comes from above, with a total of 340 species of bird in this small ecosystem.
The slough presented its own challenges: a current flowing in our outbound direction, which made everyone believe paddling in the inlet would be easy. Then we turned around and found out otherwise.
But the workout was worth it. The kids gained a deeper appreciation of the fragile marine life, something they might not have clearly grasped with just a visit to a museum or aquarium. That isn't a knock on Monterey's aquarium -- it's a first-rate attraction. But it's no substitute for being in the ocean.
As for the whales, they had their way in the end. We didn't see any the way we wanted to, but we'll be coming back again. And this time we're bringing the big camera. If we can't get close, then we'll at least get a close up.
Where to stay The Monterey Plaza Hotel & Spa offers family-friendly accommodations. My daughter slept in a special bed inside a tent, which she loved. The hotel's restaurant, Schooner's Coastal Kitchen & Bar, also has an impressive and kid-friendly menu. Best amenity? The sea-facing rooms come with binoculars.
Where to eatMonterey is full of great food options for kids. Check out Gianni's Pizza (831) 649-1500, which has a great selection of gluten-free options. If you like gluten, head over to Pavel's Bäckerei in Pacific Grove (831) 643-2636 and enjoy one of their enormous donuts. For sandwiches, go to the Perfect Crumb Bakery (831) 241-6269. Pick up a bag of their granola. You can thank me later.
Related