The impacts of climate change are becoming an ever starker reality around the world, with 2016 on pace to be the hottest year in human history - topping the previous record set just last year. While the Paris Agreement represents significant progress toward addressing this global challenge, international leaders need to further accelerate emissions reductions to keep global temperature rise "well below 2°C above-pre-industrial levels and aiming for 1.5 degrees Celsius," as called for in the landmark agreement.
And that need is more urgent than ever. With current greenhouse gas emissions levels, we are tracking toward a much more severe scenario: a planet that is 3 to 5°C degrees warmer by the end of the century and potentially much sooner. As we have already experienced with increasingly extreme and variable weather around the world--from unprecedented heat waves to increasingly frequent and intense "1,000 year" floods occurring year after year -- even just 1 degree Celsius of warming yields devastating impacts on humans and wildlife.
Building resilience to these increasing extremes and many more unavoidable effects of warming is imperative. It is especially important in developing countries like Myanmar, where millions of subsistence farmers with limited access to services and poor infrastructure are disproportionately vulnerable. By some metrics, Myanmar is the second most vulnerable country to extreme hazards like floods and extreme storms. I have seen this first hand through our engagement with local communities in the dry zone town of Pakkoku, where changing rainfall patterns have already made farming in an arid region even more difficult, forcing people to move to the capital as climate refugees.
As we are increasingly seeing around the world, one of the best ways to help communities like these adapt to such changes by working with nature to increase resilience, from providing coastal defenses against storms to reducing flood risk for millions of people downstream. Today, Myanmar is in a unique position to do exactly this: it is transitioning to democracy and rapidly growing its economy after decades of military rule - which effectively limited economic growth and exploitation of its natural resources for the past 50 years. As a result, the country now has an opportunity in its development trajectory to increase prosperity for millions while also "baking in" climate resilience from the start, in part through protecting its abundant natural wealth. That's wonderful news for conservationists worldwide as Myanmar is home to some of the last truly pristine, healthy ecosystems and rich biodiversity on our planet.
When other nations faced critical decision points like these in the past, a deficit of information about the value in preserving nature often contributed to unsustainable development outcomes that also contributed to increased vulnerability to climate change. The economic benefits of natural resource exploitation through carbon intensive and extractive industries like timber, mining, and oil and gas have always been well understood. Yet, those associated with protecting and conserving ecosystems and biodiversity and enhancing climate resilience -- clean air, water, carbon sequestration, local climate control, flood retention, or coastal defenses against extreme storms -- have been more obscure.
But now we have the power (and the data) to change that dynamic. Now common technological tools, like geospatial information systems (GIS), which make use of high-quality satellite imagery, are being used in ever more innovative ways to help us put prices on these benefits. As a result, today conservation scientists can produce comparable, "apples to apples" assessments of the economic values provided by intact, healthy ecosystems. And every year, we are learning new ways to conserve nature as new research and studies add to our understanding of how benefits from on-the-ground preservation can outweigh those from extraction and exploitation.
We have much more to learn, especially from a largely understudied element of this growing field: how exactly can intact ecosystems help us adapt to our changing climate? That's why I'm here at the IUCN World Conservation Congress this week. I'm here to talk with conservation practitioners and leaders from around the world about our efforts to develop this kind of new information for decision-makers in Myanmar.
WWF is working with diverse partners and the national government to create nationwide maps of Myanmar's ecosystem services and explain how these natural systems - mangroves, forests, watersheds -- buffer against both immediate and longer term climate change impacts. Our analysis shows how Myanmar's intact inland forests provide clean water by reducing soil runoff into rivers and streams, reduce flooding by retaining and slowing down water flows, and how its coastal mangroves and reefs provide key protection against increasingly extreme storms.
With this improved understanding of the services these natural systems provide, Myanmar can make progress toward its goal of developing a green, resilient economy. And, it can become a model for how to leapfrog over standard brown development and manage the ever increasing impacts of climate change in the 21st century.
WWF will continue working with our partners in Myanmar and around the world to provide information on the enormous benefits nature provides to local livelihoods and national economies. In this way, we can help governments around the world make similar investment and planning decisions that reduce the difficult trade-offs between economic growth and ecosystem conservation, all while building resilience to the effects of our changing climate.
This post is part of a series on the World Conservation Congress taking place this week. Held every four years, it brings together about 6,000 people, including heads of state, government officials, business leaders, representatives from indigenous groups, scientists, academics, influencers, educators, artists and NGOs, from all over the world to discuss and decide on solutions to the world's most pressing environmental challenges. To read all the posts in this series click here.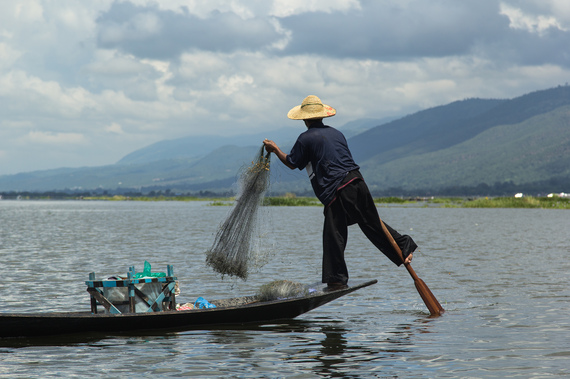 A Burmese fisherman paddles with his foot while setting a new net at Inle Lake, where local villages on stilts have perfectly adapted livelihoods to living and relying on the numerous benefits provided by the surrounding ecosystem, from fish to weaving materials and ever-increasing tourism dollars. These livelihoods are increasingly vulnerable to climate change, as higher temperatures increase droughts and lower water levels to new lows. Photo Credit: © Ryan Bartlett
Popular in the Community