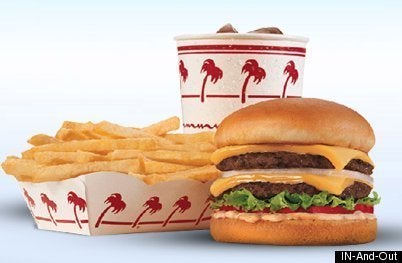 Fox 11 is reporting that some April Fools pranksters with a lot of time on their hands have played a cruel hoax on the burger loving people of New York City. Residents woke up to signs that beloved Southern California institution In-N-Out burger was opening shop in the Big Apple.
Posters on empty storefronts in several New York city locations declared "In-N-Out Burger, Coming Summer 2010," according to several readers of popular NYC food blogs .

In one of the locations, the empty storefront vacated by Virgin Megastore in Union Square, jokers dressed up as In-N-Out Burger employees could be seen handing out flyers to passers-by.
Phyllis Cudworth, a kindly spokeswoman for In-N-Out, confirms that "someone is playing a fool's joke on us." Cudworth says In-N-Out doesn't have any plans to open locations in NYC. When asked why the hell not, she explained, "We're a small, family-owned business out here on the West Coast. We grind all our own all beef patties and deliver them to our locations every day, so because of the logistics it's just not something we're considering."
Sorry New York, at least you can still get in line for a Shake Shack burger.
Related
Popular in the Community