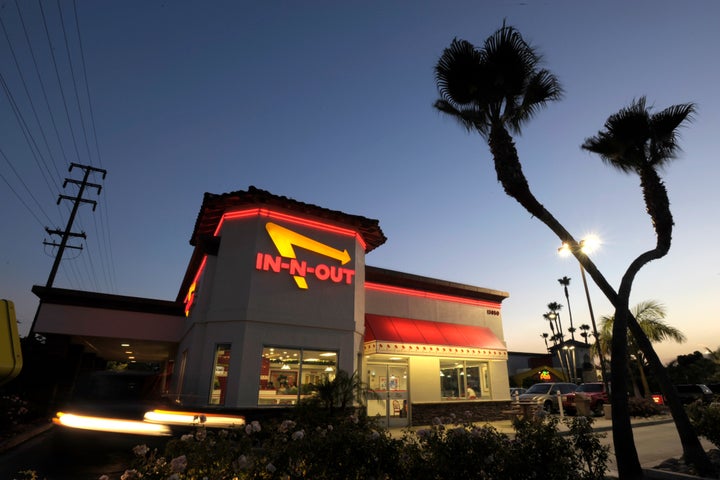 This story comes courtesy of Forbes.
Lynsi Torres appears as a likely future billionaire in the "Up-and-Comers" section of the Billionaires Issue of Forbes Magazine, published March 25.
Numerous publications have said that Lynsi Torres, the 30-year-old, drag-racing heiress to In-N-Out Burger is a billionaire. She's not there yet. But give her time.
The beloved California burger chain is a darling among consumers and is growing rapidly, but it's doubtfully worth $1 billion. More likely it's worth $800 million, based on comparisons to other similar "better burger" spots like Red Robin, Sonic and Jack in the Box. Plus Lynsi doesn't own all of it. She is the beneficiary of two trusts that collectively own 72.4% of the fast-food chain. The trusts, made public thanks to legal tussles between Lynsi and two cotrustees, show that she received a third of the In-N-Out fortune when she turned 25 and got nudged up to half the shares of the trusts when she turned 30. She'll control the trusts fully when she turns 35. Plus, she has an outright claim to 23.6% of the company, bringing her total stake today to roughly 60%.
Right now, we peg her net worth at $500 million, which still makes her one of the richest 30-year-olds in the world, and possibly the richest 30-year-old woman alive today.
Here's an inside look at the 2005-2006 court documents obtained by Forbes, detailing the fight between co-trustees, Richard Boyd and Mark Taylor, as they battled for control of trusts set up for Lynsi (I use her first name because her last name has changed several times). What they reveal is a sordid story of tumult and heartbreak that rocked In-N-Out's royalty and their closest confidants, spilling the family's ownership secrets in the process.
A History Of Untimely Deaths
In 1948, Lynsi's grandparents, Harry Snyder and Esther Snyder, founded In-N-Out Burger in Baldwin Park, California. It was the first drive-thru hamburger stand in California. Harry picked the meat at butchers daily. Esther ran finances. When Harry died in 1976 at the age of 67, the company had grown to 18 stores — with each restaurant serving as a totem to the family's very public devotion to quality.
The younger of Harry's two sons, Richard, took over as president at the age of 24. His older brother, Guy, served as his VP. In-N-Out grew to 93 locations. In 1992, the company expanded beyond California for the first time and opened an In-N-Out in Las Vegas. Guy is Lynsi's father, Richard her uncle.
Tragedy struck. In 1993, Richard, 41, died in a plane crash in Santa Ana. He had no living descendents. His mother Esther oversaw day-to-day operations until Guy took over later that year.
In October 1997, the Superior Court of California in Los Angeles approved a petition from Guy to name successor trustees to the Lynsi Snyder Trust 1989. It held a 6.5% stake in In-N-Out. He named three trustees, one of which was VP Richard Boyd. VP Mark Taylor was named as a replacement for the previous three if they ceased or failed to fill their role.
Guy died in December 1999 in his Lancaster, California home. He was 48-years old. A January autopsy report named the cause of death as an accidental overdose of prescription Hydrocodone, and cited a previous history of drug abuse --including three previous painkiller overdoses in 1999. Again, Esther took over operation of the company.
Taylor and Boyd began their service as cotrustees of the Lynsi Snyder Trust. They also served alongside president Esther on the company's three-person board.
On September 16, 2005 Taylor and Esther sent a letter to Boyd, telling him that when his contract was up in little over a year, he would be fired. Another letter from Taylor was sent to In-N-Out's board of trustees on November 8, telling them that a meeting would soon take place to discuss Boyd's termination. Early reports suggest that the conflict quickly became hot gossip throughout the company. In early December, Lynsi, Esther and Taylor appeared in a video message to employees. "Don't believe everything you hear," Taylor warned.
The reasons for the hubbub surrounding Boyd became clear on December 6, when he filed a petition with the California Superior Court in LA for breach of contract. The petition makes for salacious reading.
Boyd accused Lynsi (then Lynsi Martinez) and Taylor of having "conspired and orchestrated" to oust Boyd as cotrustee. He noted that Taylor was the husband of Lynsi's half-sister Traci, and that as the trusts are written, were anything to happen to Lynsi, her "husband, mother and two half-sisters would receive nothing." His allegations (let me reiterate, allegations) are numerous:
Lynsi "has stated that she desires to have a child, but has been unable to do so because she has fertility problems."
Esther had been marginalized by company officers.
"Taylor has stated his desire to become Chief Executive Officer and replace Esther as INO president. Taylor has also opined that Esther Snyder should be removed from her INO positions as president and director, and placed in a home."
Taylor wanted to destroy In-N-Out's storied corporate culture in the name of creating a massive multinational company.
"Esther Snyder has acknowledged to Boyd that the others 'only want me dead.'"
Esther was unaware of the contents of the termination letter to Boyd when she signed it.
Lynsi, despite being a minority shareholder at the time, in 2003, wanted business cards that said "Owner"
Lynsi, upon learning that Boyd would not resign, told Taylor "Doesn't that green-eyed monster know what the Snyder family wants?"
Taylor financed a remodel of his home by paying laborers already working on In-N-Out projects at reduced rates, and that he may have charged expenses to company construction projects.
In all, Boyd filed five petitions against Lynsi, Taylor and In-N-Out. Taylor and Lynsi countersued, and the parties settled out of court. Everyone involved denied all claims. Boyd was removed from his positions with the trusts and at the company. The settlement came on July 7, 2006. Less than a month later, on August 4, Esther died. Taylor, who served as the company's president from 2006 until 2010 still serves as trustee.
In Boyd's petitions he outlined clearly what the trusts contain, and the rules surrounding Lynsi's entitlement to them:
The Lynsi Snyder Trust contains 4,370 shares of the company, still 6.5%, (meaning a 100:1 stock split occurred between when the trust was created in 1989 and when the petition was filed in 2005).
The Esther Snyder Trust contains 44,147 shares of the company, or 65.9%. (Note: Esther passed away in 2006, Lynsi as her only living heir, inherited the trust.)
Both trusts are set up to provide her with one third of the equity held within them upon turning 25, one half of the shares upon turning 30, and 100% of the shares upon turning 35.
Lynsi already owns 15,811 shares of the company outright. That's 23.6% of the company.
There are no other known owners of In-N-Out. But these trusts and those shares that Lynsi owns only account for 96% of the company, meaning 4% is likely owned by someone else.
Lynsi, who will turn 31 on May 5, has been granted half the shares in the Lynsi and Esther Snyder trusts, while Taylor still votes the remainder. Combined with those shares she owns directly, she controls nearly 60% of the company. Forbes has confirmed with Carl Van Fleet, an Executive Vice President at In N Out, that this disbursement of shares by age is still in effect.
In-N-Out produced estimated revenues of $625 million last year, according to Privco. Using price-to-sales ratios of comparable companies Jack in the Box, Red Robin Burgers and Sonic Corp, Forbes places a rough valuation on the company of about $800 million. While others might be tempted to compare the chain to larger restauranteurs like McDonald's, Wendy's or Yum, we don't think these larger, more efficient chains with perkier multiples are truly comparable to smaller-scaled and regionally-focused In-N-Out. Among other strategic decisions, In-N-Out pays employees a wage significantly higher than the minimum, and eschews frozen meat, microwaves and heat lamps in the name of freshness — choices that undoubtedly dent profit margins. Using our figures, we estimate that Lynsi's 60% is worth roughly $500 million.
Support HuffPost
The Stakes Have Never Been Higher
Related
Before You Go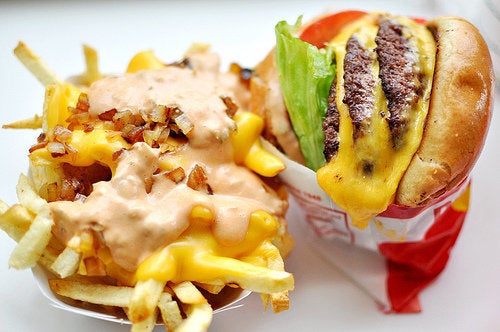 SECRET MENUS
Popular in the Community