Cult favorite In-N-Out Burger is suing Aberdeen, MD burger joint Grab-N-Go for trademark infringement and dilution. The suit, which is posted in its entirety here, alleges that Grab-N-Go cribbed menu ideas and graphic design from the Irvine-based fast food chain, and asks for damages to compensate for damage to the integrity of the In-N-Out brand. Eater's Raphael Brion seized on the similarities between Grab-N-Go's "Wild Style Burger" and In-N-Out's off-the-menu but widely-known "Animal Style Burger."
There are also some major differences between the two. Grab-N-Go serves hot dogs, for example. But the overall format of the restaurant is pretty close to the one at In-N-Out, as this chart comparing their menus demonstrates: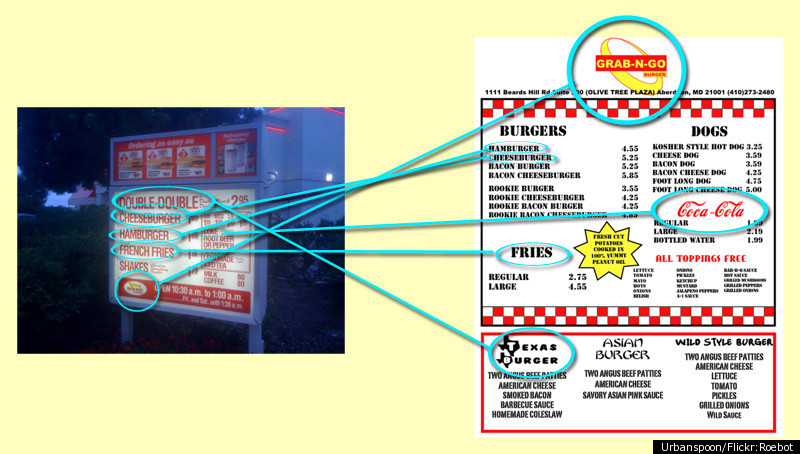 To some degree, of course, hamburgers, hot dogs and Cokes are just what fast food restaurants serve. And restaurant copyright law is notoriously complex. (Those two factors have also complicated this summer's Shake Shack-Milk Burger scuffle.) And for what it's worth, the Yelp reviews for Grab-N-Go do not make it sound like a worthy competitor to the chain that Consumer Reports called the America's favorite. But the logos really are similar. And maintaining the purity of the In-N-Out brand will be increasingly important if the chain decides to expand East.
For more background, ABC reported on the story in Baltimore.
UPDATE 8/26: Grab-N-Go Burger is "livid" about the case and the controller claims he has never heard of the West Coast chain.
CORRECTION: An earlier version of this article misstated the nature of the lawsuit. In-N-Out is suing for trademark infringement and dilution, not copyright infringement.
Calling all HuffPost superfans!
Sign up for membership to become a founding member and help shape HuffPost's next chapter