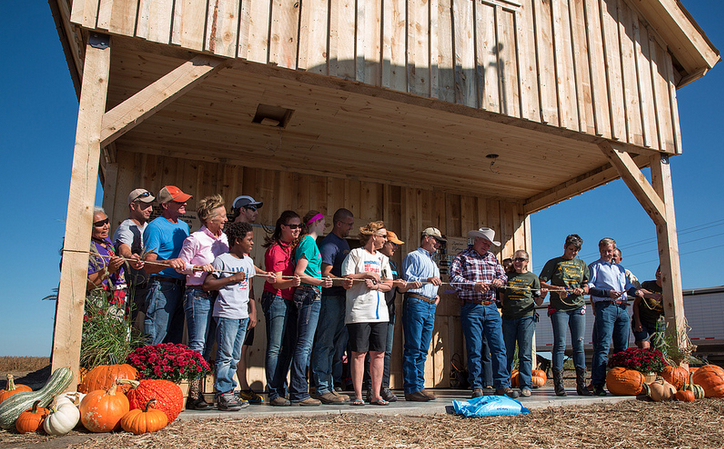 Watching swarms of Nebraska ranchers surrounding the White House got Jane Kleeb wondering about more creative ways to be political protester.

Kleeb's advocacy group, Bold Nebraska, had seen friends and neighbors demonstrating against TransCanada Corporation's Keystone XL pipeline, which would transport tar sands oil from Canada through Nebraska's ecologically sensitive Sandhills area. Yet Bold Nebraska staffers knew that the Pipeline Fighters needed to go beyond ad-buying and phone-calling campaigns targeting their lawmakers. Kleeb said:
We wanted to fight the pipeline and also fight for the energy we wanted. The TransCanada contract [for the Keystone project] says the pipeline route can't have any permanent structures within it. So why not put clean energy on the route?
Bold Nebraska has now built that clean energy and expects supporters will come far and wide to check out the results. The organization has raised more than $67,000 for Build Our Energy, using the funds to create a solar-powered barn and wind turbine directly in the pipeline's proposed path. The donations helped cover the cost of American-made building materials, video appeals from the farmers who own and work the affected lands and creating #NoKXL billboards, which area volunteers will raise along the pipeline route later this month.
Pipeline Fighters completed construction late last month in York County, about 50 miles west of the state capital, Lincoln. Two weekends of work began with a groundbreaking ceremony and blessing of the land by Omaha tribal elder Joe Pappan. The volunteers installed the wind turbine and built a charming barn with a loft space, cheery red roof and solar panels surrounded by handmade wooden picnic tables hand-painted in patriotic red and blue. Eventually the barn will host discussions and presentations about renewable energy options that can help farmers and improve agriculture practices.

Build Our Energy is the third crowdfunding campaign tied to Bold Nebraska's battle against Keystone XL. The group raised money for information sessions ahead of a State Department environmental review hearing last April and continues collecting donations for legal expenses related to Thompson v. Heineman. In that case three landowners are challenging legislation that granted the power of eminent domain to TransCanada and expedited approval of the Keystone XL route in Nebraska. Last week District Judge Stephanie Stacy heard oral arguments in Thompson but has not indicated when she might issue a ruling.

While Bold Nebraska awaits the outcome of the case, Kleeb is excited to launch New Energy, the next phase of the group's campaign against Keystone XL, in November. New Energy aims to inject fresh ideas into the state's political scene, encouraging farmers, ranchers and other concerned Nebraska residents to run for office in 2014.
"I think it's going to amazing," said Kleeb. "It's going to be challenging but a really strong testament to our state pushing back on status quo."
Activists are seeking nonpartisan positions on the boards of power districts and rural electric cooperatives. In the state senate too, Nebraska has a nonpartisan state legislature and runs a single primary election unaffiliated with any political party.
Fundraising to cover the cost of training these state candidates begins next month. Should any Nebraskans harbor political ambitions that go beyond the statehouse, Kleeb and her team are not opposed to helping out those campaigns, as well.

"If a farmer decides he wants to run for Congress, we'd obviously get behind him," she said.

You can support the landowners in the Thompson v. Heineman lawsuit here and contribute to the Build Our Energy effort here.
Related
Popular in the Community