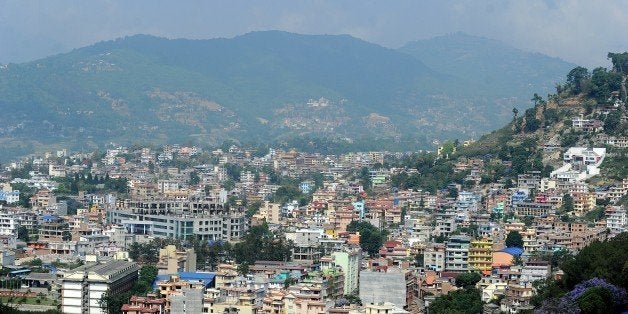 The recent earthquakes in Nepal struck the lives of thousands both physically and emotionally. Many people died and were injured from earthquakes that hit 7.9 and 7.3 on the Richter Scale. This caused buildings, shops, houses, and other living structures to be raised. Historical sites and places also were destroyed. I know that it has definitely changed my life. History as I knew it was in rubble, but I knew that there would be light in all of this. As Michelle Obama said, "You may not always have a comfortable life and you will not always be able to solve all of the world's problems at once but don't ever underestimate the importance you can have because history has shown us that courage can be contagious and hope can take on a life of its own." I have learned throughout my life, that I have to look at the positive aspects of bad memories and turn them into learning experiences.
Both of my parents were born in a town in Nepal called Solukhumbu. It is just off the Eastern side of Nepal and is just one of the places in Nepal where the Sherpa people reside. They grew up in the mountains where there was no electricity, it took two hours to get to school by foot, and the nearest phone was four hours of walking. They came to America -- left their family, and embarked the journey to America on their own. They had a rough life, but they survived and are still living everyday with smiles on their faces. When they heard about the earthquake, not only their hearts, but my heart, broke. Even if their hometown was not affected greatly, people they loved were. I knew it was hard not knowing the current situation of family once the earthquake hit, and I admired them for being so strong.
Nepal was not only an important part of their lives, but mine as well. When I was two, I was experiencing speech delays and was not formulating sentences or even words. My parents worried, called home and asked for advice. My grandmother advised them to send me to Nepal to see a lama (a respected monk) so I could be blessed. They sent me to live with my aunt, uncle, grandma, and cousins. I was sent to the lama and a miracle happened, I was talking. The first language I learned was Nepali, and I first went to school in Nepal when I was three. I made many memories in Nepal as a toddler. I even came back with my parents and my younger brother to visit parts of Nepal that I have never been to, like Pokhara and Solukhumbu. When walking to my parent's house, I realized the hardships they had dealing with the commute and condition of the roads, because there were none. The only road there was dried mud.
On Saturday April 25, I woke up with my parents in my room looking at the news. I would probably say that was the worst morning of my life. Waking up to devastating news kept me quiet for the whole day. On Monday when I went to school, all of the information went to my head and I just started to cry. At that point, I felt no hope. I could not even see a future for Nepal. So much gone, so many gone. I could not comprehend why something like this would happen. I cried in the morning and during the day.
The second earthquake occurred Tuesday May 12. The earthquake hit a magnitude of 7.3. The casualties of the second earthquake were not as great, but there were still lives lost. The epicenter of this earthquake was centered more to the East of Nepal and raised the villages my parents grew up in. My mother had received the news from my father and she broke down crying. I felt hopeless and like the chaos was never going to end. Luckily my school in New York City, De La Salle Academy, has a caring community that stood by me every step of the way.
With all the help and support of my friends, teachers, and family, I have learned to grow from this experience. There are still times when I am reminded of it and am in a sad state, but it is definitely not as bad as before. I decided to take charge and raise money by planning to hold a bake sale. Even writing about this now is to address the issue and to express my love for Nepal. I truly appreciate everything that America and many other countries have done. I can see the light now for Nepal and for everyone who survived.
REAL LIFE. REAL NEWS. REAL VOICES.
Help us tell more of the stories that matter from voices that too often remain unheard.