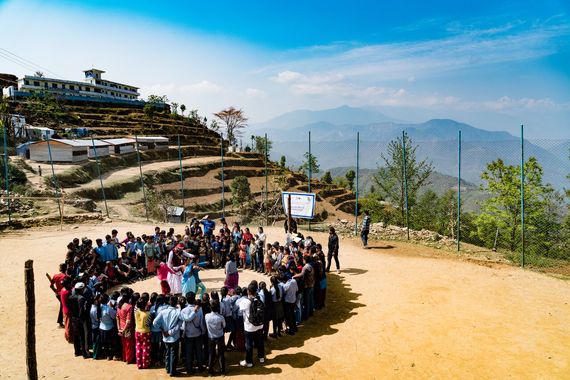 Performers take to the streets of Nepal to help earthquake survivors address societal problems and reduce the stigma of mental health services. Photo by William Vazquez.

By Michael J. Nyenhuis, AmeriCares President and CEO
A family is celebrating the impending birth of a new grandchild when the ground begins rumbling. It is April 25, 2015, and a massive 7.8-magnitude earthquake shatters life in Nepal. The head of household is killed instantly. His son, the expectant father, is pinned under the rubble.
Fast-forward three months and the son, now permanently disabled by his injuries, is living in a temporary shelter with other family members. The widowed grandmother sends one of her daughters-in-law to work overseas to support the family, but the innocent young woman is victimized and sexually assaulted. Ashamed, her family shuns her.
The family members, in this case, are actors playing out the kind of trauma that was all too real after the earthquake. As they come out of character, they ask the audience how the young woman feels, and how the community can support her.
The scenario plays out several times a week in streets of earthquake-affected communities throughout Nepal, where almost every aspect of life has been complicated since the disaster one year ago. The earthquake left 2.8 million people in need of humanitarian assistance, including help healing the societal problems that often follow disasters.
With earthquakes like the ones in Ecuador, Nepal or Haiti, the attention is focused first on dramatic rescues. Responders race against the clock to save trapped victims, and medical personnel rush to treat survivors' physical wounds. But as time goes on, other wounds become apparent. Natural disasters can create a level of fear and helplessness that often exceeds coping ability. The World Health Organization defines health as a state of complete physical, mental and social well-being and has made protecting the mental health of disaster survivors a priority. Nongovernmental organizations are increasingly incorporating mental health and psychosocial programming--including community theater performances--into their emergency programs.
My organization, AmeriCares, began such programs in earnest five years ago in the aftermath of Japan's tsunami and nuclear disaster. We quickly learned there was a critical need to help displaced survivors adjust to a radically changed physical and social landscape. Many of our recovery programs helped displaced survivors cope with isolation and loneliness; participants included new mothers forced to relocate to Tokyo from rural areas and elderly survivors living alone in 500-square-foot temporary apartments. While many national programs in Japan focused on psychiatry and institutionalized care, our programs were community-based, using social support such as horticultural therapy to reduce symptoms of depression, stress and loneliness. Independent evaluators concluded our programs contributed to increased emotional and social well-being, as well as engagement. In communities fractured by the disaster, new friendships and social bonds were formed.
In Nepal, our community-based mental health programs are taking a two-pronged approach - reducing the stigma of mental health services and training 3,000 community health workers to build local capacity to address mental health issues.
In assessing Nepal's progress over the past year, let's be mindful that the recovery will take years, not months. And it will require much more than reconstruction of physical structures. We also have to rebuild lives and communities along the way.
Michael J. Nyenhuis is President and CEO of AmeriCares, an emergency response and global health organization that has delivered more than $12 billion in humanitarian aid to 164 countries.

REAL LIFE. REAL NEWS. REAL VOICES.
Help us tell more of the stories that matter from voices that too often remain unheard.