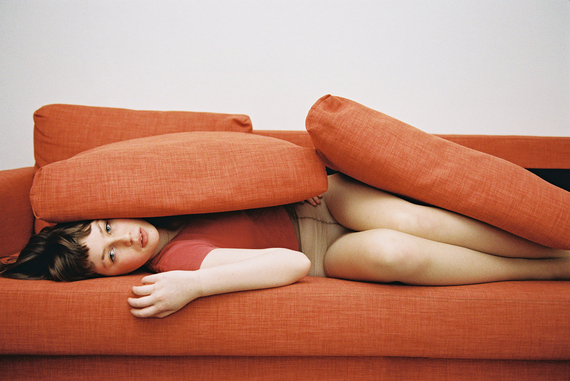 About a year ago, Irish actress Róisín O' Loughlin stumbled across a collection of Arabic poems compiled by Abdullah al-Udhari. Entitled "Classical Poems by Arab Women," the verses -- which read like short, intense pop lyrics - were written by women over the span of thousands of years, mostly between the 7th and 12th centuries.
One of those poems, by Wallada bint al-Mustakfi in 11th century Cordoba, stayed with O'Loughlin long after she'd set down the collection:
"I am made for higher goals and by Allah
I am going my way with pride.
I allow my lover to touch my cheek
And bestow my kiss on him who craves it"
Think Muslim women back then were submissive?
Turns out, O'Loughlin told me, Wallada was "this amazing Muslim poet and the daughter of a Caliph who inherited her father's estate and ran her own palace and literary salon, which many of the great minds of the time attended. She gave lessons to the women of her court and held her love affairs openly and unapologetically, writing rhymes in praise of her lover, Ibn Zaydún, and when things went bad, lambasting him. This was in today's Spain. Why have so many of us never heard about her?"
Moved to introduce the poems to a modern audience, O'Loughlin decided to curate an exhibition. Called "Radical Love: Female Lust," the show features 48 female artists, half of Arab and Muslim heritage, responding to the Arabic poetry written by women over a thousand years ago.
Having already created quite a buzz long before it opens (appropriately) on February 14th at The Crypt Gallery in London, the show features both emerging and acclaimed artists from around the world, including Syrian artists who have been displaced, such as Yara Said, who designed the flag for refugee athletes competing in the recent Olympics (inspired by the life preserver she wore while fleeing Syria)
Given that the show is especially timely in light of the current court hearings regarding President Donald Trump's executive order restricting immigration and refugee resettlement from seven Muslim countries, featured below are six artists from four of those banned nations, along with the ancient poems these contemporary artists are engaging with.
1. Aula al Ayoubi (Syria) "My Eyes Outshine the Oryx's Eyes"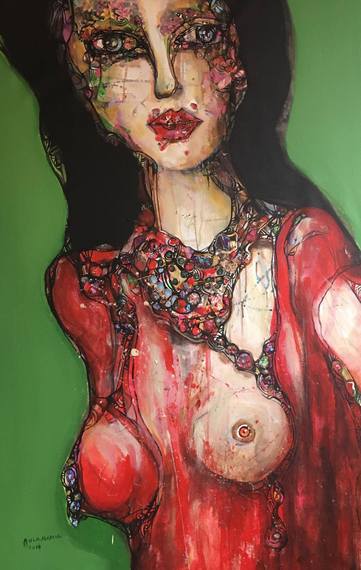 Salma bint al- Qaratisi
Iraq, 12th Century
My eyes outshine the oryx's eyes
My neck outfines the gazelle's neck
and my neckline sparkles my necklaces.
I have no problems with my hips
and my breasts don't weigh me down.
If I had neighboured the land of Thamud
Heaven's wrath wouldn't have fallen on the Thamudis.
2. Takwa Barnosa (Libyan) "Fear"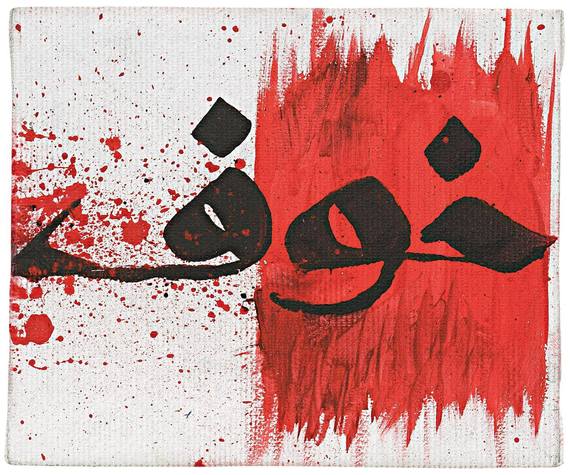 Zahra al-Kilabiyya
Iraq, 8th Century
I keep my passion for Juml to myself.
It's burning me up
Like a sick man's dream of getting well
Or a mother stricken by the death of her only son
Or a refugee watching a gathering of friends.
3. Darin Ahmad (Syria) "Bless Those Wonderful Nights"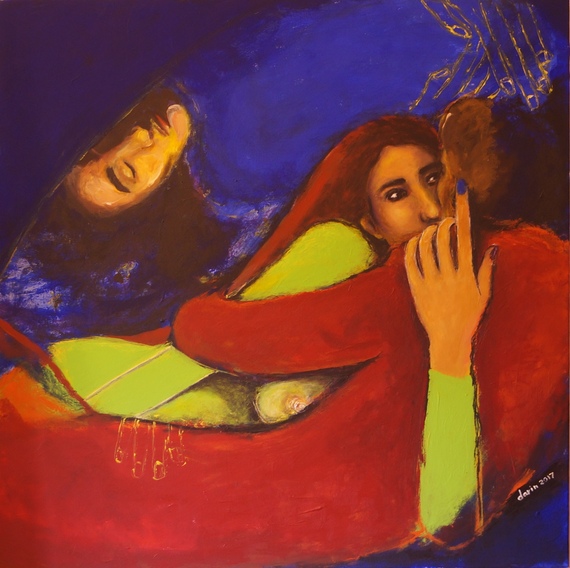 Nazhun al Gharnatiyya
Granada, 11th Century
Bless those wonderful nights
and best of all,
Saturdays
If you had been there
You'd have seen us locked together
Under the chaperone's sleepful eyes
Like the sun in the arms of the moon
Or a panting gazelle in the clasp of a lion.
4. Rosaline Shahnavaz (British Iranian) "Riding Beasts"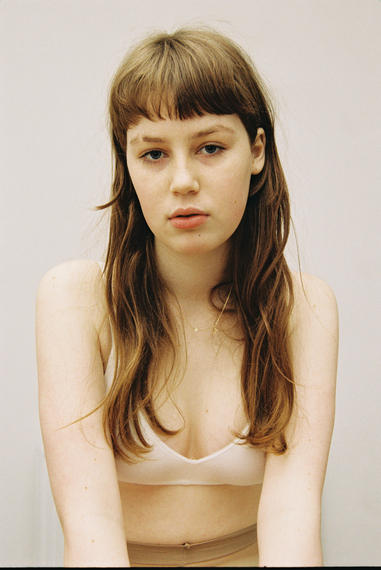 Fadl Ashsha'ira
Bahrain, 9th Century
Riding beasts are no joy to ride
until they're bridled and mounted.
So pearls are useless
unless they're pierced and threaded.
(in response to accusation she wasn't a virgin, 'an unpierced pearl')
5. Nadine Faraj (Canadian Iraqi) "Only A Thrust Rocks Out My Strains Until My Blues Fly Away"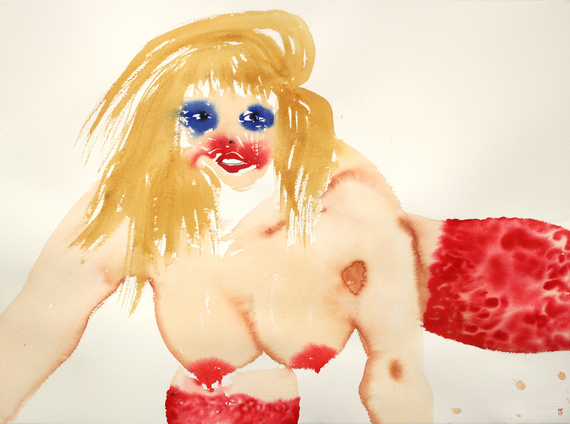 Dahna bint Mas-hal
Basra, Iraq, 8th Century
Lay off,
You can't turn me on with a cuddle,
a kiss or scent.
Only a thrust rocks out my strains
until the ring on my toe falls in my sleeve
and my blues fly away
6. Noor Issa (Syria) "Finerthanwine Delicious Dew"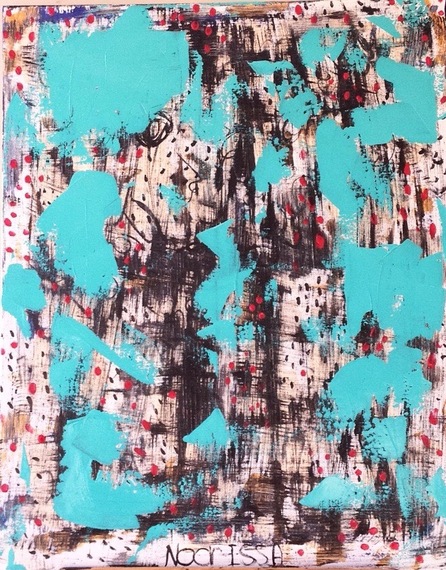 Hafsa bint al Hajj Arrakuniyya
Granada, 12th Century
I know too well those marvellous lips.
I swear I'm not lying if I say
I love sipping their finerthanwine delicious dew.
As the poems and images show, the exhibition is a dialogue between the past and present, words and visuals, across different faiths and using various mediums.
Yet, in spite of the media buzz, O'Loughlin says that "it's a bit of a miracle that the show came to life" given that it's completely self-funded with the help of "so many people who did so many favors, including graphic designer Rebecca Roche and assistant curator, Kosha Hussain."
While proceeds will be donated to The Global Fund for Women to help support Syria's refugees, O'Loughlin has also set up a crowdfunding page asking for donations, "however small."
During this tumultuous time for American foreign policy, it seems more pressing than ever to support O'Loughlin. After all, it's that independence which allows artists to freely express themselves - and it's the artist's nuanced and complex way of seeing the world that's desperately needed in these divided times.
When I asked artist Darin Ahmed about the travel ban that includes her own country of Syria, she told me,
"Radical Islam says 'Islam is the solution.' And anti-Islam way of thinking (the current ban belongs to this way of thinking) says, 'Islam is the problem.' For me, both sentences are wrong because both are promoting the separation between cultures."
O'Loughlin is in total agreement: "The show is not focusing on faith or politics, which tends to be manipulated to divide rather than unite, but it is it's own f*** you to fascism. Like the amazing female poets before them, these artists have no explanations to give. Instead the show revels in a female lust, for the love and life we see as shared and timeless."
Support HuffPost
The Stakes Have Never Been Higher
Related
Popular in the Community