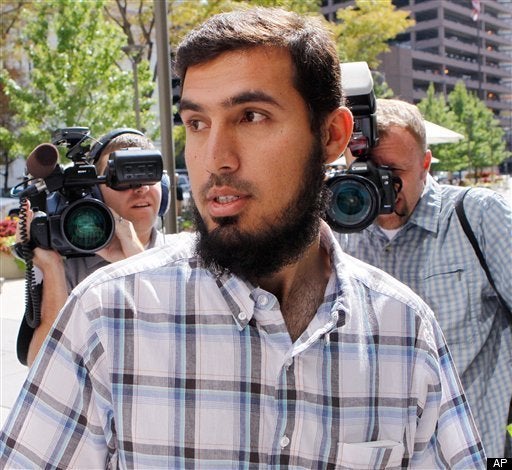 The arrest of three Afghan
men this weekend in Colorado and New York on federal charges related to a
possible nascent terrorist plot in the United States involving IEDs casts a
spotlight on an often ignored, but critical part of the government's post 9/11 prosecution
strategy. All three men were
arrested under a longstanding law that makes it a federal felony to lie to an
investigator. Prior to 9/11 the statute was as likely to be ignored, as it was
to be employed. However, in the post 9/11 era where interdiction before an
attack is now the primary objective for authorities, 18 USC §1001 has emerged
as the most common charge levied in terrorism related cases.
The use of this statute may
have very well have prevented a variety of mass terrorist attacks, as it is a quick
and effective way of getting violent prone extremists off the streets
early -- before an attack takes place.
These dangerous folks often crack and lie under the gauntlet of
professional interrogators aided by intensive search techniques. Civil libertarians
argue, however, that this strategy often ensnares unsophisticated blowhards
whose threat potential is minimal or overblown. The fact that the strategy is
purposefully preventative in nature means that in many cases we'll never be
able to conclusively prove how bad the threat actually was.
The current case has some
extremely disturbing details, but also has much that needs to be illuminated.
Three men are in custody; Najibullah Zazi, 24, his father Mohammed, 53,
arrested in Colorado and Ahmad Wais Afzali, 37, an imam from Queens, arrested
in New York. They were charged
under 18 USC §1001 (a) 2. The specific allegation states that they "knowingly
and willfully" made a "materially false, fictitious and fraudulent statement
and representation in a matter involving international and domestic terrorism…"
The charges come after a
wide-ranging frenetic investigation became public last week on the anniversary
of 9/11. The investigation
involved phone intercepts, apartment, car, and computer searches as well as
lengthy interrogations. The apparent main defendant Najibullah Zazi, an airport
shuttle bus driver, underwent at least 28 hours of interrogation before his
attorneys cancelled further FBI questioning on Saturday, hours before his
nighttime arrest. Zazi's public denials also became more murky over the course
of the week.
Central to his arrest are
Najibullah's trip to the Northwest Frontier region of Pakistan and a
handwritten note found on a laptop seized from a vehicle during a search in New
York. The Pakistan territory is described in the affidavit, quoting the Center
for Strategic and International Studies as:
"ground zero in the U.S. Jihadist war…[and] home to many Al
Qaeda operatives, especially the numerous foreigners from the Arab world, Central
Asia Muslim areas of the Far East, and even Europe who flock to this war zone
for training, indoctrination, and sometimes respite from repression at home."
A nine page handwritten
note, found on his computer "discussed jihad" and contained "formulations and
instructions regarding the manufacture and handling of initiating explosives,
main explosives charges, explosive, detonators and components of a fuzing
system." The affidavit points to
the younger Mr. Zazi potentially lying about his awareness and authorship of
the note, which authorities contend resembles his handwriting.
However, no explosives or
other "smoking gun" pointing to an imminent operation were discovered. David
Kris, who heads the Department of Justice's national security section stated, "The
arrests carried out tonight are part of an ongoing and fast-paced
investigation. It is important to note that we have no specific information
regarding the timing, location or target of any planned attack."
Authorities point out the
investigation is ongoing and that it is possible that additional arrests or
charges could result. The court documents also indicate that there is probably
other evidence the government has that it has not yet divulged. One potential
additional charge is providing material support to a terrorist organization.
Research from earlier in the
decade shows that the government's strategy in this case of using 18 USC §1001
is a common one. A report by the Washington Post in 2005 revealed that the most
common type of charges in post 9/11 terrorism related cases upon which
defendants pled guilty or were convicted involved lying to investigators,
followed by terrorism and national security offenses, using illegal travel
documents, and conspiracy.
A 2006 study of Justice
Department records by a Syracuse University affiliated research center found
that of the 1,391 cases of international terrorism referred by federal law
enforcement to prosecutors after 9/11, 817 were declined for prosecution for
reasons including a subsequent request by investigators (117), evidence issues
(205), no chargeable federal offense (86), and other reasons (273). Another 239
cases were pending referrals, while 335 more resulted in prosecutions. Of the
335 cases sent to federal district court for criminal trials, 66 resulted in
dismissal or not guilty verdicts, 56 were still pending, and 213 resulted in
convictions. The study found the overwhelming majority of sentences were quite
short with 90 resulting in no prison time and 91 more resulting in less than
one year's incarceration. Only 14 resulted in sentences of five years or more.
The study also revealed that, in most recent years, terrorism related
prosecutions dropped sharply, along with the length of sentences. For cases
commenced in the two years following 9/11, the median sentence was only 28
days, compared to a median sentence of 41 months for those cases commenced in
the two years prior to 9/11
United States Federal Terrorism
Related Trials By Type of Offense Charged Through 2005
Terrorism/National
Security
Note: Some individuals were
convicted of more than one type of crime. Source: Eggen, D., Washington Post,
June 12, 2005
One thing is certain,
authorities have powerful tools to get people off the streets in the array of
statutes that they have at their disposal. They also have an extraordinarily difficult job of balancing
their obligations. On the one hand they must uphold civil liberties, while also
protecting us from the very real threat of a small, but determined number of
anonymous extremists bent on doing the nation harm through a mass terror
attack.
Popular in the Community