When it breaks ground on its new headquarters building in downtown Raleigh on Dec. 9, the North Carolina chapter of the American Institute of Architects (AIA NC) also will be deploying three essential tools needed to scale this cliff-like economic downturn known as the Great Recession.
They are vision, courage and leadership.
With its new four-story, 12,000 square-foot structure designed by Frank Harmon's Raleigh-based firm, AIA NC is stepping up to put its money where its mouth is, and setting an example for the rest of the state and nation. It has raised a sum of $1 million in funds and in-kind contributions, and sold its historic, late 19th-century headquarters for $635,000. With the proceeds, AIA NC is moving forward with a $5 million building dedicated to the concepts of transparency, sustainability and sensitivity to the heart of downtown.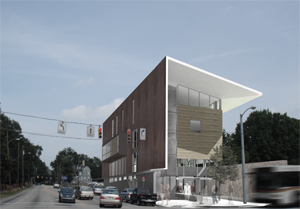 "This is a really bold gesture -- maybe the boldest in the country," said Harmon. "It's being done in the midnight of the recession, as a gesture of faith and belief in what we do as architects."
"It's one thing to ask clients to build, but something else for architects to whip out their own checkbooks," said Steve Schuster, principal at Clearscapes, another Raleigh architecture firm.
The design by Harmon's firm was selected in a 2007 juried competition over 68 other entries. Its style is modern, but not classically so. It harkens back to traditional North Carolina forms without slavishly mimicking them. Instead, it re-interprets porch, terrace and agrarian shed to make the most of a site whose shape Harmon likens to that of a pork chop.
His firm won the competition with a compelling site plan that not only ideally suits AIA NC's needs, but strives for LEED gold certification as well. "Frank presented a project for landscape solutions more than the others," said David Crawford, executive vice president at AIA NC. "The jury liked the idea of creating a park-like setting."
The building backs up widely to Peace Street on the north with a canopy that runs the length of the narrow building to shade and shelter the street's sidewalk. Pedestrians walking or waiting for a bus can gaze easily through windows to see architectural models and drawings on display, or watch while presentations are taking place. "It's a place for good architecture from all over North Carolina to be celebrated," Harmon said.
Facing south where the site tapers off, its front façade peers out past patio, parking and landscaping, down Wilmington Street toward the dignified 1840 state capitol by Alexander Jackson Davis, Ithiel Town and David Paton.
Like a schoolchild whistling bravely past a graveyard at dusk, Harmon's design quietly ignores the five outsized and over-scaled mausoleums and tombstones that stand to its southwest, brutal symbols of 1970s and '80s modernist excess on the state's legislative plaza.
In contrast, his graceful little building is a modest response in a Southern vernacular - a structure that politely minds its manners, recalls precisely where it came from, and deftly turns a slim shoulder to its neighbors on the right. It's an ode in zinc and cypress, and an inviting treatise on transparency where others nearby have walled themselves in.
That transparency extends to spaces where interior and exterior meet just outside its main entrance on the south façade. Its parking lot, large, porous and sustainable, is intended to be used for purposes beyond autos. Harmon envisions displays for Habitat for Humanity, art exhibits and a small farmers' market. Crawford believes the patio between it and the building will serve as a place where people and professionals can gather publicly.
To be sure, the building's primary constituency is its membership of architects from across the state. It is, after all, a building for architects, by architects. But it's meant to engage in a dialog with the public too -- to raise awareness about what architecture can be. And its close proximity to state and local decision-makers means that questions about smart growth, building codes and sustainable design can be quickly addressed.
Inside, it's a careful study in mixed use. At the Peace Street grade level is a relatively small basement area. Above, on the second floor, is a multi-purpose area linked to the patio for events like AIA NC's first Legislative Day. The third floor will house the organization's offices, and the fourth will be for rented space.
The building, scheduled for completion a year from now -- with a distinction as the first newly constructed AIA building in the nation -- is to be an inspiration for the people of the state. "It's meant to show evidence of the power of architecture to transform our towns and cities," Harmon said.
He may be right. Already, a second building is scheduled to be added across the street to the east, part of a six-block area shaped by a 2007 master plan. It promises to introduce a new instrument into our struggle with current economic conditions.
It's Trinity Anglican Church, the first such building of its type for downtown Raleigh in more than a century.
For more by J. Michael Welton, go to http://www.architectsandartisans.com
Related
Popular in the Community