Three years ago, Vince and Jeanne Rhea found the house of their dreams in Shirley, Arkansas. They couldn't believe the deal: 40 acres complete with a separate workshop that Jeanne could use as an art studio and two nearby lakes. It was also thousands of dollars cheaper than a property of that quality should have been. They booked a plane ticket from Raleigh, North Carolina that day to fly down and buy it.
When they got to Arkansas, they found out why it was so cheap.
The owner of the house had recently sold the mineral rights under the property to a natural gas company for use in hydraulic fracturing, or fracking, a drilling technique that is opening new areas across the country for energy exploration. The front page of the local newspaper that day had a story about problems in the water supply and was advising residents not to bathe, Jeanne recalled. "There was no way we were making an offer after that," she said.
The Rheas ultimately decided to stay at home in North Carolina and retired in rural Lee County outside of Raleigh. What they didn't realize is that the new home they bought sits above the Deep River Shale basin, an area potentially rich with deposits of natural gas that makes it the next likely location for fracking.
To make matters worse, because of two arcane laws known as split estates and forced pooling, they may not even have the right to say whether gas companies can drill on their property.
In recent years, energy companies have used these precedents to bypass property owners who object to drilling under their turf. Now residents in North Carolina, which legalized fracking just last year, hope their government will protect their property rights before drilling begins.
"Whether we want to sell or not, the gas companies could take our property from us," said Vince Rhea.
North Carolina gives mineral rights owners the right to drill on land without a property owner's consent. A bigger problem is that some of its citizens live on plots of land with severed mineral rights and don't know it.
The separation of mineral rights and property rights may be a familiar concept to residents of Pennsylvania, West Virginia, Colorado and Texas — all areas plentiful in production of oil, gas and minerals. But the meaning of mineral rights for North Carolina landowners, where the coal industry has been dormant for decades, was unclear until very recently. Most people didn't even know such a thing existed.
A split estate applies to someone who owns a parcel of property, but not the rights to the minerals beneath it. It was adapted from a 16th century English law that declared the monarchy as the rightful owner of all the country's buried gold and silver deposits.
This morning, Lee County officials released a map of the area that, for the first time, will inform residents if they own the mineral rights underneath their yards.
The reason many landowners may not know whether they own their mineral rights is because Lee County was formed in 1907. But landowners were not required by law to disclose the separation of oil, gas and mineral rights to purchasers until October 2012.
Dan Butler is a Lee County mineral rights owner who resides in a neighboring area. Back in 1974, Butler purchased the mineral rights for approximately 2,700 of acres of land. It's the land under which his father, a coal miner, worked. He's now the single largest holder of mineral rights in the jurisdiction.
Butler leased his mineral rights to WhitMar Exploration Company. They are working to determine if oil and gas resources are locked in shale-rock formations underneath.
Dr. Ray Covington, a member of North Carolina's Mining and Energy Commission, which is responsible for developing regulations for natural gas exploration in the state, said about 90 families in Lee County own property that have been separated from the mineral rights. Twenty-eight of them own land above Dan Butler's acreage.
One individual, who wished not to be named as he was unaware of his situation until he was reached by Reuters, owns nearly half of the land above Butler's minerals. The individual's over 1000 acres would fit an above ground well pad, which typically range in size from 5-15 acres.
Five other individuals who own land above Butler's minerals for non-residential purposes that were reached by Reuters were aware of the split estate when they purchased their land. A sixth couldn't remember if he learned about it at the time of sale or afterwards. Three of them expressed concerns about the condition their property may be left in if drilling happens on their land.
Of the three landowners with a residence above Butler's minerals that were reached by Reuters, only one had knowledge of their situation.
While land purchasers prior to October 2012 could have asked for a title search to determine if the mineral rights for a given property were still attached, the antebellum days of copper and coal mining have been over for years. Fracking wasn't yet a part of the public consciousness.
Jim Womack, a Lee County commissioner as well as the chairman of the state's Mining and Energy Commission, explained that very few people who bought land in Lee County over the past few decades knew about oil and gas locked in the ground underneath.
"Ten years ago, there just wasn't much discussion about shale. Very few people knew there was oil and gas so very little consideration was given to whether anyone owned mineral rights. It wasn't a major concern until word got out."
Privately-held WhitMar, based in Denver, declined to comment on their leased mineral rights as is their policy on current projects. The American Petroleum Institute, a trade association representing the oil and natural gas industry, as well as Energy In Depth, a public outreach group representing the Independent Petroleum Association of America, also declined to comment on individuals who may be unaware of living on a split estate, citing lack of knowledge on the situation.
Womack says the county needs the economic boost that natural gas drilling will bring the community.
"Anything we can do to bring job opportunities is a good thing," he said.
Vince Rhea is skeptical of the commission, as some of its members have financial interest in natural gas drilling coming to Lee County.
Covington, a commission member, owns N.C. Oil and Gas, a group that represents landowner's interests in exchange for a share of future profits.
"It's like having the fox watch the chicken coop," says Rhea.
Covington, who is also the chairman of the state's compulsory pooling study group, says his first priority is to make sure land and mineral rights owners aren't taken advantage of by predatory leases.
"It's just like a civil rights attorney who represents a client and shares the profits if they win," Covington says.
Compulsory pooling, also known as forced pooling, allows oil and gas companies to use private property without permission if a certain number of adjacent mineral rights owners lease their acreage out for gas production.
Part of the new wave of the shale boom that has raised property owners' fears involves the technique of horizontal drilling which blasts a mixture of water, sand and chemicals deep into the earth to break up shale rock. The subterranean infrastructure stretches out hundreds of feet laterally, thereby crossing dozens of property lines at a time. If just one property owner objects, the whole project could dismantle. Forced pooling prevents this situation from becoming an issue.
As of this writing, North Carolina common law requires oil and natural gas developers to give property owners 30 days notice via certified mail before beginning drilling operations on their land. The notice must include an offer to discuss with the property owner where on the surface the disturbance should take place. It's one of a variety of regulations that while limited, offers North Carolina residents "considerably more protections for surface owners than many other states," the North Carolina Attorney General's office said in an email.
Meanwhile, Butler is eager to get started. "It's ridiculous to take two years to build regulations while they're doing a great job in other states," Butler said, "but politicians take awhile to work with attorneys so it's one of those things we have to be patient and wait for."
Jeanne and Vince Rhea, who narrowly escaped from buying a home with a split estate, now worry they'll become "sandwiched" between other gas leases and be forced to concede their property.
"If I didn't know better, I'd say I was living in some place other than the United States," Vince said.
Contact the reporter at hallie.seegal@thomsonreuters.com
Related
Before You Go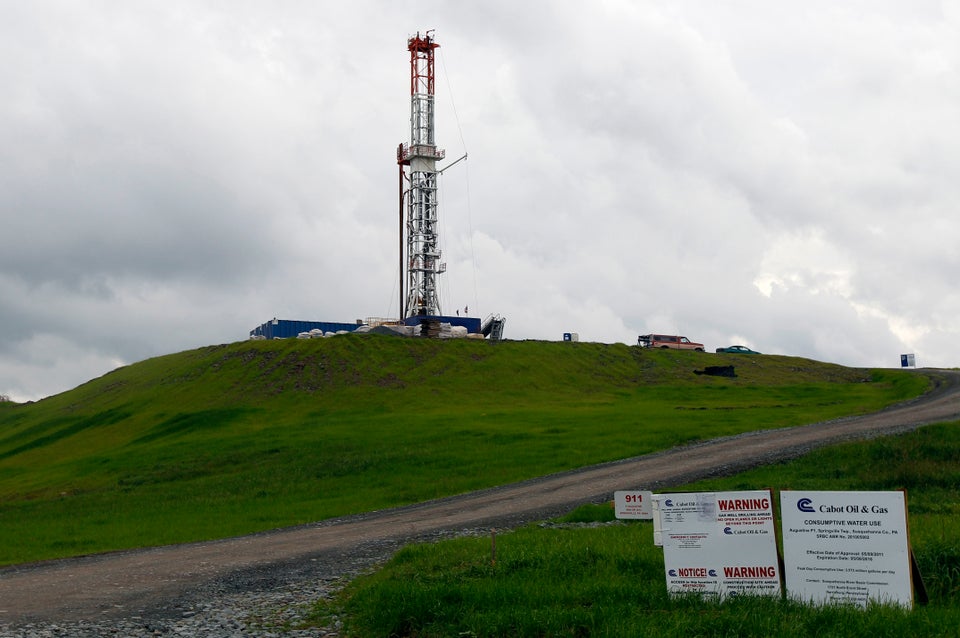 Drilling And Fracking Photos
Popular in the Community