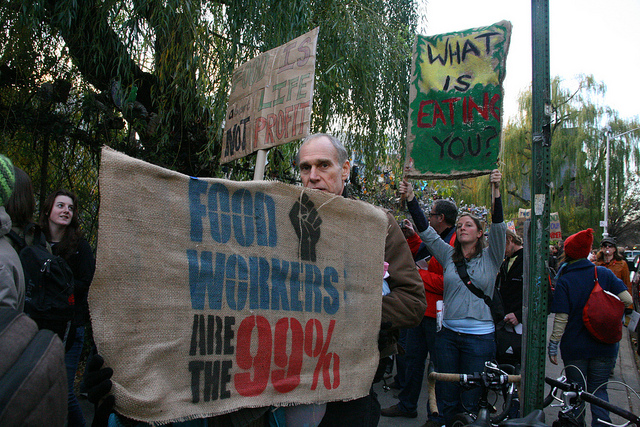 On a practical level, farmers have been involved in Occupy Wall Street almost since the movement's emergence. As soon as tent cities sprung up in parks and plazas across the nation this past September, small farmers in the Northeast, California, and elsewhere were making donations, trucking in excess produce to keep protesters fed.
It was only recently, though, that their involvement became political. On Sunday, December 4th, farmers from throughout the country descended on lower Manhattan and joined Occupiers to protest what they view as an excess of consolidation and corporate control in American agriculture. More than 500 farmers, foodies, chefs, and activists who took part protested things as varied as natural gas drilling and genetically modified organisms, but their overarching message was clear: the U.S. farming and ranching industries are stacked to benefit the largest and wealthiest corporations at the expense of most food producers.
"Corporate abusers are harming us all," said David Murphy, founder and president of the nonprofit group Food Democracy Now, who organized the Farmers March in partnership with Occupy Wall Street members. "The control of policy by agribusiness is the main thing impoverishing small farmers. Wall Street has Goldman Sachs and Morgan Stanley, both of which have bent the laws in their favor. Agriculture has Monsanto, Cargill, and Smithfield. They write the regulations to benefit themselves."
The march was the most significant attempt yet by OWS to ally itself with the so-called "good food movement," and it raised questions about whether food activists and small farmers will use Occupy Wall Street to advance their causes as they head into a fierce battle over the next Farm Bill early next year. That bill, which is the nation's largest piece of agricultural legislation, governs crop subsidies, farmland conservation, school lunch programs, and more. It is due to be amended in 2012, and sustainable agriculture advocates are already lobbying hard to reinstate poorly funded conservation programs, limit subsidies to the largest producers, and insert provisions to help young and beginning farmers get started in an industry dominated by large corporate farms and food processors.
To date, no future collaboration between farmers and OWS has been made public, perhaps because food activists are fighting for concrete policy proposals while the broad-based OWS remains characterized more by discussion than narrow political demands. Nevertheless, farmers and activists across the country predicted further partnership between the two groups. "Right now, we are focusing on things that can be easily solved," said Lindsey Lusher Shute, head of the National Young Farmers Coalition and the lead author of a recent report detailing the challenges facing the next generation of agrarians in the U.S. "Farmers haven't totally fleshed out how we could merge together [with OWS] but we have a lot of solidarity with groups like that."
Shute's group recently helped author new legislation aimed at assisting young and beginning farmers, which she hopes to work into the revised Farm Bill next year. One of her principal collaborators is Severine Von Tscharner Fleming, a farmer, filmmaker and activist from upstate New York who was a speaker at the Farmer's March on Dec. 4th. To Fleming, it seems clear that farmers and OWS protestors ought to be natural allies. "A lot of us have gotten involved in agriculture because we see it as a kind of activism where you are walking your talk," she said. "Farmers have economic self-determination, which is what Occupy Wall Street protestors want."
For his part, Farmer's March organizer Dave Murphy has continued to engage with OWS-on a personal level. Reached in Oakland a week after the New York event, Murphy had just attended a conference on genetically modified organisms, but shortly thereafter he joined protestors with Occupy Oakland on their mission to shut down the city's ports. Just as farmers who have learned to engage directly with urban consumers are faring better economically, Murphy believes that farmers who want their voices heard must now engage politically with urban dwellers. "[OWS] is really an organic movement, so it's hard to predict what will happen, but we're not going to win unless we take to the streets," he said.
Originally published on Turnstylenews.com, a digital information service surfacing emerging stories in news, entertainment, art and culture; powered by award-winning journalists.
Popular in the Community