YOUNGSTOWN, Ohio -- "Remember, there's early voting in Ohio so don't wait," said Barack Obama, at a rally in Toledo. There was a tinge of urgency in his voice. The candidate was in the Buckeye State this week because the race here is almost a dead heat. A CNN/Time poll puts Obama up by 3; the Ohio Newspaper Poll puts McCain up by 2.
"The race is going one way -- then the next day, it goes the other way. Ohio is flopping like a fish," said Jimmy Georgiades, operations manager at WKTX-AM 830 radio, a local station in Youngstown. Callers to WKTX are upset with both candidates. "We all want change, but to what? Neither candidate will give us an honest answer."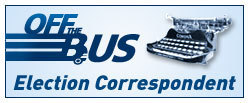 WKTX is a local station with an "ethnic playlist." That's radio jargon for an audience comprised of "working class people who busted their humps for this country. They built the bridges, worked the farms, and transported the goods," said Georgiades. In Ohio, these folks are also called the prized demographic, yet the Obama camp didn't buy air time on WKTX. Georgiades is fuming. "We may not have big numbers, but we reach the people who turn on their radios and stay with us all day." He won't be voting for either candidate.
WKTX isn't the only local radio station passed over by the Democrats. "They haven't spent a single penny at our station," said Skip Bednarczyk, station manager at JAMZ 101.9 (WRPB-FM), which airs a hip-hop playlist for a mostly urban audience. "Obama is taking this audience for granted, and it's a mistake because their commitment is softer than he thinks," Bednarczyk told OffTheBus.
The big political advertiser on JAMZ 101.9 this month is a national right-wing group called America"s PAC, which is urging African Americans to vote for McCain. Their radio spots cover everything from warrantless wiretapping to school choice; the most inflammatory commercials mention abortion. Click below to listen to a spot airing on JAMZ 101.9.
Set to a R'n'B groove, here's an excerpt from that script:
From what does our community suffer? Is it some idiotic insult from Trent Lott or Bill Clinton? Or is it something deeper? Our community suffers from spouses who no longer consider marriage a sacrament. We suffer from children who grow up without a father's discipline, and from school's that teach our kids that they're no better than animals. Vote your values! Vote Republican.
The GOP must believe it can make inroads into Youngstown's urban community, because this month the second-biggest buy on the city's hip-hop air waves was made by the Mahoning County Republican Party.
Why Were Canvassers Ignoring Undecided Voters?
Both candidates have been trying to lock-in as many "likely" supporters as possible through early voting, in order to focus on undecided voters during the last days of the race, according to Bloomberg.com. "This strategy favors McCain," said Rich Beeson, political director of the Republican National Committee, who feels the GOP has a more targeted voter list.
Speaking off the record, an Obama staffer told OffTheBus his canvassers have been talking to undecided voters all along. But have they? Or is that wishful thinking? Canvassers in Youngstown encountered few "persuadables." Instead, they were assigned to register new voters and to help people leaning toward Obama feel good about their choice.
Kate Black, a non-profit consultant from New York City, drove 400 miles in a rented car to help out in Youngstown. "Obama is the first leader whose vision I embrace, and whose journey I respect and admire," she told OffTheBus. Black, who has a special interest in criminal justice reform, is most proud of helping register a man just released from prison who is now pursuing a degree in psychology and criminal justice at Youngstown State University. "People who vote become better citizens. They have a stake in society. Besides, America is a country where we believe in second chances."
According to Black, about 30 percent of the election officials in Ohio are not aware that individuals with misdemeanor convictions can vote in Ohio.
Volunteer Michele Hirsch, a freelance writer from New York City, was surprised by the apathy on Youngstown State's campus. "I'd hoped it would be brimming with eager, engaged kids, but it wasn't," she told OffTheBus. "One guy told me he was trying to unregister before the election. That's right! He was so dissatisfied with the candidates that he asked the Board of Elections how he might disenfranchise himself."
Now that registration is over, volunteers are going door-to-door with an updated list of talking points. "My canvassing conversations rarely turn into policy discussions," said Jonathan Geeting, an administrator for a NYC non-governmental organization. "Most people simply want a better feel for how the candidate will lead the country. I've found that a personal story goes a lot further." Geeting didn't sway any undecided voters, but he was pleased by the diversity of support for Obama, which included "very old people, working-class white voters, and disaffected Republicans who were more than happy to put up lawn signs."
Youngstown is full of people who don't fit any of the voter stereotypes. Volunteer Jane Carlen, a former government employee, introduced OffTheBus to a health food store employee who "loves her guns as much as her organic tea."
The city is also full of people getting lost in the shuffle. Many retirees can't vote early because it would mean driving to the Southside Annex, more than a half hour away in downtown Youngstown. Several seniors told volunteers that they ordered absentee ballots in early September, but the Board of Elections said the ballots might not arrive before Election Day.
Let The End-Games Begin
"I'm not confident about Ohio," said Helen Bednarczyk, a southern nurse who recently moved to a Youngstown suburb. Bednarczyk was a registered Republican in Texas, but she's voting for Obama in November. "I'm struck by all the devastation in Ohio, the lack of jobs. Obama is more in tune with these workers, and he has a better strategy for their healthcare. Even so, you'd be amazed at all the McCain signs in my neighborhood." At a recent golf outing, Bednarczyk and her husband were the only Obama supporters in the large group that included a lesbian couple.
And not everyone in Youngstown is color blind. Lucky Penny, an African American DJ with JAMZ 101.9, was greeted by obscene gestures when he canvassed in suburban Boardman. "It makes no sense to me that the polls are this close. Given the condition of America, Obama should get the job automatically," he told OffTheBus.
Lucky Penny became actively involved in getting out the vote when he met Black, Hirsch, and Carlen. "That they would drive such a long way, and sleep over at people's houses, just to canvass for a guy they believe in...that shows me a lot. It's their future, and they're willing to work hard for it."
During his radio show, Lucky Penny reminds listeners to vote: "Don't let anyone trick you into not voting. Find out the truth. Vote!"
He has reason to be concerned. Already more than 200,000 newly registered voters in Ohio may be blocked from casting regular ballots on Election Day, due to a GOP voter list challenge. Ohio Republican chairman Robert T. Bennett called this week's lower court ruling, which backed the challenge, "a victory for the integrity of Ohio's election."
Law professor and voting expert Daniel P. Tokaji, Ohio State University, called the decision wrong. Ohio Secretary of State Jennifer Brunner, a Democrat, has appealed to the U.S. Supreme Court.
Meanwhile for the past few days, Ohio citizens have been telling OffTheBus that what they need most from the new president is a break. But will they get one from the courts? Let the end-games begin...
---
**UPDATE** The U.S. Supreme Court sided Friday with Secretary of State Brunner (D) in the dispute over voter registration. It appears the law does not allow private entities, like the Ohio GOP, to file suit to enforce provisions of the Help America Vote Act of 2000. At stake were about 200,000 of the 666,000 new voters who registered in Ohio since Jan. 1.
**UPDATE 2** A week after the Supreme Court dismissed the case, President Bush last Friday asked the Justice Dept. to look into whether those 200,000 new Ohio voters must "reconfirm" their registrations before Election Day, to make certain mismatches don't signal fraudulent registrations. Democrats countered that eligible voters could be disqualified over minor discrepancies such as transposed numbers in an address. Six former Justice Dept. lawyers urged the Attorney General to ensure that voter registration investigations don't disenfranchise eligible minorities.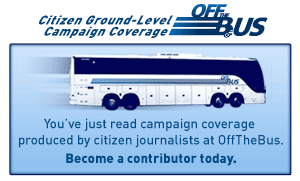 Calling all HuffPost superfans!
Sign up for membership to become a founding member and help shape HuffPost's next chapter