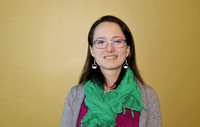 On my commute to school on the day after the election, I thought about the African American, Latino, and Muslim students in my school. Some of our families are refugees, and many more are working to learn English. I pictured facing these families at morning duty; what could they be feeling knowing that the country they now call home just elected a man who considers them dangerous? What could I ever say? How did I feel?
The adults in our school cafeteria were somber. The students expressed concerns, trying to make sense of it all.
The youngest were sad and scared. "Ms. M!! The bad man, the President Trump, mommy said he's going to hurt my family."
One Salvadoran student watched his mom leave the cafeteria, "Ms. M, now I know that with President Trump, things are going to be very bad."
"Ms. M, this does not make sense. How could someone who said those things get to be our president?" A fourth grader shook her head in disbelief.
A few minutes into duty, I turned to the students waiting for breakfast. Scanning the line, I saw huge smiles to greet friends of different ages and races. Younger kids standing up for each other, and older students helping little ones follow the group along to get breakfast. Peacefully working through a dispute about who cut whom. Countless examples of respect and tolerance.
"Look at Aref staying in his own space. Our community has been and will continue to be respectful. Thank you, Zakia, for using a quiet voice. People in our community are and will always be mindful of others." It was all I could think to do to "go high."
As teachers, we must acknowledge our role and responsibility in the classroom and beyond. How we respond to this election is vital to preserving faith in democracy and strength in questioning and critical thinking within our students. When the candidates struck hard on the campaign trail, we were teaching the speaking, listening, and reasoning skills that prepare students for solving authentic 21st century challenges: building confidence in explaining how to solve a problem; listening to understand and to ask meaningful follow-up questions; arguing respectfully when disagreeing with others.
Our responsibility to "go high" extends beyond our work with students. We must build our own cultural competencies in order to cultivate communities within our schools. Adult interactions should model tolerance and respect, not just in high-stakes meetings, but in passing in the halls. We should hold ourselves to the same positive behavior expectations we have for our students. The onus is on us to build respectful communities beyond the school walls.
This is the time to let our voices be heard outside of the classroom. There are more opportunities now than ever for influence as control over major education decision shifts to the states. Organizations like Teach Plus support us in contributing to solutions to solve the problems impacting our students today. Social media gives us a platform for networking to enact change without boundaries. We can show our students that we will not accept intolerance by increasing our own civic engagement. We can do this by "going high."
When I got dressed on November 9th, I serendipitously threw together an outfit of my school's colors. As educators, our schools become ingrained in us, as we leave the best of us in them. Our community is still ours to mold. Our students are still there and more than ever, they're ready to learn. Now it's our turn.
Sarah Mulcahy is a resource special educator for kindergarten through grace six at Dodge Park Elementary in Landover, Maryland, and a Teach Plus Maryland Teaching Policy Fellow.
Popular in the Community