Jafet Glissant was 14 years old when he joined Ciudad de Dios, a gang named after Cidade de Deus, the Brazilian film about street gangs in Rio de Janeiro. Today, he's a tour guide with Fortaleza Tours, a Panama tour operator that offers excursions into the real-life, dangerous side of Panama City history. It's run by members of the Esperanza Social Venture Club, an organization that's symbolic of the changes taking place in Central America's fastest-growing city.
This is not your typical Panama City tour.
Glissant met up with our group of two foreign visitors (one of them was me, wandering the city looking for new things to write about for my travel blog, LatinFlyer.com) on a sunny, warm day in the lobby of the American Trade hotel, one of the city's most stylish new accommodation options in the Casco Antiguo, a historic neighborhood that's become Panama City's trendiest place to hang out (the hotel is actually the result of a partnership between the creative team behind U.S.-based Ace Hotels and other investors).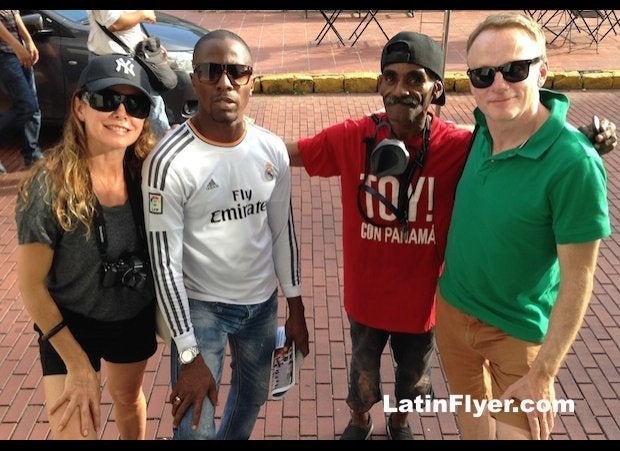 Scenes of Panama City's Former Red Zone
But we weren't there to learn about how great things are today. As with many downtown neighborhoods around the world, the ambiance wasn't always as rosy as it is today. That's what we were there for: to catch a glimpse of the side of Panama City that doesn't get as much attention in the more typical tours, by visiting an area that had long been called a "red zone," riddled with crime and violence.
We started the tour at Plaza Herrera, the 18th-century square outside of the hotel, which Glissant explained was named for a Panamanian general and at one time a bull ring. We were joined by a translator named Saint James, an amiable Panamanian guy who was born in Panama City but moved to the United States at age 11, and was now a retired, disabled U.S. Air Force veteran. "Sorry I didn't have time to put in my teeth," he joked. "I've been painting."
Glissant turned our attention back to the picture-perfect American Trade hotel, which had suffered for years as an abandoned building filled with squatters and gang members -- including him. We entered the lobby again and a bellhop unlocked the door to the main staircase, so that we could inspect a unique decor item: wallpaper made from photographs of graffiti that once covered the walls of the building. Glissant pointed out his own name and gang ID.
"It's very moving, every time I see it," he said when we asked how it felt to be in the new spruced-up hotel and see remnants of his former days. Today, Glissant is in his 30s and has a wife and children, and relies largely on these tours to produce income.
Then we headed back outside, where I quickly realized how the widely varying conditions of structures in the neighborhood are a testament to the transition taking place here. There were hip restaurants and beautiful hotels and apartments on some blocks, just steps from empty lots, abandoned and run-down buildings overflowing with people. Glissant led us into decades-old apartment buildings with dark central rooms where naked children washed on concrete floors outside of shared bathrooms. We stood at the empty lot where Glissant once lived with his family -- and stored guns in the adjacent building.
We strolled down the street that used to be named after his gang, and is today called Fortaleza (strength). We passed gunshot holes on one building, and a public school called Estados Unidos. We also saw bright, well-maintained buildings like the Masons building, and La Buat, a hip bar that hosts live musical performances, in a historic building that until recently was not a safe place to visit.
Glissant spoke about general conditions for poor people and gang members in the neighborhood, and how things have changed. He didn't speak too much about his own personal activities. A teardrop tattoo next to one of his eyes may be a clue to more of his past.
He did, however, discuss how local residents -- many of whom are squatters in the dilapidated buildings -- receive no government assistance with their living conditions, and must rely on themselves to keep things up and running, including water and electricity. One building was getting a fresh coat of paint, which the local residents were doing themselves.
Some of the most candid, uncensored comments came from the translator, a Panamanian who was born in Panama City but lived in the USA since age 11 and was now a disabled Air Force veteran. He pointed to the place where one of Glissant's cousins was gunned down by a rival gang from the adjacent neighborhood called El Chorrillo.
The translator also pointed out that living conditions are far from perfect for many people in Panama. "This country is so rich," he said of Panama, "and none of the money reaches the poor people."
The tour was fascinating, and I wish it had lasted longer than one hour. I felt I'd only scratched the surface of a world that I'd never seen before in my many visits to Panama City.
Tours leave every Saturday at 5pm from the American Trade hotel, and private tours can be scheduled any time for a minimum of two people. The price of this Panama City tour is $15 per person.