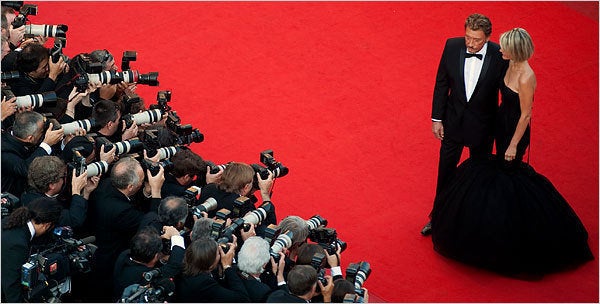 "Hey, we're in here editing my new movie," Mathieu Amalric waved to me, boyish, thin and bouncy in his untucked white button down shirt and beige jeans, as he crouched behind his editor staring at a screen, in his editing studio by Canal St. Martin in Paris.
Mathieu Amalric -- French actor and director -- had just won Best Director at Cannes for his film Tournee (On Tour), which he excitedly told me was the same prize his director Julian Schnabel had won for The Diving Bell and the Butterfly, in which he starred, just three years prior.
It was as fun and lively to be with Mathieu as it was to see his film: a story of a French producer who travels across France with a troupe of vivacious burlesque American women. We moved from the editing room to a courtyard and sat on a bench and smoked some cigarettes, as the rain drizzled down on my computer. Mathieu offered me a steaming cup of espresso, which I placed between my knees, and, rather than speaking about the film which just won, he enthusiastically described the movie he had just made.
"Corneille's L'Illusion Comique," he said. "Part of a France Deux tv series of Comedie Francaise plays turned into movies."
"I love doing commissions," he enthused. "You can dare so much. And this play was perfect for cinema! The story of a father who tries to see what his estranged son is up to, by consulting a magician, you never know when it is a flash forward or the present: a grammar of time that works well in film. What was cool too was I kept the film in Alexandrine verse, and made it so you forget they are speaking in verse. Oh the magician? That's the concierge of the Hotel du Louvre---where I shot the film. I made the play contemporary."

We peeked back in the editing room, and caught a clip of a girl banging a car in a Paris garage with a hatchet, screaming curses in Alexandrine verse about how much she hates the father, owner of the car.
Mathieu grinned, and we moved over into the studio salon, lit in low yellow lights with movie posters pinned up on the white walls.
What was behind Mathieu's easy boyishness, his ready grin, our own bouncy fun shifting from bench, to editing room, to salon, just like in his film, going from locale to locale to locale?
I asked if I was right to see the vivacity and movement of Tournee as masking a sense of despair -- loneliness even. I liked this film, in which nothing is said directly about any big issues, but you feel that moving anxiety, as if with a friend you know is joking to keep back the fear. After all, in one sobering scene in a swank hotel, facing an empty sea, the women and producer bond about "not having a home."
Could it be that the French producer (played by Amalric himself) hoped to absorb the flagrant almost over-the-top womanishness of the troupe to get away from his own existential uprootedness?
"I'm glad you saw the edge in my film," Mathieu said, the boyish eyes bright. "Great."
It wasn't only the producer who was fighting despair -- it was the women as well, he explained to me. "There is something sad about their lives before. Everyone is escaping. They are escaping being themselves. The women found a way to deal with themselves as women: to go through the body. They are angry at perfect bodies, and now are announcing they are allowed to have the body they have."
Mathieu -- who professed, hands flailing, not "to be a thinker' -- gave a thoughtful account about the lesbian feminist roots of the new burlesque. The new burlesque had started as a movement in the 1970s, and became the rage from New York (i.e. the Slipper Room on the Lower East Side) to California.
The women construct themselves anew, through choreography and make-up.
"These are women who want to be independent. They have all struggled with shyness, solitude, masculine violence, sexual misery. Especially solitude, because when you have this body it is not easy. Underneath there is something sick about the codes: about perfect bodies, masculine domination, conventional sexuality."
"Is that why one of the burlesque dancers steals a flight attendant's uniform? To rebel against the conventional form?"
"Uniforms are all over my film," Mathieu rejoined. "At the gas station, the guy in the hotel. For me, the uniform represents the idea that in life, you have to work: everyone is scared to lose their job. 'I not allowed to turn off the music,' the barman says. I am not allowed, because it is too dangerous; he might lose his job. Everyone is afraid, life is hard. You feel this here in France. There is something sick about this country."
Americans are more courageous, he added.
Especially the American women in his film. They are not a troupe, Matthieu emphasized, but individual artists. Each has her own routine, fantasy, personality. And their creative courage is contagious. They work alone, like"moles"; they adopt him. He steals their energy. "They transform any place into a magic moment. They are very loving of life, extravagant.
It's true: it puts you in a good mood just to be in a cab with these women, one sewing a big purple stole in her lap.
"Don't you find that extravagant people are always hiding despair? It's a form of self-protection. There's a big hole in the middle. "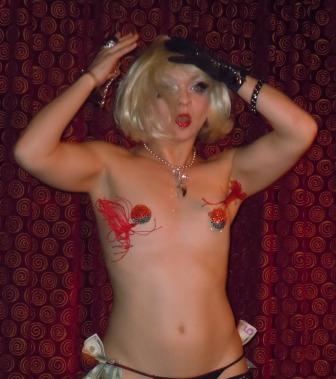 He abruptly turned towards me: "I am as angry as they are. About men who are stupid, about...."
He mentioned a notorious scene in a toilet -- where one of the big women takes charge of a man and puts his head between her legs. I had enjoyed this scene as female empowerment -- but was suspicious that my interpretation was wrong, because a little girl overhearing them (in the film) refers to them as animals. The audience had laughed along with the child.
"Oh no!" Mathieu put his hands on his ears. "I should have taken that line out. I don't want to laugh at this woman -- at any of these women. You had it right. It was this woman taking charge of her sexuality!"

Spontaneously creative, he reflected on how he could eliminate the line, now that the film was out.
"I would never want anyone to be critical of these women," he repeated.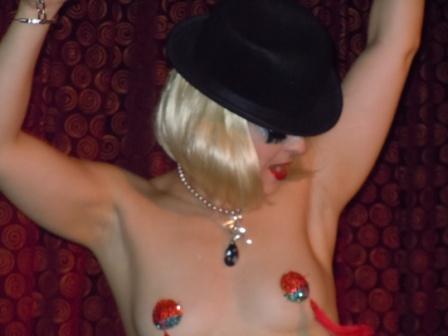 Tournee is an exchange of dreams: the American Dream exchanged for the dream of Paris. The women, however, find a homogeneous France: this is why Mathieu used as locales the anonymous hotel chains of France, the gas stations, the highways. "I wanted the film to be about the provinces, to show that everything is the same in France."
America, in contrast, comes off as a big energy antidote to European blase despair. After all, these women are over the top American -- speaking in slang from the very first fantastic scene in a dressing room ("I'm just being stupid").
Amalric has his own connection with the US. Son of a Le Monde journalist and a literary critic, he lived from age five to eight in Washington DC, then returned to New York a lot as an adolescent, in Vermont ("very green"), and Chicago, experimenting with photography.

What is America for him?
"If you do movies, you have to love America. You have to define yourself vis a vis America. I was attracted to movies from the 70s: Bob Rafelson's Five Easy Pieces, Bob Fosse's Lenny; Cassavetes' movies. Yes my movie is obviously citing Cassavetes. My character thinks he is Cosmo Matelli, the Cassavetes character in The Killing of a Chinese Bookie. My character fantasizes about America, because he saw too many American films. When he has a problem, he asks himself, what would Ben Gazzara do?"
"I love American literature too--" Mathieu added joyfully. "It's very direct, it's warm. You don't care who wrote it -- John Fante or whoever -- it gives warmth, a sense of being with people."
Which is what Tournee is all about. We are in a rollicking group of women -- a new family -- in every shot, experiencing their jokes, complaints, worries, in this Cassavetes flurry of vitality.
Behind us, I heard screams of Alexandrine verse in a disco coming from the editing room.
Mathieu laughed: "They are now in a disco..."
But what does all of this mean?
`"Life has no meaning," Mathieu waved his hand -- and launched into a near-rap flourish of a monologue. "Sometimes you go up -- you get a good phone call -- then five minutes later your girlfriend calls and says she doesn't like your brother! You have a million stories in a day. Your mother is sick, you don't like your job, you get fed up and decide to no longer have feelings. But then a friend calls you haven't seen in years and you go laugh and you meet a girl in a club, and you betray your wife and make love...."
"Isn't this the way it is?" he grinned. "I never understood why one has to decide if a film is a drama or a comedy. I have difficulty with films which try to fix a message. Les bon sentiments is the inverse of humanity. A lie. I love films when not everything is said."
But still does this up-and-down- - this chaos of movement that is the film -- have any meaning?
For example, does Mathieu Amalric's character change at the end?
"He already began to change when he decided to quit producing in television; he went to live in the States. Then he wants to come back, using these women. He believes that he will be protected and everything will be more alive. But the reconciliation with Paris does not happen. He is a man who has become rigid, who doesn't want to deal with love anymore, he has suffered too much. He just wants to have adventure en route. He gets closer to one of the girls, but it could have been any girl; he picks Mimi, just because she wanted to shop, and she says, you can sleep now."
"Yes!" Mathieu suddenly brainstormed with a flash. "Something does happen at the end. The woman Dirty Martini touches his head. She baptizes him. The women have let him in."
As I gathered my things, I asked Mathieu if he had always wanted to be an actor.
He looked stunned. "Always wanted to be an actor! Not at all. I started at age 17 as an assistant director, I made my own short films, I did every possible job in film: editing, props, assisting. It was Arnaud Desplechin who made me an actor, at age thirty. Everyone thinks I am a good actor because Desplechin is a genius."

As for what it meant to act in his own movie:
"I was in the frame with them, with the women, not protected by the camera. We were all vulnerable together."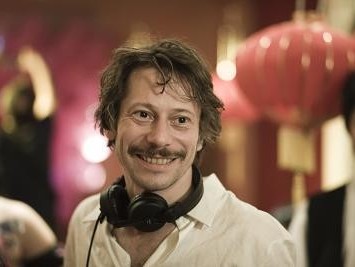 Popular in the Community