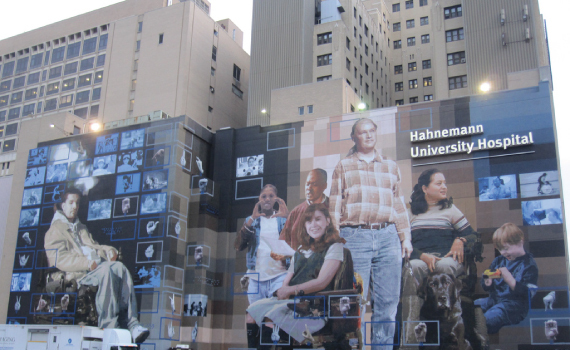 In the past week, our small statewide union has added nearly 1,200 new members. One of our organizing victories, at Hahnemann University Hospital in Philadelphia, was reportedly the largest pro-union vote anywhere in the country in the past year. We won with an 82% majority.
In early February, we'll hold elections through the NLRB for another 400+ nurses at St. Christopher's, one of Philly's renowned children's hospitals. And our staff is fielding calls left and right from other nurses and healthcare technicians who are desperate to win union protections.
In short, it's because hospitals are increasingly acting like corporations. They're not the same not-for-profit, community-centered organizations that many of us like to remember.
Hahnemann and St. Christopher's are both owned by Tenet Healthcare, one of the nation's largest for-profit hospital operators. Delaware County Memorial, where we just added another 330 nurses, is set to be purchased by a for-profit called Prospect Medical Holdings.
"We wanted to get back to the foundations of nursing," said ER nurse Mike Winn after the successful union vote. "It should be about patients, not profits or shareholders. We were tired of having management's decisions limit our ability to give the best care."
Other nurses supported the union even after rejecting past attempts to organize.
"I was not a union person. I thought it would impede patient care," said Jane Bryers, a Labor & Delivery nurse. "I did not think that I, as a professional, needed a group of people to help me voice my concerns."
Management had promised improvements, but those changes failed to materialize and nurses saw conditions deteriorate markedly -- not just for them, but also for patients.
This time, Bryers was a union supporter and a proud yes vote.
The issues we address in our organizing efforts -- and in our contract negotiations -- are different than those you often hear about when it comes to labor unions. The nurses who were trying to win unions at Hahnemann and Delaware County Memorial weren't focused on wages or benefits. Their issues centered almost entirely on management interfering with their ability to provide good patient care. We heard true horror stories about bad equipment, inadequate and unsafe staffing, and a general unwillingness to include nurses in decisions that impact our jobs and our patients.
So, if hospitals are going to act like companies -- cutting corners and employing standard corporate management tactics -- then we need nurses and other medical professionals to act as advocates.
This wave of organizing in the Philadelphia area is certainly a win for the state's labor movement: These days, it's not often that we hear about back-to-back union victories. It's exciting to see hundreds upon hundreds of skilled professionals -- consisting predominantly of women -- banding together to form new unions.
But, beyond that, it's also a win for patients.
These successes have been about nurses resisting an approach to healthcare that puts profits ahead of people. Patients get better care when nurses have a voice in decisions that impact caregiving. That sounds like common sense, but it's a radical idea in some board rooms.
We need to empower medical professionals to speak out and advocate for patients' interests. Our unions give us the voice and the power to do just that.
Patty Eakin serves as President of PASNAP, a statewide union that represents approximately 6,000 nurses and allied healthcare professionals. Eakin is a Registered Nurse with nearly 40 years of experience, most recently in one of Philadelphia's busiest Emergency Departments/Trauma Centers.
REAL LIFE. REAL NEWS. REAL VOICES.
Help us tell more of the stories that matter from voices that too often remain unheard.