Is there a female equivalent to avuncular -- a comfortable word to describe the goodness of aunts? We could say auntlike or tantesque -- but somehow these words seem less generous than a word like avuncular, cloaked in corduroy, describing a good-hearted, patient, indulgent uncle. I am blessed to have had a good-hearted aunt -- Aunt Elsie -- who wanted the best, deepest happiness for me. She showed me a larger way of being in the world, a world more generous and interesting than the Indiana world in which I grew up.
Aunt Elsie was a professional aunt; she guided me from childhood into adulthood, at every turn, with generous instruction on how to live a good life. Perhaps Elsie knew instinctively how to be a protective aunt because she was raised by three aunts -- Nora, Carola, and Friedl -- or The Committee -- as she called them. The committee of aunts raised Elsie and my mother after their mother died suddenly of gas poisoning when Elsie was just two years old and my mother seven. What is your first memory, I asked her once. It was, she recalled, a memory of her mother's absence -- of going from room to room looking for someone, but never finding who she was missing.
I write about her in past tense because she passed away in September. It is difficult to use past tense, and I stumble moving between present and past tense. I still have questions to ask; advice to seek. She was always at the other end of the line to schmooze, to laugh; I called her when I needed wise counsel, and when I thought she might need mine. At age 86, Elsie led a long, interesting life, but she had so much more life to live, and I wanted her to live it.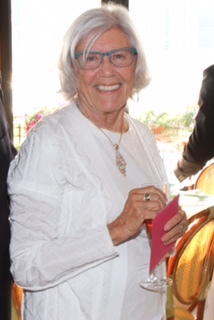 Elsie had great passions and enthusiasms -- for opera and orchids -- New York Times crossword puzzles and New Yorker cartoons -- for New York itself. She loved to host dinner parties and gather friends and family around the table. She loved garlicky food and thick lamb chops; loved to fill her coffee cup to the brim and lean over the counter to slurp from the top to keep it from spilling over. She was our family historian and filled her home with the family photographs she loved.
Of the abundant gifts my Aunt Elsie gave me, I am grateful for one in particular -- she encouraged me to write and set me forth on a career of writing. She loved to write, had an eye for detail, and if she had come of age in a family that nurtured her writing talents, as she did mine, she might have become a journalist or essayist. When in high school and struggling to find my place in the world, hearing my mother's voice telling me what I "should do" rather than what I might "imagine possible," Elsie wrote me long, witty letters helping me to imagine my future. And I wrote long letters in return, imitating her voice and humor, and trying to be the kind of person, as she was, upon whom nothing is lost. We were lively correspondents during my high school years; the two of us shared a passion for language and for using words to make each other laugh. I could never have imagined, when Elsie was patiently teaching me to write, that one day my words would pay tribute to her.
At Elsie's funeral, I delivered a eulogy, as I had promised her I would do. When Aunt Friedl died, we had a graveside service. It was raining -- a Biblical rain that seemed to carry some kind of message, although we didn't know what it might be -- and very few words were spoken as we rushed the service. At that moment, seeing Elsie's distress at not being able to provide a proper burial for her aunt, I promised her that I would speak for her when the time came.
The time came on September 21st, when our family gathered to mourn and celebrate Elsie's life. The presence of death reminds us to live more fully -- to be tender and loving with one another -- and to reflect on the simple gestures of grace and generosity that are the essence of life. To keep my aunt's memory alive, I want to live as she lived -- listening carefully, observing closely, loving generously. Elsie would love the thought of a blog post written about her. I wish she could read these words and know how much she is missed.
PHOTO GALLERY
Sweet Reddit Grandparent Stories
Calling all HuffPost superfans!
Sign up for membership to become a founding member and help shape HuffPost's next chapter