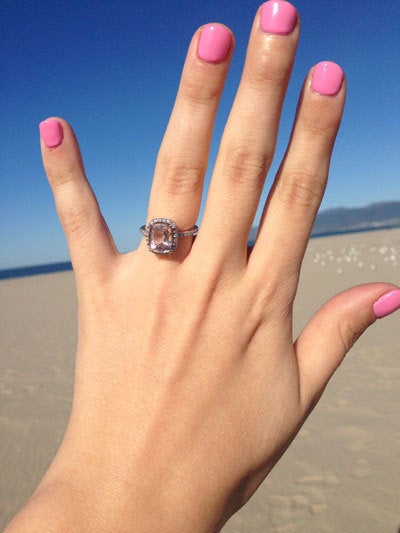 Thanks to years of being forced to admire other women's rings at cocktail parties and other social occasions, by the time I got engaged, I already had a pretty good idea of the kind of engagement ring I'd like: a cushion-cut setting with a center stone that my grandmother wouldn't need to squint at.

Like many women, I assumed that when the time came, my engagement ring would be a typical diamond that my fiancé would pick out and that it would come from (where else?) a jewelry store. However, during a random afternoon of Pinterest surfing a few months before I was to officially become engaged, I came across the website of a personal style blogger who sported a beautiful, pale pink, cushion-cut engagement ring in her photos, and I became smitten with the gemstone that I would later learn was a morganite.

A morganite is a rare, light pink-colored stone that was reportedly discovered on an island off the coast of Madagascar in 1910 and was later named after financier J.P. Morgan.

Although I've never been a "pink" kind of girl -- or, to steal a line from Steel Magnolias, a woman who would insist that her wedding colors be "blush and bashful," -- I loved that, like wearing a pale pink lipstick, a morganite was a neutral enough color to accommodate almost any fashion choice and wouldn't make me feel the need to be all matchy-matchy with my clothes the way I would if given a bright blue sapphire or a vibrant green emerald. The morganite also boasts a sweet symbolism behind it with some claiming that the gemstone helps inspire and maintain love, making it an extra-perfect choice for an engagement ring.

Luckily for me, when my long-time boyfriend popped the question over breakfast at our favorite Venice Beach cafe, he didn't really "put a ring on it" as much as he offered me his half of his coconut-pineapple scone and the idea that we pick out the engagement ring together. The proposal wasn't a surprise, since we had spoken about getting married before, although the offer of pastry was a somewhat notable act of generosity since the scones at Figtree were always our favorite part of breakfast there.

We ate there so often, in fact, the waiters had begun to greet us with "the usual?" -- a considerable feat considering that my Meg Ryan in When Harry Met Sally-style of ordering breakfast typically consisted of the following: the Santa Fe omelette with egg whites instead of yolks, a side of fruit instead of potatoes (but in a separate bowl so that the fruit doesn't get mixed in with the more savory elements of the omelette,) and a coconut-pineapple scone with the apple-butter sauce, on the side, please, thank you.

I'd like to think that my fiancé's suggestion that we pick out the ring together was his gentle way of acknowledging that I could be a bit particular, sometimes. (OK, possibly all the time.)

Since morganite engagement rings are not typically something you'd find at the average jewelry store, I decided to contact the designer of the ring I originally became enchanted with. Fortunately, the jewelry designer was based in LA, like we were. Unfortunately, her claim to fame was designing one of Britney Spears' engagement rings, and like many companies in Los Angeles, once a business didn't need degrees of Kevin Bacon to connect themselves to a major celebrity, the cost of their services became substantial.

Deciding that it wasn't worth asking my fiancé to shell out Brit-Brit bucks for a celebrity designer, I turned my search to Etsy, where I'd had good luck connecting with independent designers in the past.

When I came across the Etsy store of Laurie Sarah Designs, I knew I had found my ring designer. Not only was Laurie based in LA, but she also worked with morganites extensively. There, on her website, for significantly less than the cost the other designer had quoted, was the ring of my dreams: a 3.5 carat cushion-cut morganite engagement ring, set in white gold with almost a carat of halo and side halo diamonds.

Since morganites can really range in color from peachy orange to purple-ish lavender pink, it was important to me to see the exact shade and saturation of the center stone I was going to be looking at for the rest of my life, so my fiancé and I ventured downtown to LA's jewelry district to the studio of Laurie's husband.

Since they were literally a mom-and-pop business, Laurie's husband Avo presented us with a range of settings and loose morganites, and, while one of the existing settings he showed me fit perfectly -- which meant that I wouldn't have to wait weeks for a custom setting to be made -- none of the stones seemed to nail that perfect shade of reddish pink I was looking for. Generously, Avo offered to look for more stones and the next day had rounded up another batch for me to look at, one of which was a perfect match.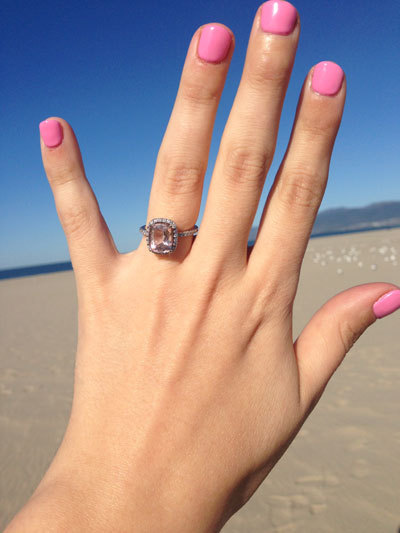 Within days of picking out my ring, my fiancé and I were back at Figtree for our usual al fresco breakfast, except now, I was wearing a morganite engagement ring that sparkled tremendously in the California sunshine. This time, I offered him half of my scone, and we clinked our coffee cups in celebration.

Margeaux Baulch Klein is a freelance writer based in Los Angeles. She enjoys collecting inspiration images for her upcoming nuptials on her epic wedding Pinterest board.