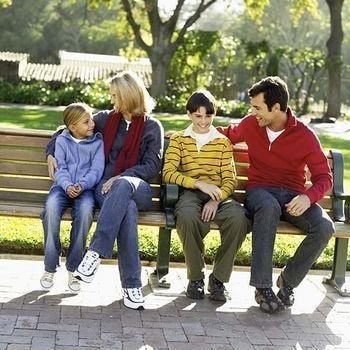 In the US and the UK, it's estimated that there are more stepfamilies than nuclear families. In other developed countries like Australia and Canada, the figures are not as high but they are on the climb.
Stepparents have bad reputations. Just ask Cinderella and Snow White. Mike and Carol Brady's bunch tried to give blended families a better name, but nevertheless, the word "stepmother" still brings about squirms from kids and stepmoms alike. An elderly couple a few years back told me about their experience bringing two sets of teenagers together back in the 1960s. "We wouldn't do it again," they both agreed. "It never did work and it brought us a lot of pain."
Most everything you read about stepfamilies has to do with evil stepmothers, obnoxious children, responsibility without control, resentful ex-spouses and lack of appreciation. But from my arguably unenviable position of stepmother, I'd like to talk about the better side of stepfamilies. Yes, when they work, they can work even better than "real" families.
Stepfamilies cause us to redefine our expectations of family, and that can be a good thing. Parents are universally disappointed when their grown children don't meet their expectations for phone calls, visits and life choices. Successful stepparents learn to lower their expectations a lot earlier in life, and this can have a positive impact on the emotional growth of their children. It can also have a positive impact on their own happiness.
If you're interested in becoming a better parent, count on your stepkids to tell you how to start. Remember that our biokids are still living by the rules of unconditional love and acceptance. Stepkids aren't. They're more likely to tell you exactly what's wrong with your style because they don't have anything at risk. If you listen to them with the same kind of non-attachment, you might just find they're right about how you could be more effective.
Subsequent marriages are often better than the ones that produced the kids -- you can set a better example. Remember that you and the other bioparent broke up for a reason. Your kids already went through that divorce, and you can be sure they learned something -- and not always something good -- about intimate relationships. When the pressure of a bad marriage is off and we have the energy to be better role models, a subsequent marriage can provide a better mirror for teaching negotiation, forgiveness, generosity and love.
Stepfamilies can teach kids more about how the world works by giving them a broader experience of normal. A kid's experience growing up seems normal to them, and no two families have the same version of normal. It's usually quite a shock when a kid goes off to first grade or college and finds out how the other people live. Stepfamilies can stretch a kid's thinking; stepfamilies can give a kid a reality check; stepfamilies can (and will) give a kid a better sense of him- or herself in the larger world by challenging the family's norms. This is a critical skill in today's world.

Stepfamilies can give kids a real sense of the traditional family. Many modern professional women didn't have time for more than one child, or their truncated relationships prevented giving Joey or Janey a brother or sister when the time was right. Stepfamilies can fill in the gaps and provide instant siblings, thus alleviating parental guilt and childhood longings for a more cohesive family unit. Larger families, with their discipline and chaos, used to be the norm. Kids can still have that experience with stepfamilies.
Stepfamilies can provide that missed opportunity to parent the boy or girl you didn't have. What could be more meaningful to a father of boys than walking his stepdaughter down the aisle at her wedding? How about a mother of girls having the opportunity to shape the personalities of young men who can use their status to make the world a better place? Stepparenting doesn't just benefit children. It can benefit who we are as parents as well, and for many men and women, parenting is how we learn about ourselves, our capabilities and our meaning.
The most humbling statistic I found is that subsequent marriages are even more likely to end in divorce than first marriages. Unsuccessful stepparenting can add to the stress. "Stepchildren are the most likely cause of divorce in a stepfamily marriage," says Alison O'Mahony, founder of the London-based organization, Be StepWise. She also notes that stepparenting grown children can be just as hard, if not harder, than if the children were younger. Brenda Ockun, publisher of Stepmom magazine and a stepmom herself, says, "Teenagers have a tougher time accepting these new circumstances. It's more challenging with them."
It's never easy, I conclude, but in light of the fact that over 1,300 stepfamilies are formed daily, I think it's time for us to come to terms with redefining our notion of "family," and learn the additional skills and roles necessary to bring diverse families together under one roof. The benefits are there. And it is possible.
The mental model most of us operate with says that we are more loyal and connected to our birth family members than step relatives. This is confirmed by a 2011 Pew research report. Yet the same report concludes that adults with step-relatives are nearly as likely to be very satisfied with their family life (70% versus 78%) as traditional family members.
My family is not a circular, nuclear family. We're more like a spin-art painting. In attendance at our daughter's wedding were steps, a half, spouses and significant others, and even an ex-stepmother. My stepfamily has been the source of growth, pain, delight and sadness -- just like every other fulfilling relationship experience I've ever had. When things go wrong I don't chalk it up to being a stepfamily. I chalk it up to being a family.
Janice M. Van Dyck is an award-winning author and freelance writer whose novels explore family relationships. The O'Malley Trilogy explores the inner life of mothers and daughters, and her latest novel, Finding Frances, gently explores the issue of losing a parent and end-of-life choices.
Related