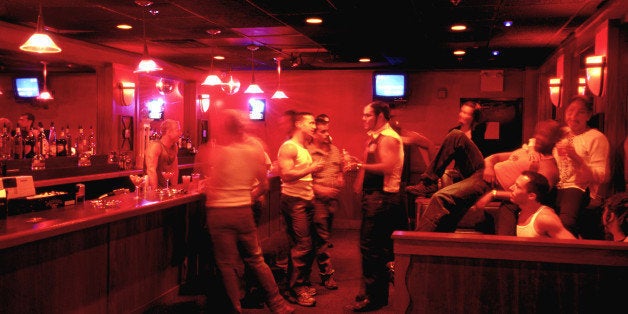 The first time I stepped inside a gay bar was also the first time I kissed a man. I was 19 years old and the bar was in the conservative bastion of Colorado Springs. Like many gay bars in the early 1980's, it was a non-descript building with blacked-out windows and perched on the edge of town; the city's dirty little secret. The bar, like the kiss, was a thrill I would not experience again for more than 20 years.
I was working as a tour guide at "The Lost Gold Mine" in Central City and living with my lesbian aunt and her psychic girlfriend in the summer of 1982. There are stories I have yet to tell my mother about that night. The way I lied about my age to the bartender and became drunk on vodka tonics. How Donna Summer, Tina Turner and Diana Ross (or their drag queen look-alikes) coaxed me up on stage and showered me with glittery hugs. And the moment I stumbled out of the bar with a handsome young guy and experienced that first kiss beneath the shadow of Pike's Peak.
The bar was like a beautiful island of misfit toys and I belonged.
When I returned home to North Carolina, which was also when I retreated back into the closet, I boarded up those stories and stowed them away, but I never forgot them. More than 20 years later, when I was in my 40s and living in Boston, I came out for the second time and ventured once again into a gay bar.
Fritz was a gay sports bar in the trendy South End of Boston and not at all like my first experience. While the ceiling was painted black, the ample sized windows were not. I strolled past them multiple times peeking inside, summoning up the courage to open the door.
When I entered, there were a dozen or so guys dressed in work attire, half of them watching a baseball game on the TV screen above the bar and the other half checking out the new arrivals. There was no need to lie about my age, as my greying hair gave that secret away. I didn't dance with any drag queens or get kissed beneath the silvery moon, but I did experience the tiny thrill that I get to this day when I walk into a gay bar, and I have visited many.
One night, I overheard a guy in his 20s lament to his gaggle of friends "Ugh, if I'm still coming here when I'm in my 30s, somebody slap me." I wanted to deliver a pre-emptive strike. Anyone in their 30's, 40's, 50's, 60's, 70's or 80's who is still able to visit a gay bar, should consider himself lucky.
I'm in my 50s now and I still venture out to a gay bar now and then, the last time was with my youngest daughter, Marisa who is in her 20s. I watched her get coaxed up onto the stage and dance with Tramplina, a 6 foot two tall drag queen. I couldn't help but laugh and see my younger self. I'm not attempting to relive my youth, as much as I am reclaiming what was stolen.
I'll continue to go to gay bars until either one of us ceases to exist. I've heard that they are not necessary now that we've become main-stream or that they are too shallow and I have also read that insipid article about how gay men in their 40s should grow up and not go to gay clubs. I have three responses: 1) Being main-stream is overrated; 2) You get out of life what you put into it and 3) a quote from Maurice Chevalier "You don't stop laughing because you grow older. You grow older because you stop laughing."
The modern day fight for LGBT rights began in a bar and there was a generation who fought for those rights but did not live long enough to see them come to fruition. The least I can do is raise a glass to them every now and then and perhaps under the disco lights, steal a kiss from my husband.
Popular in the Community