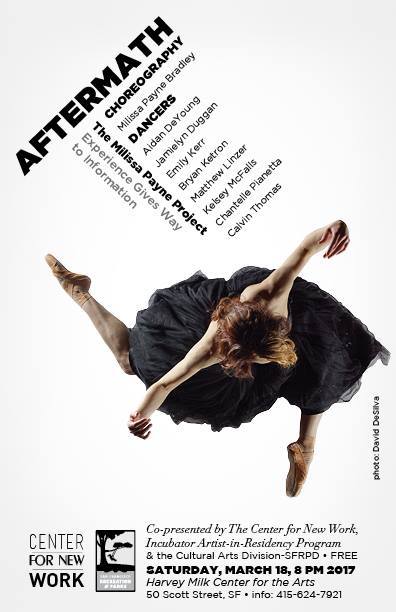 At Tuesday's Arts Advocacy Rally at San Francisco's City Hall, theatre artist Clove Galilee tells me she was standing in the crowd listening to speakers when a car drove by and the driver screamed, "Get a real JOB!"
"The 'Artistic Class' is under attack in our country," observed Galilee, "and unfortunately the Bay Area – despite all its money, especially in the tech industry – does not seem to value the power of the arts enough."
Galilee and partner Jenny Rogers, co-founders of experimental theater company Trick Saddle and creators of critically acclaimed dance, theater and film, have recently established the Center for New Work, a 'roving institute' that provides free space to artists and arranges performances, master classes and exhibitions around the Bay Area. Currently, they are ensconced at the newly redesigned Harvey Milk Center for the Arts, a facility of the City of San Francisco's Recreation and Park Department.
They've launched a new residency program and on March 18th introduced the work of its first Artist-in-Residence, choreographer Milissa Payne Bradley, to a standing-room-only audience. It was a tightly curated evening, that showed off multiple facets of Payne Bradley's quirky imagination and reaffirmed the power of ballet to speak to contemporary concerns. The choreographer labeled the series of five unconnected works Aftermath – Experience gives way to information, which teasingly evoked German philosopher Walter Benjamin's preoccupation with the 'afterlife' of an artwork and the impact of technology and war on culture. Payne Bradley resists fashionable attempts to distort balletic language; not unlike Benjamin, she upholds tradition – stamping it with her own brand of sensuality – and embraces modernity.
Benjamin's idea that an artwork is both past and present was borne out by Emily Kerr's opening solo. To the shuddering, shimmering opening chords of Henry Purcell's deathless aria for the Cold Genius in King Arthur ("What Power Art Thou"), the dancer slipped into a hooped cage underskirt. The dance was an outwardly frivolous meditation on her relationship with this skeletal garment – and by extension women's relationship with fashion throughout history – but as she coolly flipped and crushed and manipulated the cage, she demonstrated power over how she is perceived.
Both dance and song merged to erase a sense of time, as they did in the other two solos of the evening. Revolve, danced by Jamielyn Duggan, and Swell, by Chantelle Pianetta, were both consumed with the imagery of spinning. Duggan's heartrending attempts to escape an inexorable orbit contrasted with Pianetta's serene embodiment of an astral force that organizes the trajectory of the planets.
A duet for Kelsey McFalls and Aidan DeYoung was the least original of the pieces on offer, though it deftly avoided the sentimentality and the angst that afflict many contemporary romantic duets. Set to The Flamingos' iconic "I Only Have Eyes for You," this account of a brief encounter was what La La Land was aiming for but missed by a southern California mile.
The evening climaxed in a masterful two-part deployment of standup comedy as soundscape for ballet, in audio recordings of live comedy routines that captured audience applause and laughter. Three female dancers tangled with the voices of Daniel Tosh, Mitch Hedberg, and Louis C.K., after which three male dancers took on Maggie Maye, Ali Wong and Wanda Sykes. The choreography served to embellish, rebut, and mock the comedians' skewering of human naiveté, cruelty, racism and sexism.
Evident throughout was Payne Bradley's musicality, calibrated to the rhythms and sonorities of the comics' voices, and her singular wit. Louis C.K.'s dry comment "When I read things like 'the foundations of capitalism are shattering,' I'm like, maybe we need that" is the occasion for a set of joyous Russian pas de chats.
A veneer of lightheartedness and politesse did not obscure an underlying vein of longing and melancholy. Frustration and anger, too, pierces the surface of Payne Bradley's classical world. This multi-layeredness resonated well after the evening is over. It reminds us that the aristocratic tradition of ballet, originally a tool of power, has been infiltrated, and enriched, over time by proletarians of various stripes.
There is no document of culture which is not at the same time a document of barbarism. – Walter Benjamin (1940)
Galilee, Rogers and the Harvey Milk Center for the Arts have set the bar high for community experience and for expectations of the kind of art that community centers can nurture.
On Saturday March 25th the Center hosts a staged reading by SCOTUS Theater, directed by Becca Wolff. Professional actors and lawyers join to present the arguments in the landmark Peña Rodriguez v. Colorado case, and to read the recent Supreme Court decision in the illuminating and occasionally comic style of theatre company and co-producer Word for Word.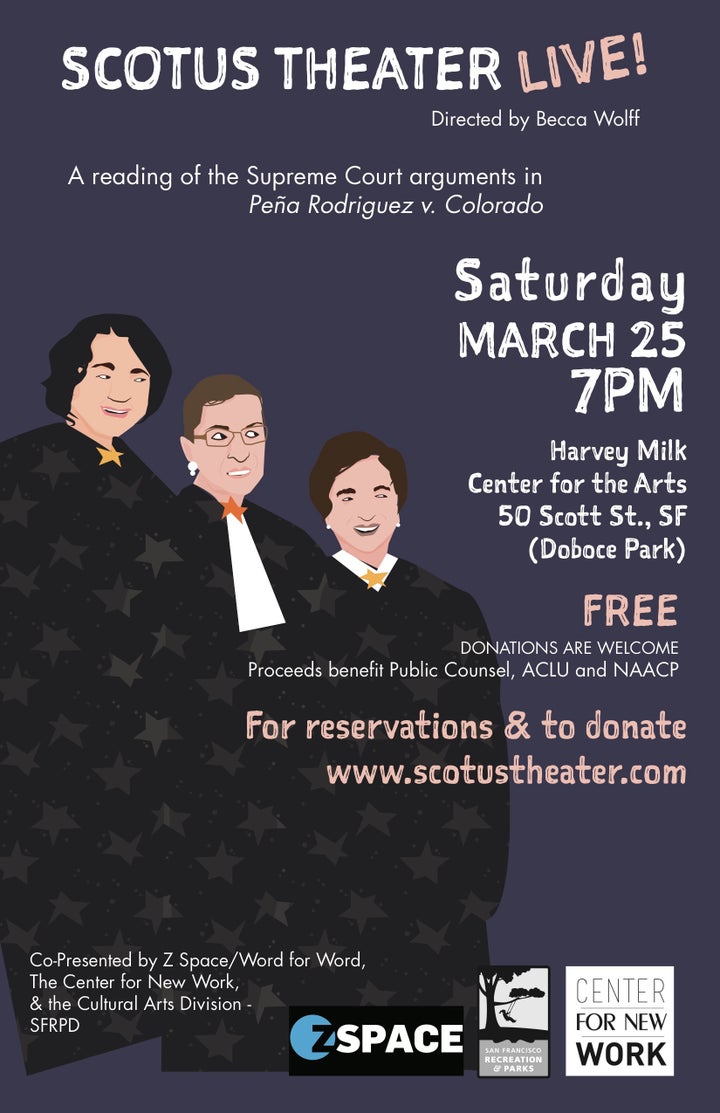 The outcome of Peña Rodriguez v. Colorado is a big moment for the court, observes Wolff, "[for it] to be taking as strong a stance as [Justice] Kennedy does in the decision about the importance of addressing racism in our justice system."
The dramatic question, I think, is a broader one about the nature of citizenship in the US. Jury service is a civic duty and in that room, we decide the fates of our fellow citizens. But what happens when a juror sees a citizen as an "illegal" - as the juror in this case did when he spoke of a witness as such. How do we really define citizenship? And how does this affect the kinds of decisions we must make (guilt vs. innocence, electing representatives). And does our system have adequate safe guards against abuses? – Becca Wolff
An expert panel who will discuss the case with the audience immediately after the reading include Supreme Court litigator Jeffrey Fisher, who argued the case on behalf of Peña Rodriguez, writer and professor Ana Minian, whose work interrogates race, ethnicity and citizenship in the U.S., and immigrants' rights lawyer Talia Inlender.
The timing of this event is impeccable, in a week of extraordinary political tension around the appointment of a new Supreme Court Justice.
Galilee and Rogers have big ambitions for the fledgling Center. Alumni of Mabou Mines and other long-established laboratories for cutting-edge theater, they divide their time between East and West Coasts and have ambitions to bring the Center to other venues around the Bay Area. They also plan to launch an Incubator program which will unite 10 to 12 artists or companies selected from a competitive application process to work as a creative community over a one- to three-year incubation period. "Our hope is that this crucible of collective artmaking will help lift artists up," says Galilee, not just by providing free or low-cost space, "but also by strengthening the connectedness and social network that artists rely on for their survival." The pair are acutely sensitive, she says to "the increasing pressure to make commercially successful artwork [that] destroys artistic freedom and the ability to innovate, experiment and explore."
Wolff concurs: "There are so many wonderful artists here, but it's harder to find the kind of young, 'hungry' producer you meet in L.A. and New York City. I think people with the skills to put on shows and develop innovative new theater get pulled into the tech space very quickly. And so, that worries me about San Francisco losing still more arts funding. How will we innovate without the ambitious young producers to make it happen?"
Support HuffPost
The Stakes Have Never Been Higher
Related
Popular in the Community