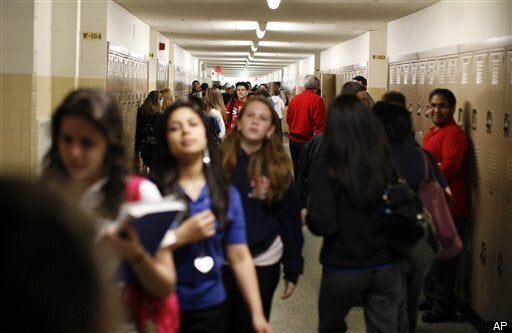 By Jennifer Cupp and Hind Al-Sulaiti
Muneera Al-Bu'anin is growing up in the Persian Gulf state of Qatar and Ahmed Tedawy lives right outside historical Cairo, but both students share many similar school experiences -- including a curriculum that instructs them how to think, analyze and study in English.
Such learning is the result of both countries undertaking educational reform, as Qataris and Egyptians see the future of their economies not in oil or tourism, but in their people. Both governments now say staying competitive requires citizens trained to work in a global economy where English is the main language for business and education.
But there is resistance to educational reforms in both countries from students and their parents. Students in the midst of these reforms complain about academic demands of them shifting almost immediately. Older Egyptians and Qataris interpret much of the reform as Westernization and complain their children have lost fluency in Arabic.
"Even at home the kids are using English words," said Mubaraka Al-Bu'anin, Muneera's mother. "I now have to drop words that are in English because their Arabic has become mixed with English."
A generational gap is just one of the consequences of Qatar's decision to pursue a goal of becoming the Middle East's educational hub. The tiny, oil-rich state is now home to Education City, a 14-square-kilometer area that hosts the branches of six major U.S. universities, including Northwestern and Georgetown.
Such development comes at a steep price. According to the country's top scholastic authority, the Supreme Education Council, Qatar devoted 12 percent of its public expenditures -- $2.2 billion -- for education in 2007. In comparison, the United States spent $63 billion on education in 2007, roughly six percent of the federal budget, according to the U.S. Department of Education.
Egypt, which received $1.5 billion in aid from the United States for 2009, has also allotted more funds for educational reform, though haphazardly. Measured by their spending on education, Egypt ranks 112th among all countries, according to last year's United Nations' Human Development Report.
Even though 23 million Egyptians are between the ages of 10 to 24, the country has taken a slower approach to introducing English instruction at an earlier level and providing more technical training. Some Egyptians complained about too much too soon, and the Egyptian Ministry of Education responded by switching to a more gradual program. The reforms started in 2000 and will now take until 2015 to complete, said Yousry El-Gamal, Egypt's Minister of Education.
The United States Agency for International Development granted $76.8 million to the educational reform program in Egypt and seeks to create a system similar to that being developed in Qatar. Officials acknowledge complaints about Westernization of curricula, but assert it is necessary for the future.
"Any graduate who does not speak English...won't have opportunity in the market," said Hani Helal, the minister of higher education and scientific research in Egypt.
English instruction in Qatar's schools, according to government plans, is to tailor students for higher education and jobs in English-language workplaces and universities. By 2011, all the government schools in Qatar will convert to privately-run independent schools.
Both Egypt and Qatar battle what Helal referred to as "brain drain;" talented students leaving in search of better education and jobs elsewhere. In addition to creating Education City, Qatar has a program to give jobs once held by expatriates to Qataris. Egypt is working to provide better opportunities in its country for graduates, such as jobs that pay well, said El-Gamal, the Egyptian minister of education.
Despite its benefits, English education remains a sore point. The Qatari reforms instruct teachers to devote around 15 percent of class time to English instruction -- and that's just the minimum. Since teachers at independent schools create their own curriculum, the numbers vary.
Muneera Al-Bu'anin estimated her teachers instruct in Arabic in 34 percent of her classes at Al-Wakra Secondary School in Qatar, which became independent when she was in the fourth grade. That means almost three-fourths of her classes are taught in English.
When the switch occurred, she found herself suddenly having to learn in another language, and dealing with the new pressures of teenage life. As she and her peers struggled to keep up in English, their academic performance dropped, she said. And her mother couldn't help. Although she speaks some English, Mubaraka can't help her daughter with math or science because she doesn't recognize the English terms.
"Arabic just got easier and English got harder," Al-Bu'anin said.
Ahmed Tedawy's school in Egypt started implementing reforms two years ago. The new reform program requires students to understand information on their own, he said. It includes support materials such as Internet access at school, folders and CDs. The students' academic performance improved because the reforms made the subjects easier, he said, whereas before the curriculum was long and difficult. This made students love school and studying more, he said.
"It made us have bigger ambitions than we had before," he said.
Egyptian public schools, which draw 90 percent of students in Egypt, teach primarily in Arabic. But experimental schools -- about 2,000 out of the 40,000 schools in Egypt -- are teaching science and math in English. The government plans to build more experimental schools in future years, El-Gamal said.
Tedawy said in school he has seen no changes in English study. Instead the Egyptian reforms have focused on classroom practices, which center on students' autonomy and individuality in learning. For example in Arabic, the curriculum changed to require students to be creative with the material and increase their understanding of it on their own, he said.
Omar Barakat, a student at The American University in Cairo, the largest college campus in the country, doesn't think Arabic is in danger of dying out because Egyptians use it every day. The newspapers, television news and soccer games are all in Arabic, he said. But this Arabic doesn't mean students know formal Arabic, which upsets some parents.
The Qatari government has tried to respond to complaints about its educational reforms. The government now requires all official government business be conducted in Arabic.
Educational officials in both countries expected it will take time and student results before the reforms gain wider social acceptance.
Still, students are growing up in a bilingual world. Arabic no longer has the dominance it once had in these two countries. "Arabic isn't a second language," said Mickie Mathes, associate dean of academic affairs at Qatar University. "But it isn't a strong first language either."
Jennifer Cupp graduated from Washington State University with a bachelor's degree in communication, and will be attending the University of Denver in Colorado, working towards a master's degree in international communication. Cupp was an intern with Al-Arabiya News Channel in Washington, D.C. Hind Al-Sulaiti is a student at Qatar University.
Calling all HuffPost superfans!
Sign up for membership to become a founding member and help shape HuffPost's next chapter