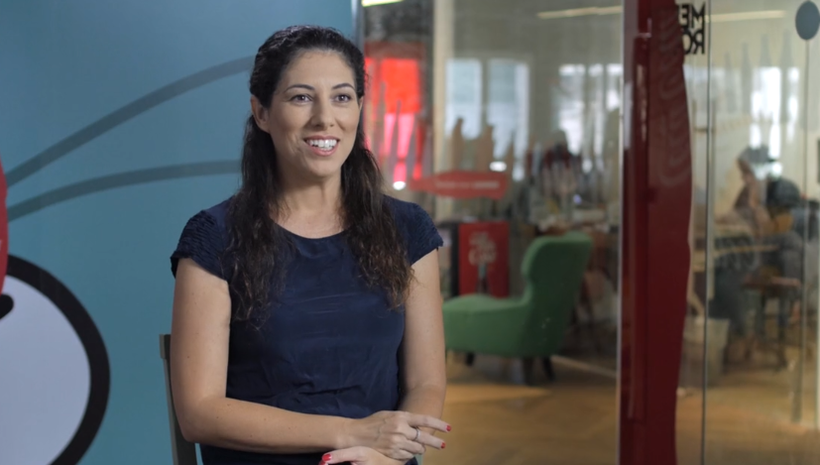 As CEO of Fuse.It, Liat Sade-Sternberg deals professionally each day with augmented and virtual reality. But she needed to make a move in real time to be in one place with her husband and three children. That move was to Los Angeles.
"I used to fly a lot, was half the time in the U.S. and half the time in Israel, but now we've raised enough money to work from here," says Sade-Sternberg, who had split her time between Israel and The U.S. as a tech innovator.
Fuse.It recently launched the free app that allows users  to create custom dance videos starring themselves with celebrities, world leaders and politicians. It is also the only female-led company selected for Fusion LA, an accelerator for startups in Los Angeles.
A new study by the venture capital firm, First Round Capital, shows rampant sexual harassment and a lack of diversity in talent and leadership at startups.
"Just 17 percent of startups have put in place a formal strategy to promote diversity and inclusion, up slightly from 14 percent in 2016 and in 2015, the study found. Most diversity plans are informal, but more companies intend to develop a strategy compared with those in past surveys," writes Sarah McBride in Bloomberg.
"The number of all-male or mostly male startup teams had declined to 58 percent, from 67 percent two years ago, but the gender gap in tech remains stark. About half of male founders blamed the under-representation of women and minorities on a lack of those groups going into tech, a common refrain known as the pipeline problem. But most female entrepreneurs pointed to unconscious bias," McBride writes.
As an innovative entrepreneur, Sade-Sternberg in 2015 was the first woman to win Midemlab, the biggest startup competition in the music business, for Fusic, "an app that enables users to sing, lip sync and dance with musical artists to create their own videos with homemade footage spliced into the professional video clips," according to LA BizJournal,
Fusic was part of The Bridge program at Coca-Cola and was a factor in Sade-Sternberg being named a Promise Entrepreneur by Vivendi, a French mass media company.
"You don't see many women in AR (augmented reality) or VR (virtual reality) in the U.S., " says Sade-Sternberg, whose children are 4, 12 and 14.
In Israel that is different, she says, because both men and women must serve in the army. "So you have  young women go into the intelligence units and have strong math and physics skills."
After her own four-year service in the Israeli army, Sade-Sternberg says in 1995, she took a year to travel to Thailand, Viet Nam and the U.S. and then began her studies in sociology, anthropology, East Asian Studies and Chinese language for three years at Tel Aviv University.
"In the back of my mind my choice to study Chinese was to have a company some day that would deal with China," says Sade-Sternberg.
Then after earning an MA in Legal Studies from Bar Ilan University, she went to work for a television company in telemarketing.
"Seven years later, I was running all those channels and responsible for the launch of TV shows in Israel."
In 2007, Sade-Sternberg said she was "done with TV" and wanted to work with the Internet and mobile markets. So she took a job as content manager at a startup, then moved to become vice president of marketing and business development. In 2014, she started working with Fusic, and is now CEO of Fuse.it.
As a leader of a team that hires and retains diverse talent, particularly promoting women, Sade-Sternberg lectures at the Google TV campus and also serves as a mentor. Here is her advice for succeeding as a tech CEO, mother and innovator.
Hire the best talent. "I don't think there any secrets, just that you hire the best people you can and understand your limits. I always understood the technology."
Do not manage through ego. "If I have a success, it is my success and my team's success." She adds, "You have to realize sometimes the examples you see in management are the best."
Be aware of the culture gaps. "In Israel it's normal for a female to say to a male, 'Let's have a coffee sometime.'" That would signal a normal closing of the business deal. But in the U.S, a potential investor or employer asking you for a drink has different implications for women.
Have good research and development behind you. "Knowing how to work with together R & D can bring you to the top much faster and sooner."
Explain your work and priorities to your children. Even as an innovator in virtual reality, she knows the real thing is what counts with her family. "I want to spend more time with my kids, so I told them, then we should be in the same country most of the time."
While the culture is changing—slowly —for women entrepreneurs who are also mothers, Sade=Sternberg says the bias still exists.
"Most of us entrepreneurs have to be responsible for the kids and the home, but an (employer in a job interview) will ask a woman how many kids you have and not ask a man how many kids they have."
Calling all HuffPost superfans!
Sign up for membership to become a founding member and help shape HuffPost's next chapter
This post was published on the now-closed HuffPost Contributor platform. Contributors control their own work and posted freely to our site. If you need to flag this entry as abusive,
send us an email
.