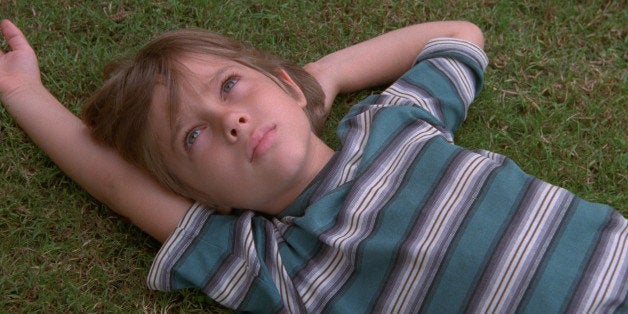 The ecstasy around Richard Linklater's Boyhood reached climax at the premiere at MoMA this week. A two-and-three-quarter-hour epic in which a boy goes from first grade to high school graduation, this landmark movie was filmed in yearly stages for over 12 years, meaning the actors portray themselves as they age. We see Patricia Arquette in several haircuts, Ethan Hawke with and without facial hair, and most dramatically, the kids, Ellar Coltrane and Lorelei Linklater, the director's real life daughter, go from children to young adults, passing through their awkward teens. While this filming strategy pays off in stellar performances, in the big picture, the 12-year gestation is mere conceit. People love this movie for its glimpse into a family, broken marriage and divorce, change of schools, jobs, friends, in short, the quotidian we avoid by going to the movies. Engagement comes in the unfolding of these richly drawn lives, and the nostalgic reviewing of our own. It all seems so real, and yet, Boyhood is scripted in its major moments, with improvisation from the actors.
In MoMA's sculpture garden, the cast mixed with movie insiders: Ellar Coltrane, now 19, is a self-effacing young man with nose piercings. Linklater holds the camera on Ellar's face in Boyhood, and we become familiar with his sudden shifts from carefree to pensive to elusive. In person, that awareness adds an illusion of intimacy. In one scene, he's holding a copy of Kurt Vonnegut's Breakfast of Champions, his own, he wants me to know; he's now reading Tom Stoppard's Rosencranz and Guildenstern are Dead and David Foster Wallace's Infinite Jest. Understandably, he's getting scripts, he says, but he'll proceed with caution.
In the spirit of the film's ease with life's great events, Patricia Arquette announced her brother, actor David Arquette, is engaged. The actress, lovely in Barbie pink, can't believe the film is over. The first of her three husbands, Mason, Sr. is Ethan Hawke, who worked the garden quickly before leaving on a night flight for his next project: a spaghetti western with Ty Webb. The cast also includes Richard Robichaux, who is taking over as head of the Theater Department at Penn State. In Boyhood he plays Mason's boss at a restaurant, funny and unexpected. He makes a surprise appearance at Mason's graduation party, and Linklater, praised by many for his highly original filmmaking in the manner of Robert Altman, pointed out, he's the only one to make his own entrance to the party.
Calling all HuffPost superfans!
Sign up for membership to become a founding member and help shape HuffPost's next chapter