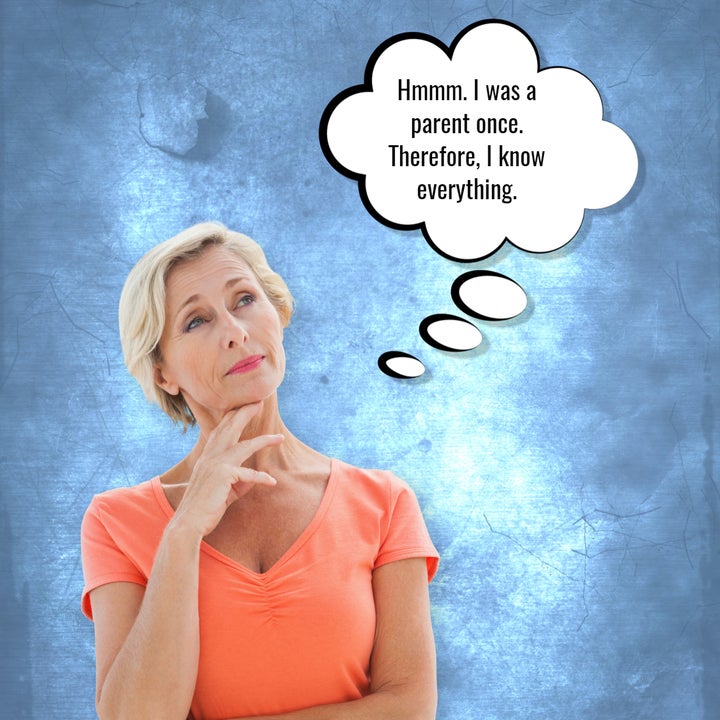 They say you should never do something when angry. In fact, I take "the 24-hour rule" very seriously. This is when someone says or does something that causes you to have a very strong reaction and you take 24 hours to calm down and think about how you want to respond before taking any action.
On top of that, I have a reputation for being someone who tries to see the other side of things and to be empathetic with other people's views. This annoys my husband at times, especially when it comes to politics as one of the first questions I always ask him after one of his tirades is, "Well, what's the other side saying?"
Both my "wait and calm down before responding" and "let me try to see it from the other person's point of view" was put to the test however when I read To the Parents Who Give Their Kids iPads in Restaurants written by Amy Freeman on Mom.me. If you are aware of this piece or if you visit it now, you'll see it came out in mid-June. It's now August. That's how long it's taken me to calm down… and I'm still not sure if I'm entirely over my initial reaction. This article upset me so much that I even woke up in the middle of the night upset about some of what was said.
I should add that there have been other people's responses to it such as this rebuttal, which was well done and addressed the majority of what I wanted to say. There is something though that occurred to me both while processing my feelings as well as reading other people's reactions: We are the lucky ones who have an outlet (blog, article, etc.) to respond to "sanctimonious and judgmental parenting" pieces, as some would call them. One of the biggest things I want to make clear from the get-go is not everyone has the luxury of what I'm about to do now, which is explain things from my viewpoint. One would hope everyone would take that into consideration the next time you judge someone.
What does that mean? That means that when you see a mom at a grocery store who is seemingly letting her kids run wild, you have no idea if that mother has been a saint all day and you're viewing her the one 15 minutes of the day where she is too exhausted to yell at her children. That also means if you observe a dad at the playground who is looking at their phone while pushing their kid on a swing, that may be the one second they are checking to see if they got a job or if a family member is OK or if a deposit went through. It also means, especially in relation to the article that prompted this whole blog, that when you see a parent who gives their child an iPad at dinner, to base their entire parenting by what you observed for roughly for an hour at a restaurant isn't the whole picture. If we could all remind ourselves that when we see something or someone we don't know engaged in something we wouldn't do ourselves, we are seeing just a snapshot of a moment. To judge them, their parenting and their entire existence on that moment simply isn't logical or fair.
I'd like to tell you about my oldest son now. He was diagnosed with autism when he was around 18 months old. When you are autistic, you have a higher propensity to have feeding issues. My son has something very common on the spectrum and that makes him, what they call a "problem feeder". He eats around only twenty items and getting him to eat anything else is a struggle.
He also has sensory issues and can get overwhelmed with certain sounds and crowded spaces. Just to give you an example, recently, a group of people started to sing happy birthday and he began to have a bit of a meltdown. He covered his ears and began to scream. Luckily, in that particularly case, we were able to calm him down.
Because of both factors, we don't go to restaurants. No really. Go to my Facebook timeline. The last time my husband and I went out on our own for dinner was over a year ago when I was away on business and he came with me. The only place we go out is a local diner. We do that around once a month because they have the food my son eats, the service is quick, they let us sit in a corner away from most people and because it's not a quiet dining experience.
Now… wait for it… we also give him an iPad when we go to the diner. According to Ms. Freeman, by doing this, we are destroying our child's life.
So, this is what I'm thinking. If I'm going to try to see her point of things (again, it's taken me almost two months), I absolutely get what she's saying. If I had a typical child, I would very much want to limit electronics. As it is, we try to limit our son's electronic use by using a timer that uses color to give him a visual cue of when he needs to put the iPad away (not that this woman would know that by observing us at the diner).
I would love a conversation with my son at a meal. I would love a conversation with my son period. He is speech delayed and conversations with him are hard to come by. He does get speech therapy several times a week and he is progressing (again, not that this woman would know that if she was just looking at what he's doing at the diner).
My guess is Ms. Freeman has exceptional children. Really, I don't mean that sarcastically. I'm sure they are fantastic and no doubt, she's an excellent mom. I do believe, in her heart of hearts, she's using her experience and trying to help newer parents like myself. What I would point out though is (and I'm not the one to come up with this) every child is different. Shocking, right???? How many of you know brothers or sisters who have the same exact parents and the same exact upbringing but are so very different? The same applies for all children everywhere. What may have worked for Ms. Freeman and for her kid's personalities doesn't necessarily apply to all parents or all kids everywhere.
Even with my two sons, while the oldest one won't eat anything that isn't the color beige, my youngest son eats anything in a mile radius. Why? BECAUSE THEY ARE DIFFERENT.
Basically, I think her advice is well-intentioned and, based on her own personal experience, makes sense. Where she falls short is everyone's children, their issues, their lives and their backstories are different.
It's like when a celebrity who has tons of money and an entire staff of nannies tries to give parenting advice. I read one blog from a famous actress who said something along the lines of, "If you want to spend more time with your kids, hire a personal shopper to take care of all your groceries, clothes and presents you need to get!" Ummmm. Huh? Does this person honestly think if you're a middle-income family who is working hard to make ends meet, you can afford a personal shopper, let alone the purchases they would make?
Giving my son the iPad at the diner helps him not freak out and gives my husband and me the ONLY dining experience we ever have. It also affords us one of the exceptionally rare occasions where we can have more than a two-minute conversation. Having an autistic five-year-old and an active two-year-old along with the two jobs necessary to afford supporting us all doesn't give us many chances to say, "How are you by the way? Did you get a haircut recently? Have you spoken to your mom? Do you remember when we once went to Babbo and there weren't pictures on the menu????"
The biggest thing that got to me about Ms. Freeman 's piece is one that seems so small but irritated me the most. That was that the "bleeps and bloops" of their game bothered her precious ears. It's clear that she doesn't understand that if that distracts her, my son having a full on screaming tantrum on the floor would most definitely disrupt her date night.
Ms. Freeman – you can have any night out you want at any restaurant you want to go to. I can't. We, as a family, absolutely can't. I'm not complaining about this (although it's a bummer). I'm just trying to help you understand that the one time we go out, we need those bleeps and bloops not only to remain sane BUT also to ensure my son doesn't completely ruin everyone else's time at the restaurant. Trust me when I say the iPad is at the service and sanity of all who dine near us.
Here's the bottom line: I sincerely believe most parents are doing the best they can. No parent is perfect (with possibly the exception of Ms. Freeman, but I digress). If you feel you have valuable insight to help others, I would suggest saying, "This worked for me but you have to find what works for you."
Even with the very best pieces of advice though, if nothing else, can we stop with the judging people on the five minutes we interact with them? I mean, haven't we all had times in public when we've done something that doesn't accurately depict who we are as people or parents? I'm not talking about something that is hurting others. I'm speaking again about the little snapshots people see of us. The ones where we are in public and our child is not on their best behavior and you'd promise them lollipops, a unicorn and an iPad if they would just calm down.
I, for one, need support and encouragement. As a parent of two boys, one who has special needs, I would welcome understanding as I speak to my children's therapists, teachers, doctors as to what I can do to be a good mom. So when you see me giving my son an iPad and French fries at the diner for dinner, instead of giving me a dirty look, how about you just focus on your own plate and your own life as we both do our best to get through a meal. Deal?
Popular in the Community