It's become something of a thanksgiving tradition, I take some electronics that are two or more years old -- or have been cycled out of service and I put them up for sale on Craigslist. Once they're sold -- which often takes little more than a day -- I'm back in the market for new devices to replace the once that have a new home.
This year, I sold an iPad 2 mini. And so, I was ready to upgrade to the iPad 4 mini.
So -- let the great Apple deal hunt begin!
After about an hour online, it came down to these three deals. Staples, Walmart and Best Buy all had rare -- and meaningful -- discounts on Apple's list price. Amazon had a good price, but out of stock with no shipping date available.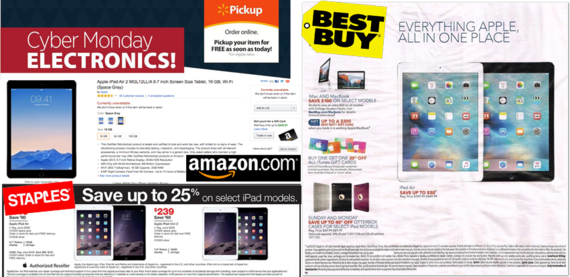 First stop -- Staples. They have a terrific deal, the $399 model on sale for $299. But "in-store only". I gamely arrive at the Staples where the deal is still posted, I head to the check out -- where I'm told they need to call a manager to check. 10 minutes later, the manager arrives, heads in back, and then says -- "out of stock," but offers to order it online at the same price for me. Together we try and find it online, but it's not listed online. And, when I point out the sign with the deal posted, he says, "oh, that's from yesterday, we just haven't taken it down yet." I depart without giving Staples my cash.
Second stop, BestBuy. The online site says "out of stock online" -- check in store. The website seems to suggest that you can purchase the 32gb version for the price of the 16gb model, a one hundred dollars savings. But only in the stores. Calling the store results in 4 hang ups and a 20 min hold. So, I bravely head to the store. BestBuy has at least 3 colored shirts, yellow, blue, and a red shirt with an Apple logo. The red shirt rep is pleasant, but says that the deal ran out at midnight -- and suggests that if I can find another deal online, he'll match it. However, all the online offers are "out of stock," including the rock bottom Walmart deal. Interestingly, the BestBuy rep says he has the iPad 4 mini in stock, just not at the discount price. Hmm...
So -- having spent a few hours, and visited two retail stores -- it's clear to me that discount iPad simply doesn't exist -- and how many actual iPads were available at the sale price will remain a mystery.
Somehow, I think everyone in this transaction knew all along how this was going to turn out. Apple doesn't discount -- and door-buster prices aren't meant to be much more than a sexy lure -- a mirage meant to coax customers in search of a discount that is simply too good to be true.
Last stop -- the Apple Store. In the front door, and within 10 min the Apple rep has my device, my credit card and I'm heading home. No fuss and no hassle. Full price.
Calling all HuffPost superfans!
Sign up for membership to become a founding member and help shape HuffPost's next chapter