We all yearn for great figures in art, politics and culture, yet we are resigned to their impossibility. The hugely influential Steve Jobs was honored with shrines at Apple stores after his passing, but plenty of naysayers wrote op-eds about his troublesome swagger. Paying slight attention to the presidential race points out how little consensus there is about what it means to be a great leader. The same holds true for the art world, which has its stars, but with a recession era market, has more mid-level artists who cater to niche sensibilities than heavy hitters. Are any of them great?
It's worth considering that the 2011 Macarthur Genius fellowships, an award that bestows an aura of greatness, not to mention $500K, on people working in sciences, humanities, and usually arts, didn't go to any visual artists. They usually do. What this means is anyone's guess--the jurors were in a mood, or there is a lack of faith in the arts-- though it very well could point to a way that the role of the contemporary artist is shifting along with everything else. The artist's role in our culture is harder to parse, much less reward.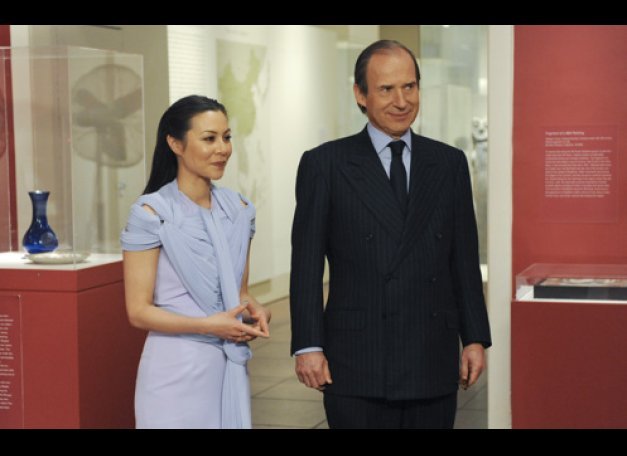 Which brings us to consider the second season of Work of Art, the Bravo reality show that promises in its subhead to reveal "the next great artist." Its classic genre TV, something that clings to a format honed on Project Runway, an attempt greatness in makers who can navigate chaos and still functionally create. And of course rack up Neilsens.
During the summer of 2010, when the first season of Work of Art debuted, there was lots of advance publicity, cranky blog posts, glossy magazine previews, and media debates about how exploitative, realistic, or entertaining the contrived competition actually would be. Art people wondered if going through the television mill would denigrate the field.
In actuality, the show seemed neither as good nor bad as any of us expected, but the issues it raised were interesting. We wondered about the ethics of a public museum hosting the grand prize exhibition, of what the award would mean, and pondered the 'reality' of making artwork as a spectator sport.
Season two premiered two weeks ago, and it's striking how low-level the buzz is this time around. I didn't see any advance promotion and didn't know the show would be airing until the day of, when a group of art writers e-mailed an invitation to watch the first episode at a bar. It may be that Bravo isn't putting much promotional push behind the show, or it simply isn't resonating with the creative energies going towards occupying Wall Street, but when I did finally catch the first episode, it surprised me with its calm, normalized feel. It communicated a level of serviceability, not greatness.
The format is as familiar as it was the first time around. Host China Chow's couture remains comical. The Brooklyn Museum, which isn't exactly top tier in the field, is still the award venue. The casting seemed transparent, though not inspired: There's a set-up for sexual tension--between gay and straight roommates, sparks between neurotic females and eccentric lotharios--there's a Singaporean deaf guy (who speaks through a physically incongruous interpreter), the victim of a tragic accident, an Arkansan with a hayseed accent, and various semi-loose cannon types. The first challenge was reasonable--adapting cheesy thrift store works into something new--and the results were mostly decent. Certainly there's drama to come, but my guess, based on tears in the episode and teaser for episode two, is the tensions will be between brittle psyches more than comically outsized egos.
Judge Jerry Saltz, who seems to constantly defend his participation, writes in his first New York magazine recap blog of the season-- "I grant that Work of Art is a light thing at a time when heavy things are afoot. But it doesn't feel destructive, vile, or annoying," he writes, though backpedals slightly about the latter assertion. The show's lackluster aura might come from a shifting role of the artist, the elusiveness of what currently constitutes greatness.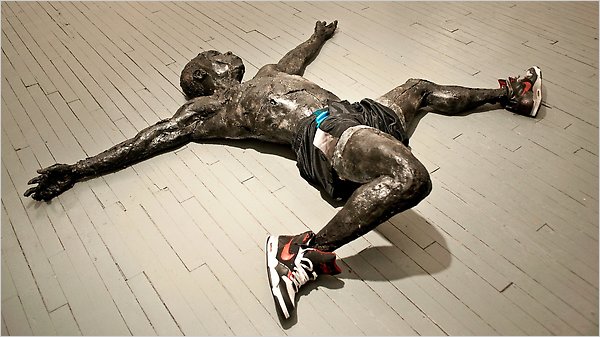 Detail of "Libation," an installation by the Bravo TV show winner Abdi Farah at the Brooklyn Museum.
Are we really still invested in that idea of great artists? First season winner Abdi (only his first name is listed on the website, I had to Google for his last, Farah), did get mildly reviewed in the NY Times, and is seen in passing this season. His $100,000 prize could just cover the cost of an MFA program, though if my memory serves me, he gave the money to his single mom. That's kind of great, though in an interview, he revealed it was more to keep him from squandering the funds. To nod to Jenny Holzer, whose work has so often pointed to the fallacy of the great and powerful-- protect us from what we want.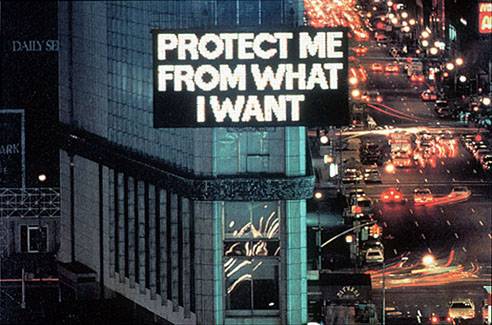 REAL LIFE. REAL NEWS. REAL VOICES.
Help us tell more of the stories that matter from voices that too often remain unheard.