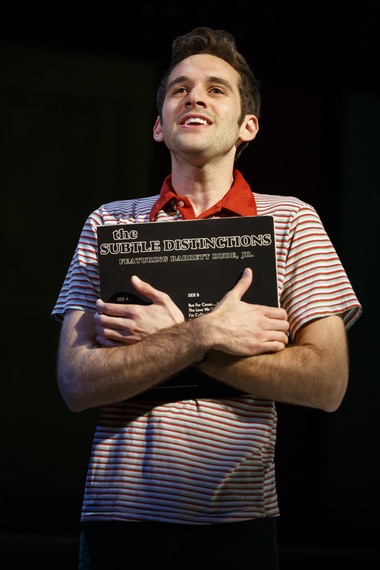 Adam Chanler-Berat in The Fortress of Solitude. Photo: Joan Marcus
There is an interesting and potentially important musical contained within The Fortress of Solitude, the new piece from Michael Friedman, Itamar Moses and Daniel Aukin at the Public. Composer/lyricist Friedman, especially, gives us an intriguing evening; music is the driving force behind the show, the characters, and the plot. But The Fortress of Solitude--from the well-regarded 2003 best-seller by Jonathan Lethem, a MacArthur Fellowship "genius grant" winner--is dense and unfocussed, losing its way midway through the extra-long first act.
The action starts in 1975 in Gowanus, a Brooklyn ghetto (now gentrified into Boerum Hill) where "everybody singin' a different song, but if they all fit together then it can't be wrong." Twelve years back, a free-spirited girl from Queens named her son after her hero, Bob Dylan; at the same time, a drugged-out former R & B singer named his son after Charles Mingus. Now 12-year-old Dylan (Adam Chanler-Berat)--the white boy on the block--befriends young Mingus (Kyle Beltran). Attempting to escape the street life of the slum, they contrive their own secret world where they can be free, i.e. a fortress of solitude. They also became "taggers," spray-painting Mingus's street name ("Dose") on walls and subway cars.
But life gets rougher and rougher--surrounded as they are by street crime, dysfunctional fathers and absent mothers--until Dylan leaves the nabe to attend prestigious Stuyvesant High School in Manhattan. Mingus stays behind, quickly becomes a drug dealer, and shoots his preacher-man grandfather to death in a family brawl (as Dylan watches). End of Act One. The second half takes place in the late 1990s, with Dylan--now a famous music reporter--trying to rescue the music of Mingus's father from oblivion. Mingus himself is a hardened criminal, shifting from sentence to sentence and prison to prison. Dylan tries to make contact, but it becomes clear that these two are living in separate worlds where there is no fortress of solitude.
That's all very well if you're familiar with the novel. In that case, you are aware that the "fortress of solitude" is borrowed from Superman; it's a secret cave in an Arctic mountainside where the Man of Steel feels safe, displaying shrine-like statues of his parents (who never made it to earth from their home planet of Krypton). The boys in the novel use comic books as refuge; in the musical there is some talk of Superman and at one point they wear superhero capes, but the significance of the fortress of solitude goes unexplained.
There is also a magic ring, the discarded wedding band of Dylan's mother (who drifts in and out of the show, singing wispily). This is a major mystical element in the novel, allowing the boys to escape their drab existence; in the musical, the secret ring just seems odd. It apparently allows them to fly like Superman, or maybe not; and when the two boys clasp it together, the ring has what appears to be an erotic effect. (In the final scene, the ring is passed on to the mean street bully, now an adult in an orange prison jumpsuit. He, too, seems to magically perk up when he touches it.)
One suspects that all this Superman stuff is too complicated for the librettist to explain in the musical. Without any context, the average theatergoer is likely to wonder what is going on and why. I was left mystified; reading up afterward about the novel and the Superman connection, it all began to make sense--but too late.
The Fortress of Solitude, nevertheless, has many effective elements. Friedman, the modernistic composer best known for the Public's Bloody Bloody Andrew Jackson and his collaborations with The Civilians, has written what seems to me his most accomplished theatre work thus far. On first hearing, "The One I Remember," "Superman," "Something" and "Painting" all stand out and make me want to hear the score again.
Director Aukin (of 4000 Miles and Bad Jews)--who also conceived the show--gives us something located midway between Dreamgirls and Jersey Boys. All to the good, and often effective, and with complementary choreography by Camille A. Brown. (Brown's work for the trio of backup singers--The Subtle Distinctions, they call them--is especially smooth.) Librettist Moses (Nobody Loves Me) fares less well, but one imagines that the complexities of the source material were difficult to translate.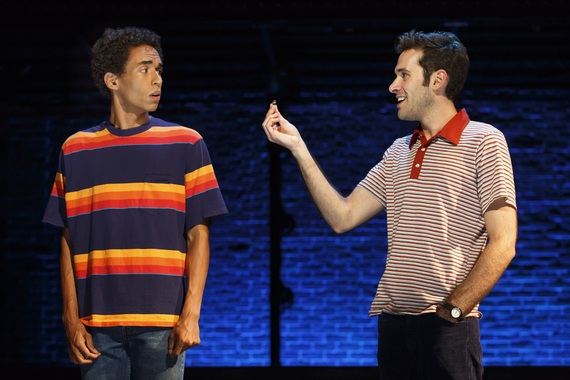 Kyle Beltran and Adam Chanler-Berat in The Fortress of Solitude. Photo: Joan Marcus
The two leading players do a superb job, believably presenting their characters as they grow from preteens through difficult times to adulthood. Chanler-Berat is a familiar face, thanks to his performance in the title role of Peter and the Starcatcher; Beltran is less familiar, although he played the Lin-Manuel Miranda role for the final six months of In the Heights and more recently appeared in Manhattan Theatre Club's Choir Boy. When they are together in their makeshift superhero capes, we can almost believe in this Fortress of Solitude.
Also offering strong performances are Kevin Mambo, as Mingus' washed-up father; veteran André De Shields as the spellbinding, bible-toting grandfather; and Rebecca Naomi Jones, who somehow seems to set the show back on track in the second act as the grown Dylan's girlfriend. The last section recovers to build to a moving conclusion; if only the show was clearer (and shorter).
So chalk up The Fortress of Solitude--a coproduction with Dallas Theater Center--as worth seeing, especially for the contributions of Friedman and the two leads. The show is not nearly in a class, though, with superior Public Theater musicals like Giant, Here Lies Love and Fun Home.
.
The Fortress of Solitude, a new musical with music and lyrics by Michael Friedman, and book by Itamar Moses, opened October 22, 2014 at the Public's Newman Theater
REAL LIFE. REAL NEWS. REAL VOICES.
Help us tell more of the stories that matter from voices that too often remain unheard.