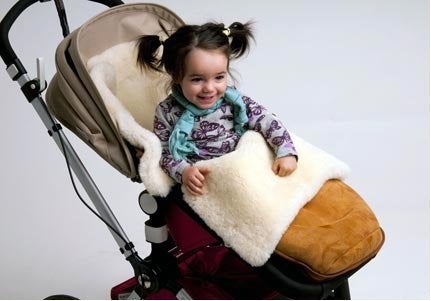 "Sometimes a product just hits the cultural radar -- and Snuggie blankets did just that."
So says Anne Flynn, vice president of marketing for Allstar Products Group, proprietor of the Snuggie. The simple fleece blanket came on the scene in fall 2008 and was advertised online and in countless television commercials, selling for $14.95. The blanket, which resembles a monk's robe, became a pop culture phenomenon and was mocked and lampooned by the likes of Jay Leno, Bill Maher and Jon Stewart. It seems the old adage, "any press is good press" stands true -- Allstar Products Group has sold more than 20 million Snuggies to date, according to Flynn. Thanks to the abundant parodies and jokes, The Village Voice deemed 2009 "The Year of the Snuggie." "We believe the secret behind the Snuggie's popularity is two-fold," Flynn says. "It is a fun-loving brand that also delivers on its promises for comfort, warmth and convenience."
As such, several brands now purvey "sleeved blankets," affectionately known as "slankets," hoping to ride the Snuggie's coattails (blankettails?) and become "the next Snuggie." But some are offering their own unique spin on the one-blanket-fits-all concept.
Every mom wants to keep her baby warm in winter, but Karolin Falk and Dana Moyal Kolevzon found the products they used just weren't cutting it. Blankets fell off every time Karolin's baby Juliet moved in her stroller, so the former fashion model-turned-mom had a "cocoon" custom made with natural shearling -- a common material in her native Germany.
"We live on the Upper East Side, and everyone would stop me on the street and ask where they could get one," Falk says.
This was two years ago, and Falk soon joined forced with Kolevzon, a documentary filmmaker who saw potential for demand and helped to improve the product's design. It took a year for them to source the right shearling and other materials. At first glance, the SnugglePie looks like an Ugg boot for a baby's entire body.
"Shearling is used for these kinds of products a lot in Europe and Australia, but not so much in the U.S.," Kolevzon says. "Everything's natural, so babies don't sweat it in, it keeps them warm, and [it unzips so] you can use just the liner in the spring to give them a soft surface to sit on."
The SnugglePie now sells for $350 in several boutiques in New York and Tokyo and online. The moms are optimistic about SnugglePies' future, since there are few products like it on the market. "There are a lot of synthetic blankets," Kolevzon says, adding that she is reluctant to swaddle her baby in unnatural materials.
Falk and Kolevzon point to a story about Bernd Heinrich, a scientist who traveled to the woods of Maine for a weeklong "Winter Ecology" session and wrote in The New York Times that to stay as warm as animals, "You've got to dress like them."
Unlike the Snuggie, SnugglePies wants to be more than a one-trick pony -- the moms have two more "interesting cozy luxury items" in the pipeline.
For now, though, the focus is on the chic SnugglePie cocoon and getting it exposure. They're hoping some A-list celebrities will be photographed on the streets of New York with their babies bundled in SnugglePies. Actress Drea DeMatteo has one and loves it, they say.
But please, whatever you do, don't tell Falk and Kolevzon that it looks like a Snuggie.
"It's important for us that it look stylish and that it's really, really warm!" Falk says.
Remember the onesies you used to sleep in as a little kid? Well, Wisconsin's Forever Lazy manufactures onesies for adults -- complete with a trap door for those pesky bathroom breaks. Not surprisingly, the Uni-Lazy has drawn comparisons to the Snuggie.
"We didn't start the business with the Snuggie in mind," says Tyler Galganski, one of the company's co-founders. "We just thought it would be cool to have something like you used to have as a kid. But the Snuggie definitely paved the way for us, and we knew we had a chance because of its success."
Galganski and Dave Hibler, both 25, are lifelong friends who ended up working at Kohl's corporate offices. It didn't take long for them to feel like they were starring in "Office Space," so they came up with the Uni-Lazy as a way to escape cubicle life. They started in March 2009, and the website launched in August 2009, selling onesies that ranged from $39 to $49. Forever Lazy blew through its inventory just before Halloween -- in part because many Halloween-goers wanted to dress like Max from "Where The Wild Things Are," an ensemble that requires a grey onesie. Now the friends and co-founders are raising awareness. Embracing the Snuggie phenomenon, Forever Lazy is set to release a commercial that parodies the Snuggie (and, in effect, themselves).
"It's a tried-and-true product, so we're going to take it national" with the campaign, Galganski says.
The commercial features people wearing Uni-Lazies in several environments, including a football game to show off its versatility in the great outdoors. And it's this versatility that makes Uni-Lazy guys feel they've one-upped the Snuggie. While the Snuggie is a blanket with arms that is ideal for lying on a couch, Hibler says the Uni-Lazy offers full-body warmth and can be worn outside, unlike a Snuggie or its generic slanket counterparts.
"We wear it to the bars because we can," Hibler says. Because wearing a Snuggie outside the comfort of your living room generally requires wearing clothes underneath, the duo claims that comparing Uni-Lazies and Snuggies is "like apples and oranges."
Hibler and Galganski admit they thought the Uni-Lazy would be a funny and comfy product, something that would be perceived as a novelty item. And it's OK if people buy a Uni-Lazy as a joke -- a sale is a sale.
Besides, Hibler says, "Everyone that buys it ends up loving it, regardless of the reason they bought it."
So far, the Uni-Lazy has been donned by Stacey "Fergie" Ferguson and husband Josh Duhamel, as well as socialite Paris Hilton -- and it seems they wore them without irony. But just because Hibler and Galganski think they've one-upped the Snuggie doesn't mean they don't respect it.
"The Snuggie is great for what it's meant for," Hibler says. "You can't knock the Snuggie."
The original version of this article appeared on AOL Small Business on 11/10/10.
Related
Popular in the Community