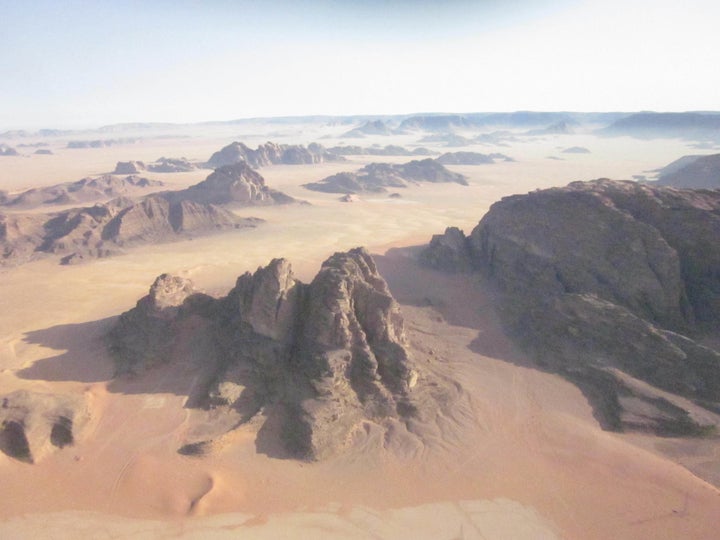 Nearly a century ago, T.E. Lawrence made a name for himself with his cunning exploits in the Arab Revolt against the Ottoman Turks. Five decades ago an unknown actor named Peter O'Toole turned the British scholar/guerilla into an icon. This week, fans of Lawrence of Arabia celebrate the release of the 50th Anniversary Collector's Edition, a digitally-restored, Blu-ray mega-package of David Lean's seven-time Oscar-winning bio-pic.
If unraveling fact from fiction has never been easy in Seven Pillars of Wisdom, Lawrence's sprawling memoir of his time as advisor to the Hashemite Prince Faisal (Alec Guinness), it's good fun spotting liberties in Lean's spectacular 70mm Super Panavision epic (to wit, Faisal didn't just lead the exotic, robed Bedouin horsemen of movie lore, but actual troops). Lawrence buffs can take the authenticity game all the way to Jordan, as I did recently, and trace Lawrence's tracks literally right down to the rail lines that he routinely sabotaged in helping throw the Ottomans off the Arabian Peninsula.
While Lawrence was famously abstemious, I had no intentions of deprivation on my first day in the kingdom and stuffed myself at lunch with mansaf, the national lamb and yoghurt dish which our guide Amer Nizami declared is "not a food, but a religion." The elfin, but tough as nails Lawrence often rode camels hundreds of miles at a stretch. For our first glimpse into the Laurentian mystique after lunch, my group took a brisk two-hour-drive east of Amman to the brooding 13th century basalt Azraq castle. The caretaker there, a descendant of a Revolt fighter, pushed open the massive stone gate to reveal a barren and deadly still interior -- hard to imagine how the British officer wintered there in 1917 bored and sick as a dog. But perhaps his stark quarters were not that dreadful considering that it was in nearby Dera where the famously ambiguous violation scene at the hands of the Turkish Bey (José Ferrer) may, or may not, have really taken place.
Atop the citadel overlooking Amman, Amer explained the next day that the capital's warm honey colors are thanks to strict building codes that dictate limestone façades to preserve historic continuity. Down in old Amman we sat at the popular outdoor restaurant Hashem devouring a mezze lunch of falafel, hummus and rich garlicky fava bean ful. That back in the day Lawrence might have inconspicuously strolled the ancient quarter in his celebrated Arab duds didn't take a great leap of imagination (following his cue, I later got wise at the ruins of Petra and donned a keffiya to keep my head cool).
From the collection of post-Revolt photos in Amman's decade-old Royal Automobile Museum, I finally got a grasp of the confusing lineage of the Hashemites who came to rule modern Jordan after the Ottoman defeat. The late King Hussein's Bond-era sports cars mostly fill the halls, but an armored Rolls Royce used in the Revolt campaigns is on display, as well as a classic Brough motorbike of the type Lawrence loved and O'Toole drove in the film's opening fatal crash scene.
In its day, the Hejaz Railway was a German-built engineering marvel, and as the Ottoman link from Damascus to Medina, the focus of Lawrence's sabotage campaign. Boarding period Pullman cars at the vintage Amman train station, we followed a 20-mile train section behind a reconditioned steam engine. As we chugged along, images looped through my mind of Peter O'Toole's bloodlust finally erupting in the pivotal Lawrence train raid.
Further south near the town of Tafilah which was the site of a major Arab victory ignored in the film, we veered off the King's Highway for a jarring 4x4 ride to the Feynan Ecolodge in the Dana Biosphere Reserve. In Lawrence, T.E. is asked what attracts him to the desert. "I like it because it's clean," is his famous reply. Feynan is clean. Opened in 2005 by the Royal Society for the Conservation of Nature, the lodge burns "jiff," or olive press remains, in its fireplace, while the rooms are lit by candle and hot water comes from springs. The inn also supports 80 local families who make its bread and utilitarian supplies like clay jars.
To Lawrence, Wadi Rum was "vast, echoing and God-like." From a hot air balloon, the fabled desert rift valley is indeed imposing with the sheer Seven Pillars of Wisdom rock formation looming in the distance and one massive sandstone dome follows another. On my ascent, I had Maurice Jarre's heroic strings and percussion echoing in my head, that legendary sweeping refrain to his 100 piece orchestral score. And feasting that night in our lantern-lit tent camp on zarb -- meats that barbecue on coals while buried in the sand -- it was impossible not to romanticize Bedouin life.
On the way to the Red Sea port of Aqaba, guide Amer and I had a good chuckle over cinematic whoppers. Never mind that David Lean actually shot his famous set piece of the camel and horse assault on Aqaba in Almería, Spain, his film never even hints that Lawrence in fact accidentally shot his own camel dead in the charge and knocked himself out. As an antidote to Anthony Quinn's cartoonish -- Zorba of the Desert -- portrayal of Bedouin leader Auda abu Tayi, Amer suggested the works of Jordanian scholar Suleiman Mousa whose works on Lawrence placed Arabs rightly as primary actors in their fate. I never did ask what to make in this all-male movie of the Aqaba sunset beach scene when Omar Sharif declares to O'Toole over harp stings that their mission is accomplished. But I did share Noël Coward's quip that if O'Toole had been any prettier, they would have called it Florence of Arabia.
Today, Aqaba has the buzz of a boom town and, with the resorts full of sunbathers, we had the seafront Mamluk fort captured in the assault to ourselves. Next to it, the Aqaba Region Archaeological Museum displays fine pre-Islamic artifacts, but more salient in a sense, we landed there at trip's end back at the roots of the whole Revolt. The museum occupies a house that belonged to Sharif Hussein bin Ali, Revolt fomenter and great-grandfather of King Hussein (the king met his British wife Toni Gardiner, mother of present King Abdullah II, on the film production -- maybe movies can change the world).
Ultimately, the film's long Damascus denouement when O'Toole's Lawrence is disillusioned over the Sykes-Picot Agreement that carved up the region to the favor of European powers is a reminder that a complicated bit of century-old Realpolitik still plays itself out today as Syria explodes and Jordan now hosts some 200,000 refugees.
"It is time for me to chuck in the sponge," said Peter O'Toole on retiring from film this past summer. The Anglo-Irish star left us a Lawrence that was pure hokum, in a film that was an Orientalist fantasy run amok. And yet what genius it all was.
Photos by John Oseid unless noted.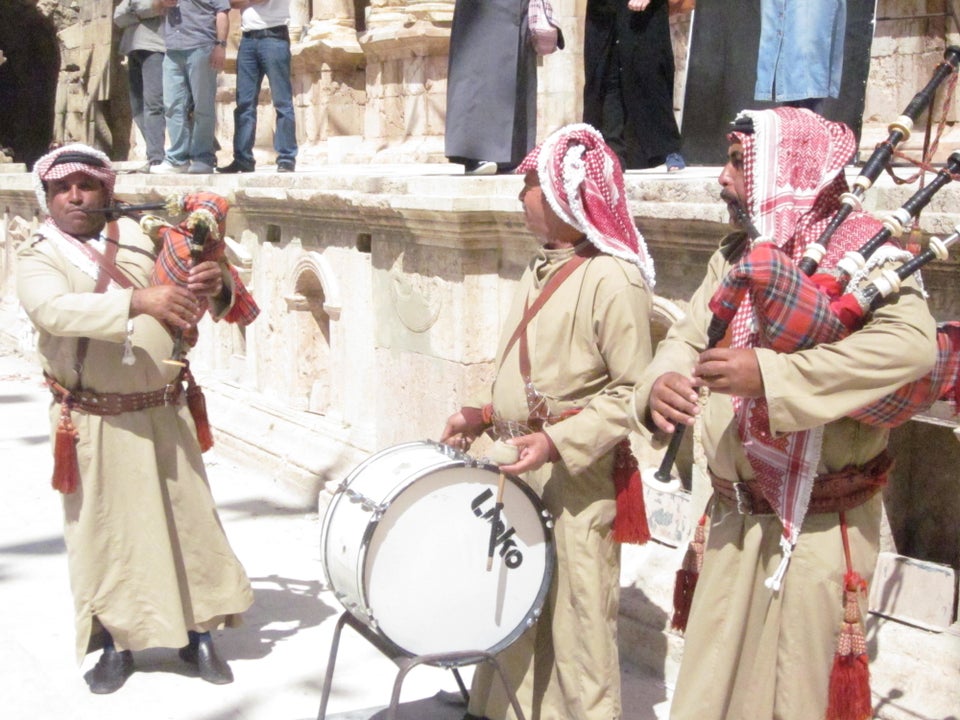 Looking for Lawrence in Jordan