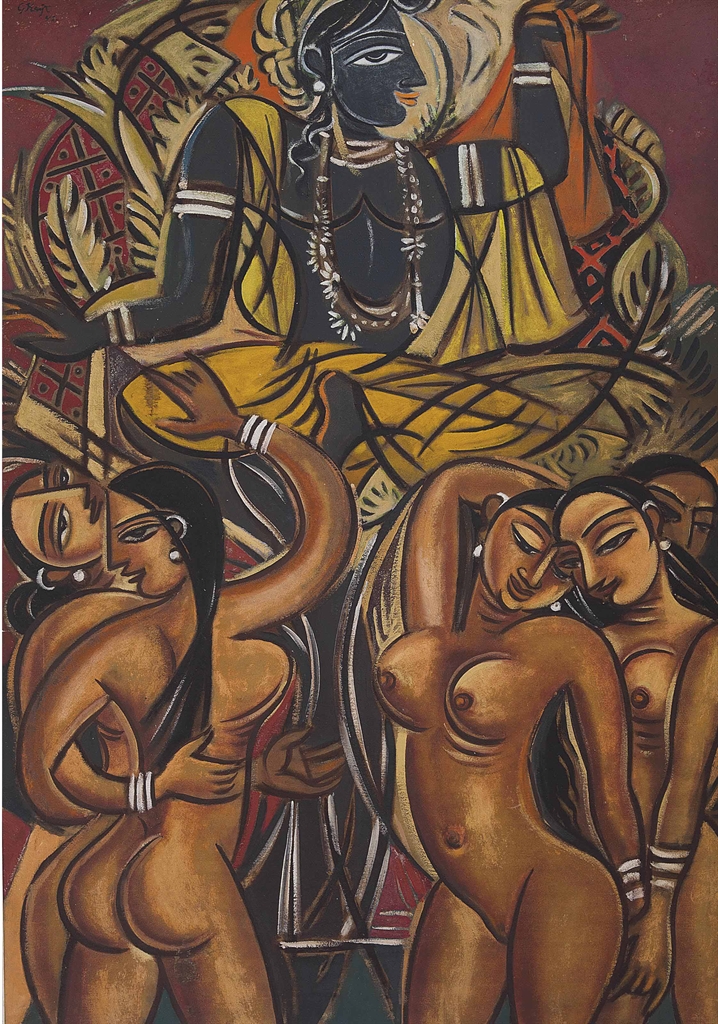 George Keyt, Gopika Vastra Paharana (1952), oil on canvas; All images © Christie's Images
In 1907, Pablo Picasso painted what many consider to be the most important painting of the 20th century, Les Demoiselles d'Avignon. It depicted the female nude in a way it had never been done before. A generation later and half a world away, a handful of artists -- painters like M.F. Husain, George Keyt and Tyeb Mehta -- took up that new artistic gauntlet on the Indian Subcontinent, creating a fresh visual idiom that was uniquely Indian and thoroughly Modernist.
For millennia before the modern era, paintings of the female nude were likely to share a few commonalities: To begin, they were typically painted by men. Perhaps because of that, they tended sanctify the female form -- infusing it with their own sexual longings and fears, and all the divine, Oedipal sacredness we give to a goddess. Painters strove for greater perfection and intimacy, a task that found its ultimate realization, perhaps, in Courbet's L'Origine du Monde, painted in 1866.
Then something changed. Edgar Degas was among the first Modern painters to truly challenge the so-called "Ideal Nude" with the hardness, the contorted postures, and even the ugliness of his women. But more than anyone, Picasso put an end to the idealist imperative forever. In his flattened perspectives and grotesque distortions, he introduced a new way of looking at the body. It's not that he didn't love the body or that he didn't often paint it beautifully. Picasso was a macho guy; he loved women, in particular. But they weren't exempt from his critical, secular eye, which deconstructed everything it saw, putting the sacred and profane on equal footing, freeing the Ideal Nude from its sacrosanctity.
It's a good time to think about Picasso and what he did for the nude: Marking the 40th anniversary of his death, a new 120-work exhibition of Picasso's nudes at the Centre d'art La Malmaison in Cannes, "Picasso: Nudity Set Free," does just that, as curated by Picasso's granddaughter, Marina Picasso -- one of many women with an uneasy relationship to Picasso. And yet, on the occasion of this exhibition, and in reflecting upon Picasso's legacy 40 years since his passing, it's clear the influences of his style outside the West's accepted art history narrative have long been neglected. On the Indian Subcontinent, the legacy took distinctly exuberant form, notably in the paintings of George Keyt, a master Sri Lankan painter, whose work was exhibited alongside Picasso's Georges Braque's in galleries around the world during his lifetime.
Keyt was strongly influenced by cubist experiments in perspective, and he applied them in a way that was distinctly his own, drawing specifically from Indian artistic traditions. His subjects' enlarged, almond-shaped eyes and his use of bold, crisp, heavy lines are defining formal features of his work; his subjects are often nudes, scenes from local village life, or taken from Hindu and Buddhist mythologies. (Keyt's reputation in the art world seems to be growing. A collection of six of his paintings recently sold at a Christie's London auction for over half a million dollars, effectively doubling the pre-sale low estimates.)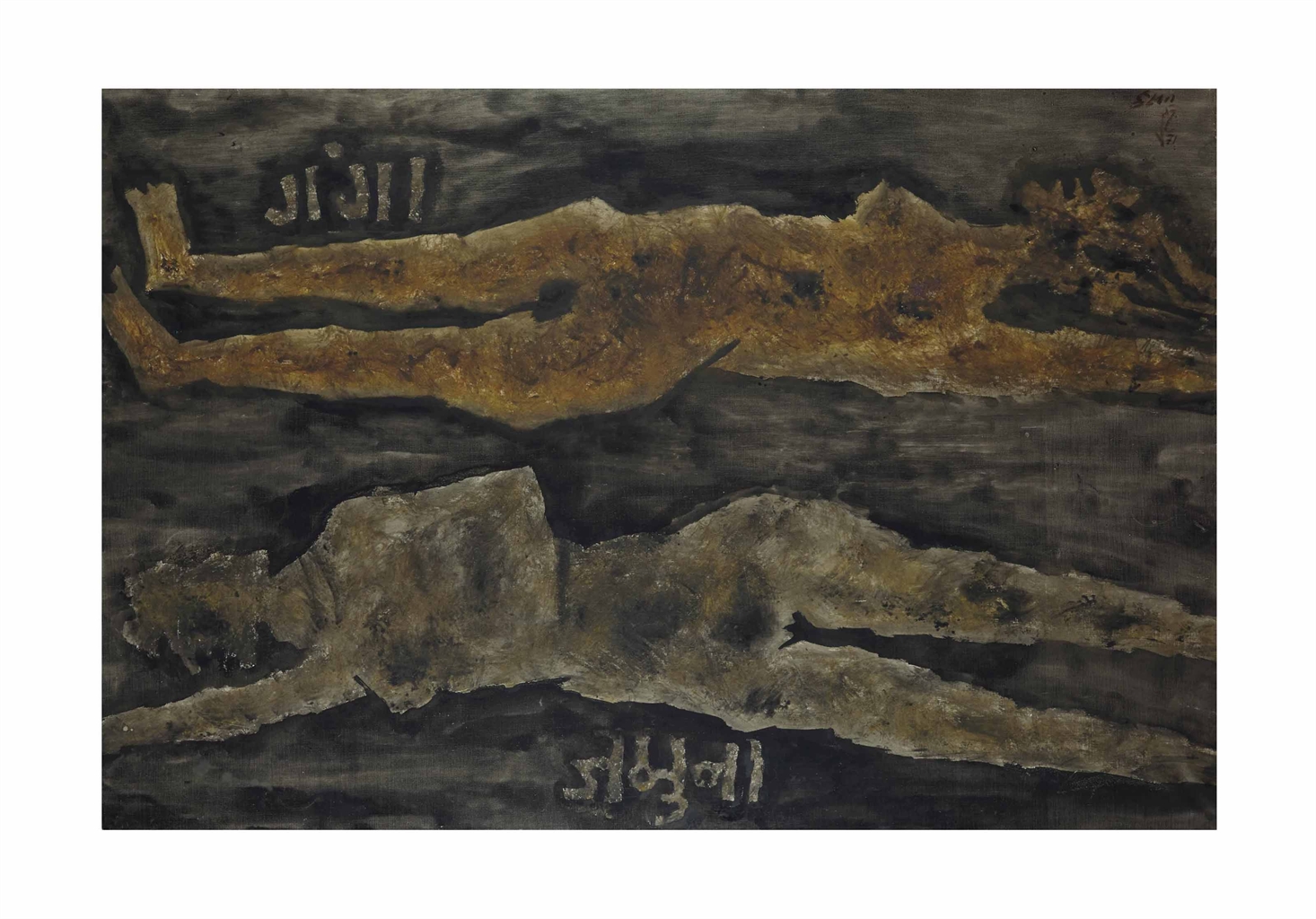 M.F. Husain, Ganga Jamuna (1971) oil on canvas
In Indian painter M.F. Husain's work, the cubist experiment evolved in tandem with emerging South Asian currents in still newer ways. Husain, undisputedly one of India's most important Modernist Painters, was less overtly concerned with traditional regional aesthetics. His task, above all, was innovation.
His shapes, textures and the aggressiveness of his brushstrokes in portraying human and animal bodies are anything but traditional. Neither were they overtly "Western." His nudes, as in Ganga Jamuna (1971), were rough at the edges, scraped into existence. Even when they begin with religious and folkloric subject matter, as with the titanic Battle of Ganga and Jamuna: Mahabharata 12 (1971-1972) (auctioned by Christie's in 2008 for over $1.6 million), the traditionalism -- for so long a constraining force in the region -- ends there. The former billboard painter sought direct, transcendent expression. As the gallerist Ebrahim Alkazi has put it, "At their best, his paintings are profound, but they are never forbiddingly intellectual or cerebral."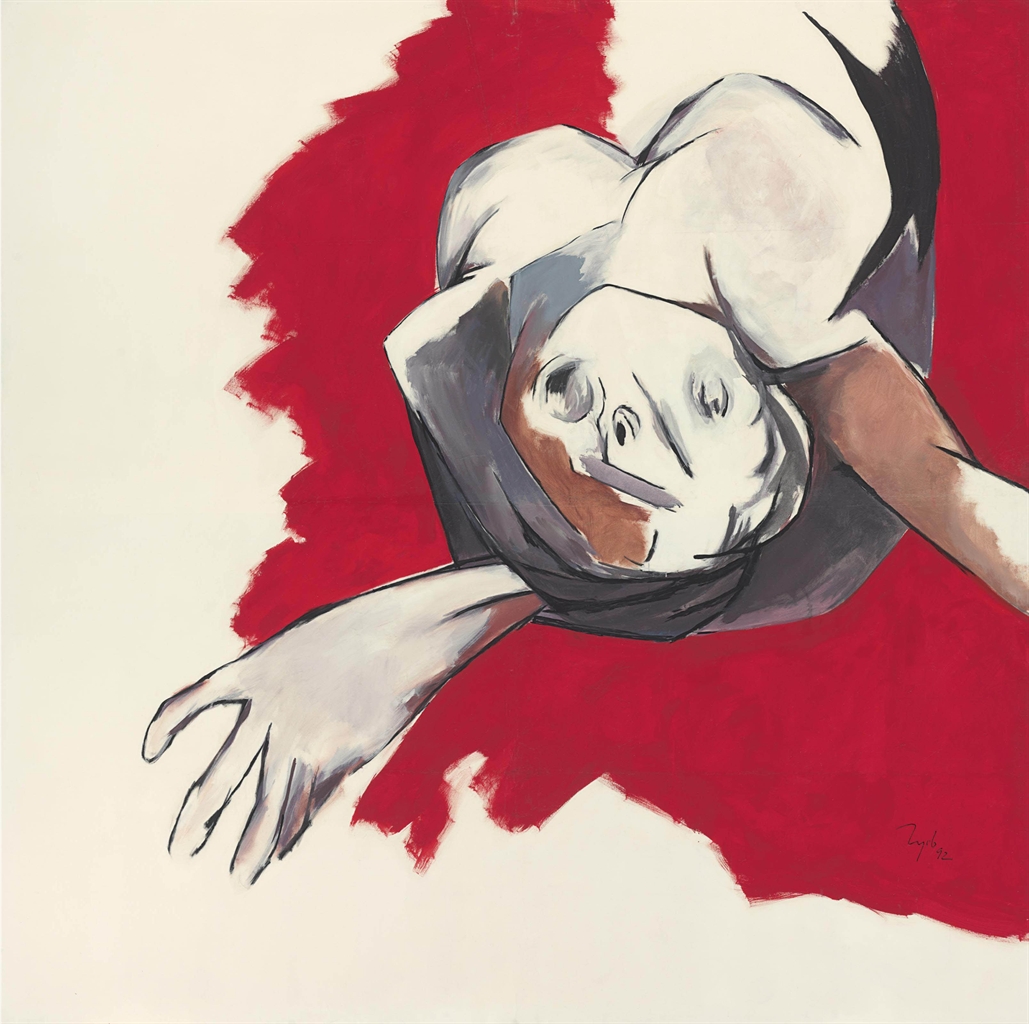 Tyeb Mehta, Untitled (Figure on Rickshaw) (1984), oil on canvas
Perhaps no one took Picasso's fundamentally disruptive, iconoclastic effrontery among his generation of South Asian painters than Tyeb Mehta. His contribution to Indian Modernism is immeasurable, not least of all for helping boost its profile on the international market. He was the first Indian artist to sell a painting at auction for over $1 million, paving the way for India's contemporary superstars, like Subodh Gupta and Bharti Kher. (Just last month, a Mehta painting, Untitled (Figure on Rickshaw) (1984) fetched over $3.2 million.
More importantly, his rendering of the human (and animal) form are unflinching and profoundly aggressive. Bodies push and pull each other and tear across the canvas in cutting, jagged lines. Perspective and line become vehicles for angst and suffering on scale with Picasso's great anti-war painting, Guernica (1937). In Untitled (Figure on Rickshaw) (1984), the seated female has three feet, three breasts, an oversized, ugly hand. His Untitled (Falling Figure) (1992) presents an androgynous figure tumbling (or perhaps landing) on a violent field of red paint. The only unambiguous thing about the figure is its suffering.
Mehta's fixation on suffering was a natural consequence of his life and times. Born in 1925, he witnessed firsthand the violence that accompanied India's partition as a young man. The events proved crucial in the formation of his artistic vision, and the Picasso tradition -- one which, at its best, could expose human grotesquery like none other -- proved a perfect starting point for Mehta's attempts to create meaning out of that chaos.
Calling all HuffPost superfans!
Sign up for membership to become a founding member and help shape HuffPost's next chapter