This is the second episode in the HuffPost podcast series " I'm Still Here" that visits communities whose tales of adversity have put them on the map and explores what "survival" in America really looks like. In this episode "One Step Forward, Two Steps Back," host Zeba Blay travels to St. Louis and Ferguson to talk with the activists and organizers still fighting for equality.
There was one name that came up repeatedly the week I visited Missouri to learn about what life in Ferguson and St. Louis was like three years after the death of Michael Brown. While there, I had conversations with local activists like Brittany Ferrell, photographers who had documented the protests like Mike Thomas and representatives of the then just weeks-old Ferguson Community Empowerment Center. When discussing those who have continued the fight in Ferguson and St. Louis the one name I heard again and again was Mama Cat.
If you followed the Ferguson story closely, you may have heard of Cathy "Mama Cat" Daniels. The 55-year-old resident of Florrisant, Missouri became a fixture on the front lines of the protests in both the wake of Michael Brown's death, and in the non-indictment of officer Darren Wilson.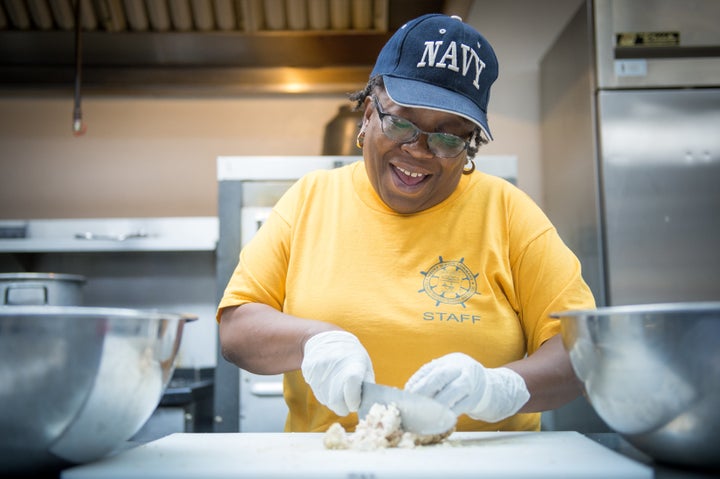 Daniels is a retired Navy wife, a mother to five, one deceased. She has six grandchildren and one great-grandchild. She grew up mostly in the Bronx, revels in hip-hop culture, and is a proud member of the Zulu nation. She's a graduate of culinary school. She's lived all over the country thanks to her husband's work, but settled in Missouri in 2012. She was there, in 2014, when the non-indictment ruling for Wilson was read.
Daniels marched and chanted, but perhaps just as importantly, she fed the young black men and women who took to the streets of Ferguson. Nearly every Sunday after 18-year-old Brown was shot and killed by Darren Wilson on August 9th, 2014 Daniels served hot, homemade meals to protestors on South Florissant Road, where the most heated moments of the protests took place.
"I've been doing this almost from the time we started on the street of Ferguson," Daniels told me this past September.
"I was in college when Michael Brown was murdered. I had a 4.0 GPA, top of the class and this happened. I asked, 'what can I do?' and they said a little home-cooked meal wouldn't hurt nothing so I went home and the next day I came back with spaghetti and salad and garlic bread. After that, every day I fed them. Every day," she said.
Daniels said she fell into a routine where she'd put food on, help her grandson with his homework, pack up the meals, then head out around 6 p.m. to start handing out food to demonstrators.
Three years on, what started as an immediate reaction to the protests ― a way to support and nourish the activists and demonstrators who filled the streets of Ferguson ― has flourished into a passion project now fueled by donations and grants that, for Daniels, goes even deeper in its efforts to heal and help the community.
Because now, Daniels and her band of volunteers known as the "Pot Bangers" have expanded their efforts to feeding the homeless of St. Louis. I joined Mama Cat and a caravan of cars one day in September, as they drove from location to location around the downtown St. Louis area to drop off home-cooked packages of food including macaroni salad, fruit, and sandwiches.
"When we say black lives matter we need to know that we need to include every last one."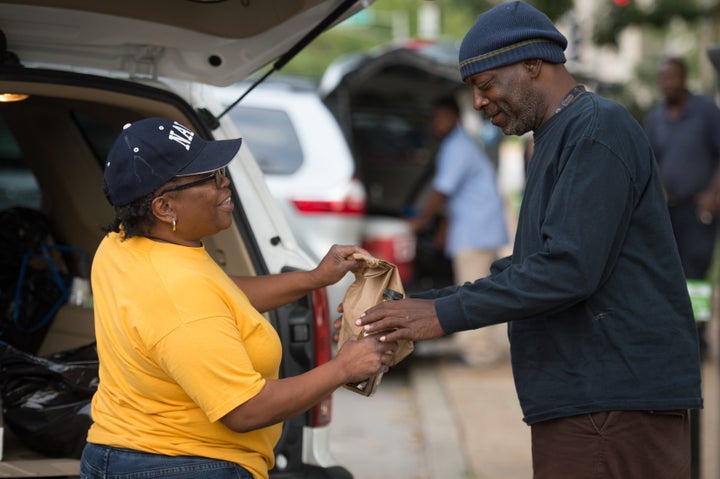 After handing out food for nearly an hour and a half, Daniels' last stop was a small St. Louis park, three blocks away from the famous Arch, where many of the homeless congregate. People started to trickle over to the truck from which Daniels and her team handed out food. Strikingly, each exchange isn't just about handing of a meal.
Daniels hugged and kissed each recipient, they chatted about the latest goings on in their lives, they laughed and shared inside jokes. Clearly, this is family. And for Daniels, the evolution towards feeding the needy from feeding protestors isn't that much of a stretch.
"When you talk about black lives, Black Lives Matter right? Ninety-five percent of the people out here is a black, right? These are our family," Daniels explained.
"These [sic] our mothers, and fathers, and brothers, and sisters, and nieces and nephews. It's our people, so when we say black lives matter we need to know that we need to include every last one. I can't sleep at night knowing people is laying out in the cold. I spent the night out here two days before Christmas because you got to understand what they going through. You know? That's what motivates me to keep on going," she said.
"They had stopped all that harassing people [after the protests], they back to it," she explained.
"You got 90 municipalities in St. Louis. 90. What do you need 90 municipalities? So you can get pulled over right here and they are going to give you a ticket. Then you get right over there because that's another municipality, you going to get another ticket. Now how many tickets can you rack up by the time you get home? It makes no sense, so it's not real change. We had to fight for $15 on the minimum wage, they got $10 out of it, now they took it back."
The systemic injustices that ostensibly led to the harassment and death of Mike Brown are what Daniels wants to focus on moving forward. Food is connection, and so feeding people is her way to do that. It's a matter of survival ― both spiritual and physical, she says.
"Survival is I got to take everybody with me. I can't go by myself, while my people still sitting there hurting."
For Daniels, the activism in St. Louis and Ferguson that came out of Michael Brown's death, that continues in the wake of the subsequent deaths of people like Kiwi Herring and Anthony Lamar Smith, lies on the same continuum as the activism she does through feeding the community. It's all connected. It's all a part of doing the work.
I'm Still Here is a HuffPost Podcast hosted by Zeba Blay and produced by Nick Offenberg and Jessica Samakow. Send us an email at stillhere@huffpost.com.
Support HuffPost
Every Voice Matters
Popular in the Community