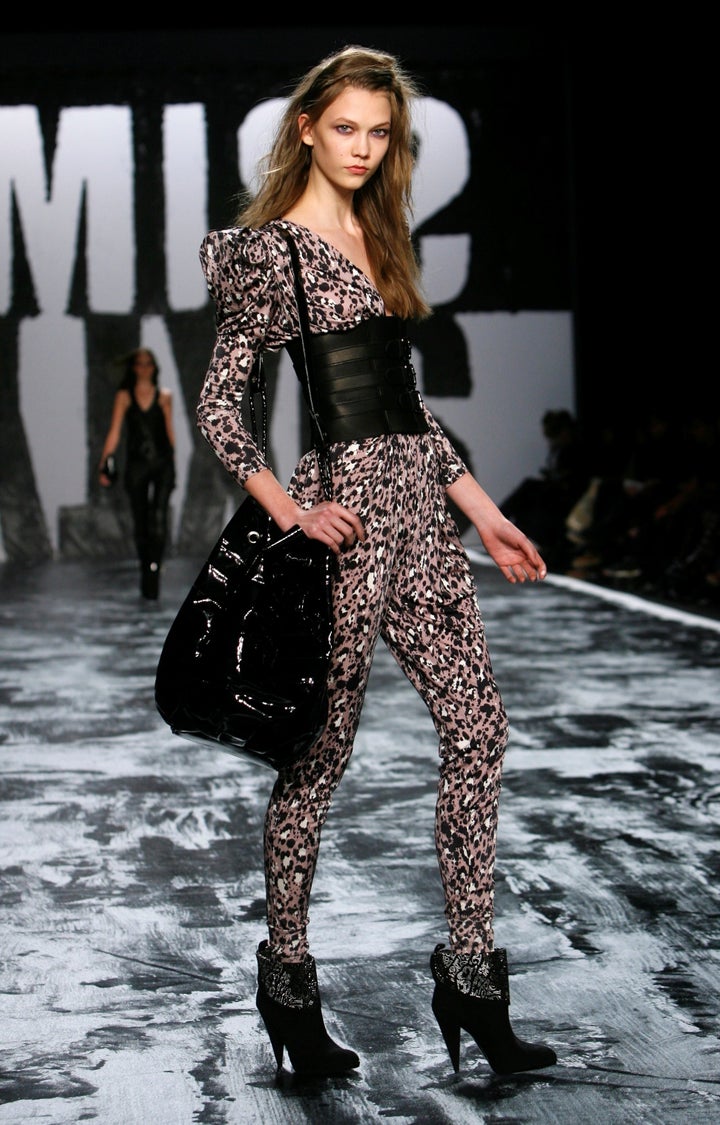 Question: How does one dress for the last dance on the Titanic? That seems to be the metaphorical question that's being played out on runways all over New York for its biannual Fashion Week. How will we dress for fall? This when the economy is tanking faster than you can say Thakoon Panichgal? Wht kind of clothes do you show in a noble, but mildly delusional attempt to get women to actually go in a store and buy something?
Well, you start by getting them to look and act like they can handle things. No frou frou here.
You show strong shoulders, and lots of literal belt tightening, as in the form of cinched waists and lots of black and grey. Tough, we've got to tough it out. And edgy. And in any economy, sex still sells. So we're ending up with lots of edgy, sexy, tough clothes. Like those of downtown wonderboy Alexander Wang... with his many riffs on a motorcycle jacket. Even sweeties like California's Jenni Kane is doing tough black and white and looks with a hard edge. And that elegant creampuff herself, Monique Lhuilier of the knockout wedding dresses and evening gowns,is going edgier, cutout and black.Nicole miller calls it "Harder edges and sexier curves." Some call it "leaner looks for leaner times" Carolina Herrera's ladylike fashions get close to the bone with slim trousers, narrow skirts and fitted waists. But there's dwontown sexy...and then uptown sexy..
And this season nobody has down uptown sexy like Donna Karan. Nobody makes more of draping jersey than our Donna. And here she was at her best. Donna says she "empowers her woman with strength and security" with big bold shoulders and fitted waists. She scored a knockout with sensual stretch jersey tops and lean long skirts. They are brilliant. I may just have to dip into what's left of my 401k to indulge. This is uptown sexy AND TIMELESS!!
While Donna is still and the new Donna, you might say that Thakoon and Jason Wu could both be called the younger, edgier Oscar De La Renta. These young designers are both dressing our New First Lady. And both show a ladylike, classic touch,but younger. This may be the first time the Whitehouse has a downtown vibe. But not so much. Both Jason Wu and Thakoon do classics but with a younger twist. And understandably, both have big turnouts at their shows.Jason Wu was inspired by fantasy, Thakoon more by the classics..but both showed pretty, wearable wardrobe pleasers.
Two brand new designers, both having apprenticed elsewhere caused a stir. Prabal Gurung of Nepal who had wroked at Bill Blass gave us beautiful classics... as did Bibhi Mohapatra a former assistant at J. Mendel.
There is a palpable changing of the guard this year. By having a more adventuresome First Lady, and by the sheer number of new multi ethnic, multinational designers and models on our runways, fashion has come to represent the rainbow democracy that is the very strength of our nation. Hooray!
Oh, and did I mention that big, bold jewelry, dark opaque stockings and boyfriend jackets will be the accessories of the next Fall's season?? To be continued.