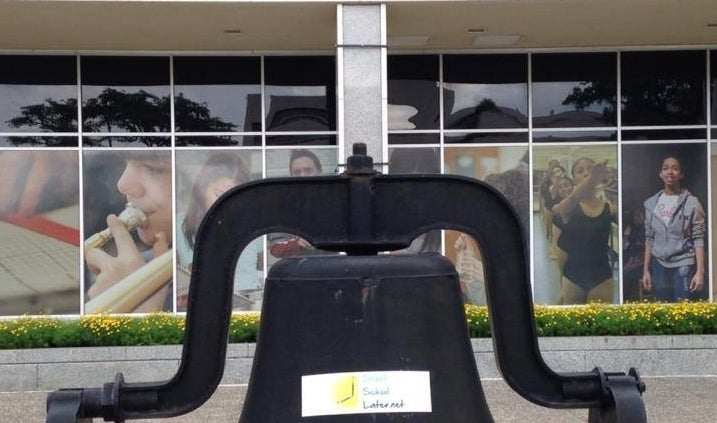 To make sure your teenager can get enough sleep, choose your town carefully. That's the message coming out of a new report from Start School Later Texas, which shows that opening high school bell times in the state's 1000-plus independent school districts range from 6:55 a.m. to 9:35 a.m.
The good news, according to Debbie Owensby Moore, state chapter leader, is that nearly one in 10 (8 percent) of Texas districts start after 8:30 a.m. According to many major health and education organizations, including the American Academy of Pediatrics, American Medical Association, and American Academy of Sleep Medicine, 8:30 a.m. is the earliest class time that gives most teenagers a chance for a good night's sleep.
The bad news, says Moore, is that school start times in Texas are all over the map. "Aldine ISD has the earliest high school start time in Texas, requiring teens to be ready to learn at 6:55 am. The district transportation department reports the first bus pickup is 5:15 AM!," she says.
Adolescents require about nine hours of sleep a night during a time their body is experiencing the most rapid growth since infancy, explains Moore. The delayed sleep cycle that occurs at puberty prevents most teens, even those with perfect sleep hygiene, from falling asleep before 11 p.m.
"So an Aldine high school student, who rides the bus and is unfortunately assigned the first bus stop at 5:15 a.m. gets about five hours of sleep per night," says Moore. "At the end of the week, this teen has a sleep debt of 20 hours!"
It's not just how much sleep teens get either, but when they get it that matters. With their shifted sleep cycle, most teens get their highest quality sleep between about 5 and 8 a.m.—exactly when many schools are asking them to be solving equations.
Hundreds of U.S. schools have restored more reasonable start times that allow for healthy sleep, and many more never moved to extremely early hours in the first place. These schools not only report that more students are getting more sleep, but are seeing large and small benefits to physical and mental health, learning, attendance, graduation rates, car safety, and overall student well-being.
Sleep-Friendly Schools: A Report Card
Getting bell times for the 1,000-plus independent school districts (ISDs) in Texas was a herculean task, says Moore. But with the help of Amy Sitabkhan, an undergraduate research assistant in the Adolescent Health and Development (AHead) Lab at the University of Texas at Austin's Department of Kinesiology, she documented high school starting times in 977 different districts across the state.
Results were eye-opening:
High schools in at least 77 different districts start high school classes after 8:30 a.m.
At least 610 Texas districts (over 60 percent) start high school classes after 8 in the morning.
Pflugerville ISD starts high schools at 9:35 a.m. Dallas high schools start at 9:15 a.m.
Another 367 districts get a grade of "C" or lower on start times, starting classes before 8 a.m. (See chart)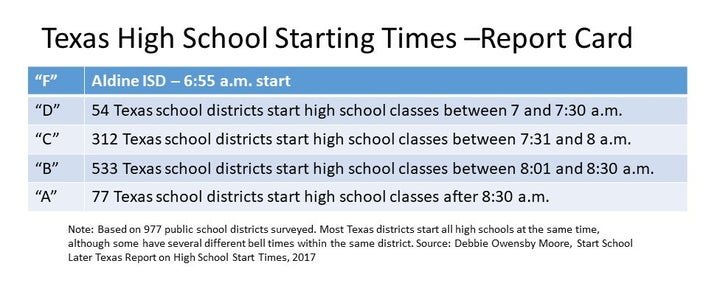 Cypress-Fairbanks ISD, just northwest of Houston in Harris County, has 14 high schools all starting the day at 7:20 AM.
The early start time clusters in Texas requiring students to attend school in the 7 o'clock hour are southern Dallas-Fort Worth and Beaumont, with the largest cluster around Houston.
Closing The Achievement Gap
Moore considers school start times to be an equity as well as a public health issue, especially given new studies linking later high school start times to increased attendance. "Connect the dots," she says. "State funding provided to Texas school districts is based on attendance rates. The Barbara Bush Literacy Foundation reports that increasing average daily attendance by just 1 percent within the Houston ISD would increase state funding by 22.3 million."
Nationally ranked high schools in Texas, where disadvantaged students excel beyond the state average, start the day after 8:30 a.m., says Moore. Three Texas high schools have ranked in the top ten of The U.S. News & World Report high school national rankings for several years:
#4 School for the Talented and Gifted, Dallas ISD, start time 9:15 a.m.
#8 Carnegie Vanguard High School, Houston ISD, start time 9:00 a.m.
#9 School for Science and Engineering, Dallas ISD, start time 9:15 a.m.
Moore cited studies showing that while later start times boost school performance across the board, students from disadvantaged backgrounds benefit twice as much in terms of grades and test scores. According to the Texas Education Agency, 60 percent of the Texas students are economically disadvantaged.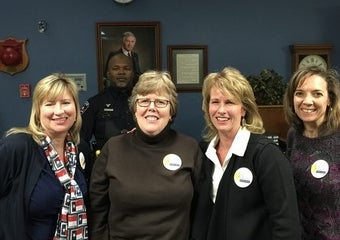 Mandating Sleep Deprivation?
The 77 Texas districts starting classes at 8:30 a.m. or later are proof that schools can run classes at sleep-friendly times. So how to get the rest of the state on board?
Moore thinks the answer may be legislative parameters that would create the political will that some districts need to make healthy school hours a top priority. "Several states are considering legislative action to address the sleep deprivation of teens," she notes. "It is time for Texas to set daily start-time parameters for our children. No child should have to walk, ride, or wait at bus stops in predawn hours. Nine hundred Texas school districts obviously need guidance."
A simple stateside limit on how early schools could require teenagers to be in class would be completely in keeping with current educational practices, she adds, explaining that the state already requires the number of minutes students complete in an academic year and the week in August the academic year must begin. Specific schedules are set at the local level, but statewide limits ensure basic standards of health and learning.
"Shouldn't Texans care if 92 percent of our districts mandate adolescent sleep deprivation?," she says. "Deprivation affecting the health, safety, equity, and academic achievement of our adolescents? If not, it is time to re-evaluate our priorities."
Support HuffPost
The Stakes Have Never Been Higher
Related
Popular in the Community