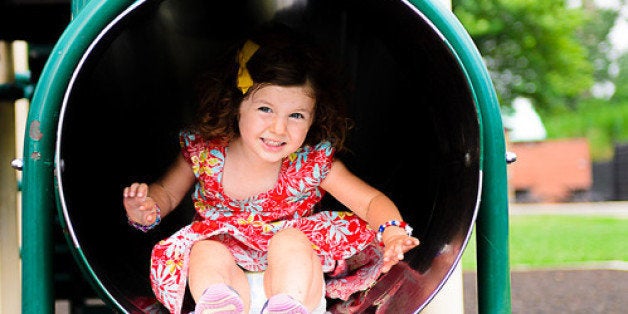 Your child may be in diapers for a few years, so learning how to pack a diaper bag is a skill best learned early on.
When it comes to life with little ones, getting out of the house can be a sanity-saver. But, in order for an outing to go well, it's important to strike the right balance between having everything you need on-hand without being weighed down. It's also important to have a stream-lined system for packing a diaper bag so that you can leave the house in just a few minutes rather than spending a half-hour or more checking to make sure you have everything you need.
Packing can be generally divided into three categories: What Mom needs, what baby needs that can stay in the bag and what needs to be replenished regularly.
• Much of what went in your purse before baby goes in the diaper bag. Remember to pack your wallet, keys and phone!
• After finding myself out with a sleeping baby one time too many, I've discovered the value of keeping a good book on hand. So as not to fill a bag with bulk, I love traveling with a Kindle Fire HD packed in my diaper bag at all times. As a bonus, I can use my tablet as a camera and to check my email without draining my phone battery.
• Snacks for you! Life with a baby can be exhausting. It helps to keep some water and a healthy, energizing snack on hand to keep you going.
• Changing pad -- You will never fail to need a changing pad when you go out. Keep one in the bag at all times.
• Toy - unless your baby has a truly special item he loves, it's perfectly fine to keep one or two items in the bag that only come out during outings. Good choices are those that are small, yet can be played with multiple ways so they don't get boring. I love the Green Toys Twist Teether, since it's safe for baby and can be used as a teether, rattle and has lots of textures for baby to explore. Other great options are a Baby Whoozit that has a rattle, squeaker and more in a small package and the Peek Squeak Monkey by The Manhattan Toy Company that has a rattle, rings, crinkles and a mirror.
• Book - Even little babies love looking at books and it's great to keep one on-hand to share with baby or let older babies flip through themselves. Abrams Appleseed produces consistently great children's books. Books small enough to fit into diaper bags are Hippopposites, Dig In! or anything from the Thingy Thing series.
• If you are nursing, pack a nursing cover, such as those from Bebe Au Lait, if your baby will stand for it. You won't need the extra privacy at home, so leave it in the bag.
• Babies sleep a lot. Or, sometimes they fuss a lot if they can't fall asleep while out and about. Zoe B's Organic On the Go Sleepy Hat is an adorable way to help your little one get some shut-eye wherever needed. This lightweight hat can help outings go more smoothly with its flap that folds down to cover baby's eyes to help him fall and stay asleep.
• A blanket is always good to have on-hand for all kinds of reasons. You can use one to keep baby warm, keep baby clean when you have to put him down, use as a resting spot for your little one, use to cover up a stroller or use as a nursing cover in a pinch. A lightweight blanket, such one from aden + anais, is not just adorable, but can easily fold to fit in a diaper bag.
• It's not surprising that your diaper bag will see a lot of diapers and wipes. A good rule of thumb is to pack a diaper for every hour or two you expect to be out depending on the age of your baby. It's also a good idea to keep a reusable wipes case close to full, since you will find yourself using wipes for all sorts of reasons other than wiping baby's bottom.
• Speaking of diapers, it's a good idea to always keep some hand sanitizer handy.
• If you are using bottles or your baby is eating solids, repack any supplies you will need. Be sure to also have a clean spoon and bib if you will need those as well! B. Box makes super-cute travel bibs that fold up into their own pockets, making sure any messes are contained and do not spread to the rest of the diaper bag. As a bonus, they also come with coordinating spoons that fit inside the pocket and away from anything you want to keep clean.
• A change of clothes will likely be needed for newborns and then again during potty-training. Plain clothes or items from a coordinating line, such as Finn + Emma organics, are a good choice.
• Along with a change of clothes, keep a reusable bag on-hand to store dirty clothes, pacis, etc. Planetwise has a great variety of bags in many styles, including the versatile wet/dry bag that can be used to house any clean clothes not needed while keeping dirty (and possibly) items segregated.
• There may be some items you find that you only use seasonally, such as sunscreen in the summer or lotions in the winter. Look for natural brands, such as Earth Mama or aden + anais that work just as well for babes as for Moms. You will want to check not just that you have these when you need them but also that they do not linger in your bag when the season is over.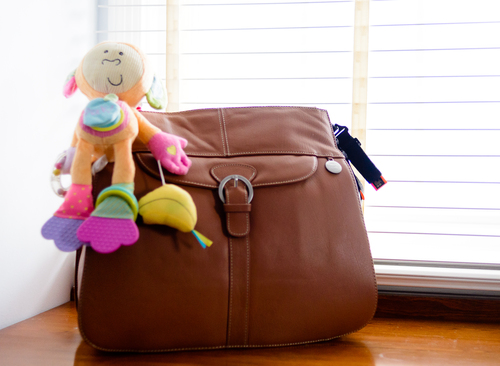 A perfect diaper bag, like this one from Paca Pod, will look like the purses you carried before kids yet be able to handle anything your little one needs and withstand spills
Making a smart choice upfront about what kind of bag you will love carrying (possibly every day for two or three years) will help you stay on-track for the long haul. For that reason, I consider a diaper bag an investment-worthy item. Choose a bag that:
• Fits the style of purse you are used to carrying pre-baby to make sure your diaper bag is one you want to have with you.
• Has lots of pockets and compartments, making it easy to stay organized, even when you are sleep-deprived and harried from too much to do.
• An easy-to-clean interior that will withstand some drippy bottles, dirty spoons and messy clothes.
• A "mommy pocket" where you can keep your few essentials (keys, wallet, phone, tablet, etc.) easily accessible and away from potential messes.
Going on my fourth baby, I chose the PacaPod Coromandel that looks like a purse, has tons of space and has a cool pod system that was not available when my other kids were younger. The pods are fully removable so you can take them out if you need overflow space in the rear of the bag and that you can easily grab just the feeding or changing pod when needed bringing organization to a new level.
Getting out with a baby doesn't have to be hard and it doesn't have to take all day! A little planning up front goes a long way.