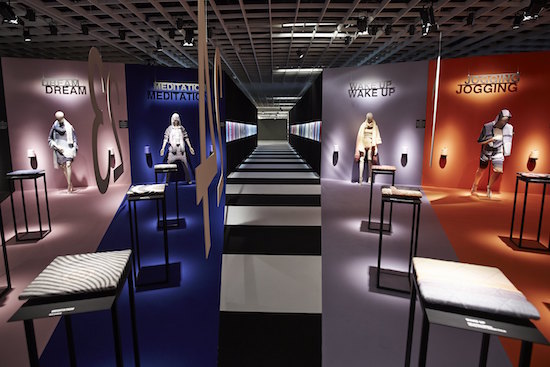 At times it is important to get back to the basics. While understanding the heart of the matter of politics, religion and even humanity seems challenging at this very moment, getting to what is at the core of fashion was as easy at traveling to Florence for me. In this magical place, laden with all kinds of opportunities, I found the essence of all trends: thread. And in the process I discovered just how trends come to be.
We may not think much about what makes up ninety percept of what we wear. It's a simple, seemingly endless spool of fiber -- be it wool, nylon or cotton to name a few -- that, once put together by master tailors and designers, can become a garment of possibilities. My own relationship with fashion has as much to do with comfort and ease of wearability as it does with how an outfit looks. So being inside the Pitti Filati fashion fair in Florence, wandering around surrounded by cashmeres, silks and the likes, clarified that instinctual connection I have with my favorite pieces of clothing.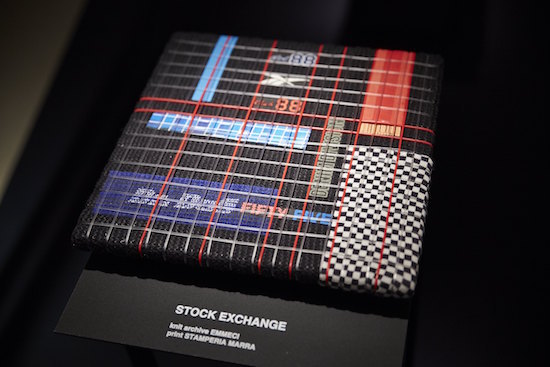 While ready-to-wear collections are shown a year before, to the season -- for example, what is on the runways now will be in stores in time for the Spring/Summer seasons of 2017 -- trends in thread, yarns are shown a year and a half before they are turned into looks that are finally in stores. Because now is when designers and fashion offices decide what to utilize once they begin working on the collections that will be shown come next January 2017, for their winter collections in stores in 2018. See how that all works? Predicting colors, textures and weight this far in advance had always seemed to me like some kind of hocus pocus alchemy experiment. Yet, now that I get how it works, it's all making a lot of sense. The secret to all fashion is held together by a thread. Literally.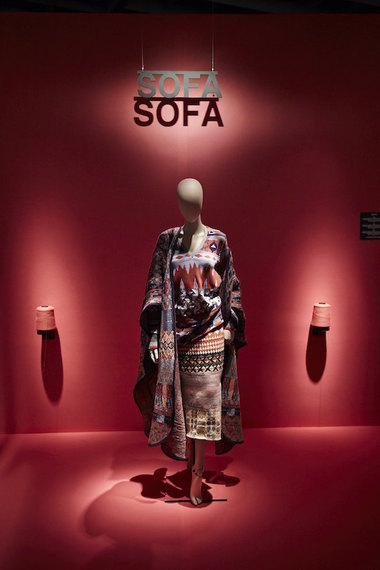 So, it turns out, fashion isn't as much of a guessing game as we think. Designers have specific color pallets and moods suggested to them by the manufacturers of the materials they use for their collections. It's why one year everyone has a purple story, and another, for example, light blue is the color of the season. Move over Pantone, because Pitti Filati has the colorations, trends and combinations all thought out for what we'll be wearing in the fall/winter season 2017-18. It was presented in their fashion research lab, with the theme "Twenty-four Hours in Knit" under the artistic direction of designer Angelo Figus and Nicola Miller. And you know what, from the examples, the models I saw, I can't wait for next winter -- a whole year and a half from now.
While visiting the 24H lab, I ran into the wonderful Angelo Figus. I'm a huge fan and couldn't contain my enthusiasm. Here is a designer who has really done it all, and continues to care deeply about the art of fashion and design. He's made beautiful shoes, designed spaces, worked on theater productions, styled runway shows and editorials, and yet, when I met him he was "removing fuzz from the clothing." Yes, I quote him, master designer and visionary, Figus was making sure the Pitti Filati design lab creations didn't have unwanted pills.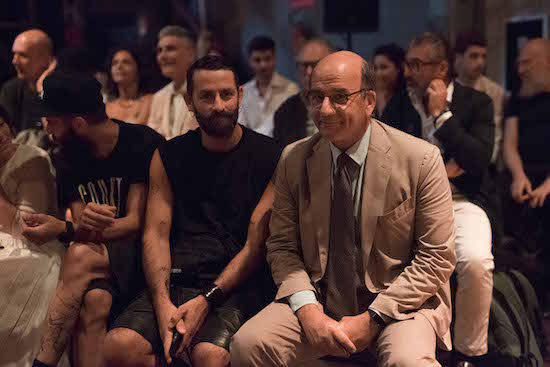 Designer Marcelo Burlon, left, with Raffaello Napoleone, right, Chief Executive of Pitti Immagine at Sansovino 6
Figus took the time to explain that their briefing for this edition of the Pitti Filati Lab was "we must provide material for the imagination and stimulate dreams." The word dream is always present in my own vocabulary when I describe fashion, film, culture and even my beloved Florence. If that corny quote holds true, "a dream is a wish your heart makes" then my heart is filled with wishes of couture and trendsetting shoes.
Figus continued that, "this [Pitti Filati] is not a fair where a single, univocal idea of style must come out, because the inspiration, the dream, the research and the imagination must work for, and I make an example, for Benetton as for Balenciaga; it must be cross-sectional, not bound to one style." Figus has been responsible for this across-the-board vision that ends up influencing fashion around the world since 2004, when the first edition of the Pitti Filati Fashion Lab was called, appropriately, "Supermarket Of Styles -- Supermarket Off Styles".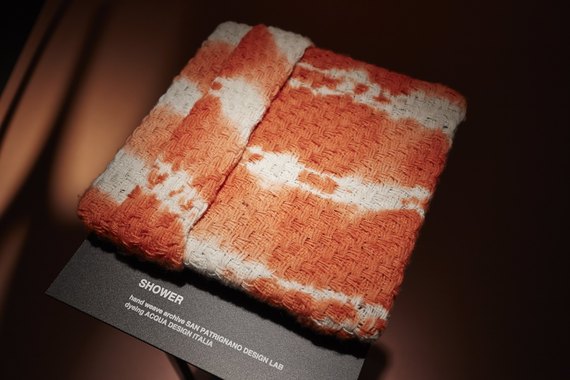 Among the standouts for me, as far as actual producers of groundbreaking yarns this year, were Filpucci, with their 'Re.Verso' recycled cashmere. Well, again I'm oversimplifying a process and a material that are much more luxurious and complicated. This incredibly thick, soft and luscious cashmere is the first of its kind, engineered and made of pre-consumer leftovers, fully traceable and from materials made in Italy, of course! This season they've also added Baby Camel, made in the same eco-friendly way.
Millefili was another brand that had me at "hello", with a stand featuring their name made up of blue and yellow pencils, a work of art, and all kinds of goodies to be collected inside it. My favorite, a box of bubble wrap, for use in case of stress. The box didn't come in too handy of course, because Pitti Filati was more dreamy for me than chaotic, but I still will hold on to my present for the upcoming days... And the materials on display at Millefili were simply fantastic.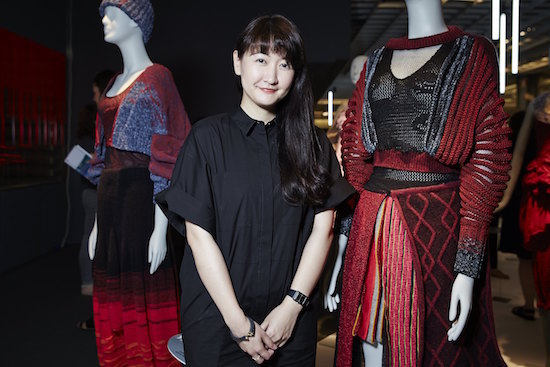 Those wandering around the lower floor of the Fortezza da Basso, where the fashion fair was held, couldn't help but fall in love with the designs that made up the 'Feel the Yarn 2016' display. In its seventh year, the initiative pairs 26 fashion students, from 13 international design schools, with 22 Italian yarn mills coordinated by the Consorzio Promozione Filati, to create groundbreaking fashion looks. This year's theme: 'KNITt(in)g TIME' and this year's winner, Wang Yanjun from BIFT-- the Beijing Institute of Fashion Technology, with yarn provided by Toscano. A special prize was awarded by Salvatore Ferragamo to Yan Wen, student of the Polimoda in Florence, who worked with Pecci Filati materials. My own personal favorites were the outfits by Nai-Chi Liu (pictured above with her designs) who studies at the Bunka Fashion College in Japan. I found her looks haunting and deeply rooted in ethnicity, which I find always so humanly fashionable.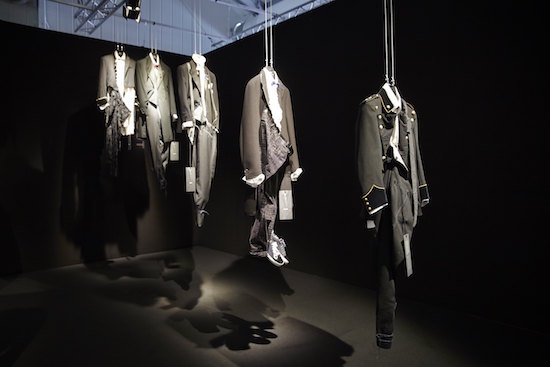 And for those who enjoy their "exit through the gift shop" experience as much as I do, there was even a vintage fashion fair within the fair, the Vintage Selection 28, where one could buy anything from Chanel costume jewels to original US army jackets. I found some beautiful Roberta di Camerino sunglasses in a light tortoise brown -- am now kicking myself for not buying them from Punti di Vista -- and did walk away with a light blue, full sleeved, very Eighties Beltrami shirt in silk and lace from Street Doing, a vintage couture shop based in Florence.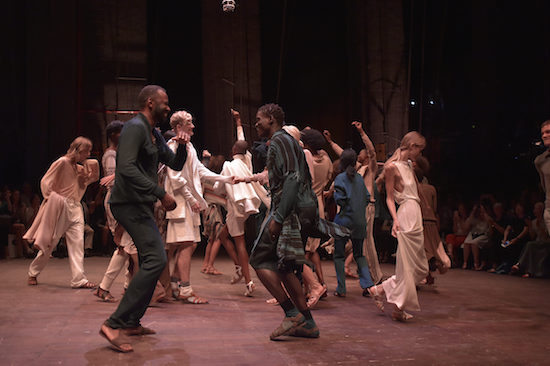 At the end of this new adventure that was Pitti Filati for me, I watched a fashion presentation inside the Teatro Pergola, where, as a child, I performed my dance recital. A place filled with memories, still possessing the light and scents I remembered, I thought nothing could outdo the space itself. And yet Sansovino 6 and the brand's Ohio-born wonderfully charming designer Edward Buchanan did! With a fashion show bearing the theme 'Here Comes the Sun' Buchanan channeled the energy of the beautiful Nina Simone, in all her courage and might, but also her sex appeal.
With a finale that felt part Hair, part Rent and all style, Sansovino 6 conquered my heart.
Until next year Pitti Filati. You've taught me what the essence of fashion is and I'll keep wanting to come back for more.
All images courtesy of Pitti Immagine, used with permission.