UNHCR together with other humanitarian and development agencies in Iraq launched an appeal this week (26/1) seeking $298m to assist refugees in the country and reinforce their resilience for the coming year.
There are an estimated 250,000 Syrian refugees living in Iraq - the vast majority staying in the Kurdistan Region of Iraq (KR-I). Some 94,500 refugees live in ten camps directly supported by UNHCR; but the majority live outside camps and can face great hardship during winter. Caroline Gluck has met some families in Sulaymaniyah province, KR-I, where temperatures this week dropped to below zero, who have benefitted from extra winter help from UNHCR, including heating and cash assistance.
Winter is an especially difficult time in Sulaymaniyah province and other high-elevation areas of northern Iraq. Temperatures can regularly drop to below zero and it often snows.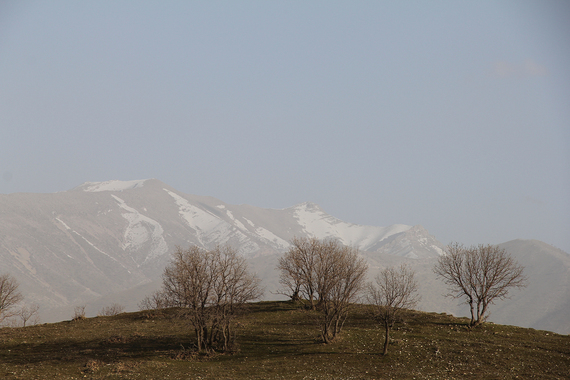 Snow-covered mountains, Sulaymaniyah
Farhad Mohmmed Ali, 26, wife Samira Mala, 25 and three young children live in one room in Sitak - a high-elevation area, popular with local visitors in the summer. The house owner allows them to stay rent-free but the room leaks and is cold. "We really need more help; blankets, mattresses, stoves, anything to make life better," said Farhad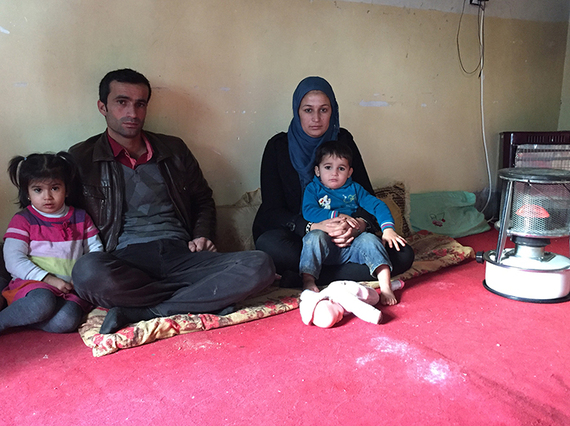 Farhad and his family
37 year-old mother of three, Adla Omar Osi, says every day brings new worries. "Our biggest need is cash. We need money to pay the rent, electricity, kerosene and food. We haven't paid the rent for the last four months", she confided. "We have absolutely no cash in the house. My husband wants to borrow more money, but I'm telling him no! We're so much in debt - how can we pay it all back?"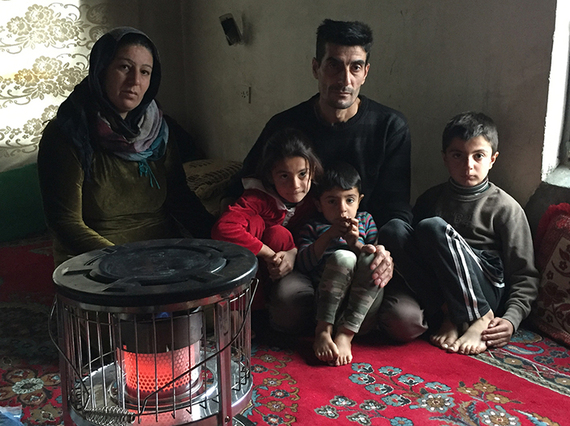 Adla and her family
Widower and mother-of-three, 37 year old Amina Mohammed Sadiq, dreads winter. Water drips from the ceiling of the corrugated iron roof and its bitingly cold at night, as they have to turn off their kerosene heater. "The children are always getting colds and flu. Its freezing cold here and my youngest has been sick four times last month"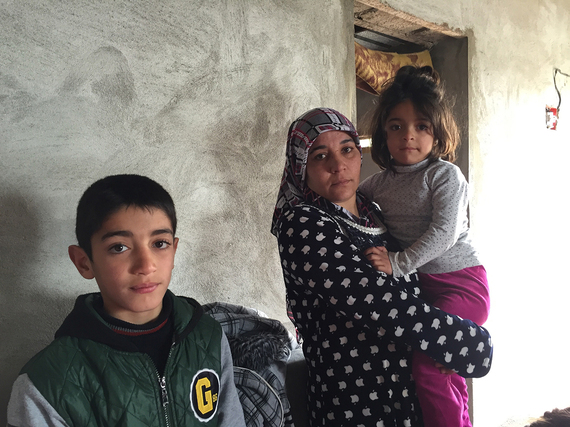 Mother, Amina, dreads winter
Father of four, Mustafa Hamo Mughary, has lived in this tent in Arbat refugee camp since October 2014. He used to work in a timber yard in Syria, but has been unable to work after an accident left him with serious leg injures.
"We used to live in a very good house in Kobane, Syria", he said. "Here it is very cold and the children are always getting sick. Sometimes its so cold, we cant sleep at night".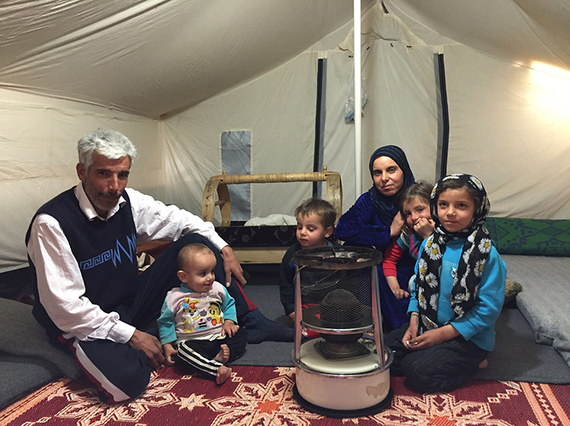 Mustafa and his family in Arbat refugee camp
Also in Arbat refugee camp, 68 year old widower, Aasiya Yousef Hussain lives alone in her tent. She's scared to use a kerosene heater, instead relying on an electric heater. When it gets too cold, and the electricity cuts out, she visits her neighbour, who has built a small concrete house, to get warm.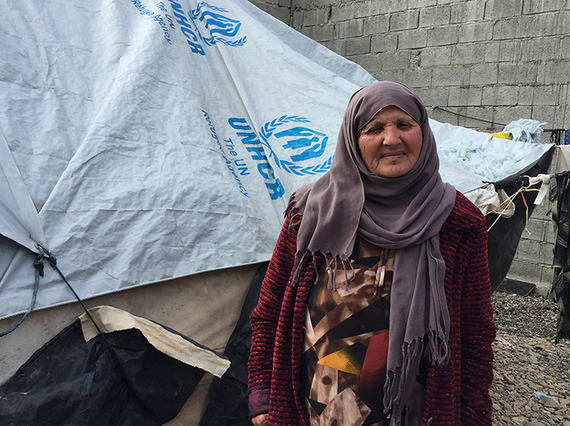 Widower, Aasiya, finds it hard on her own
17 year old Rima Absulsalam gave birth to two year old Mizgin two days ago.
They've been staying in bed, wrapped up in blankets to keep warm. "It's difficult to live here", said her husband, Ahmed, 25. "I haven't got work for the last few months and we're in debt
I owe around $1000 as we have borrowed money for food and diapers."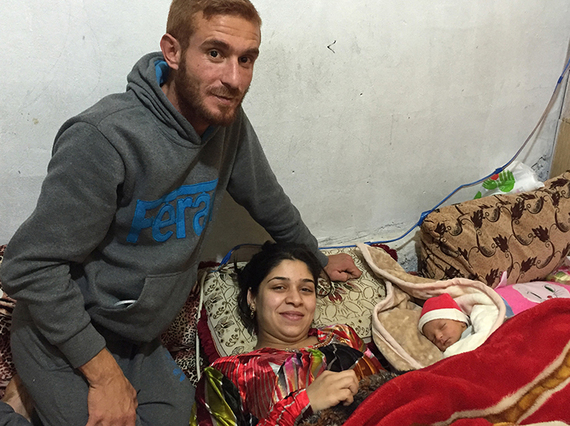 A young family have to deal with the cold
Sharing the same house in Bainjan town, Bazyan sub-district, are Ahmed's sister, mother of four, Khairia Ibrahim, 26, and her husband, Hogir Abdul-fareed, 28.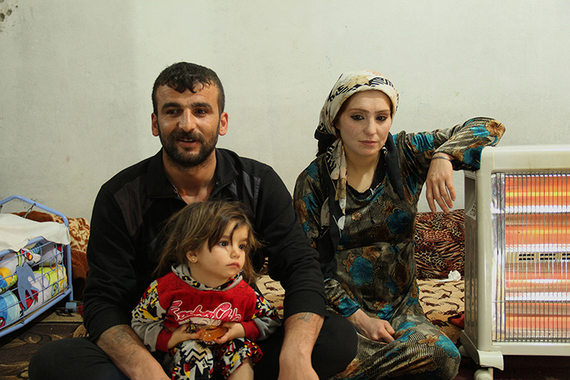 Hogir and Khairia
"It's very cold here", said Khairia, who gave birth to a baby son a week ago. Often, we get sick because of the cold. It's much, much colder than where we lived in Syria...I would say its ten degrees colder . I often have to go to the clinic with the children, who've got sick. I try to stop them going outside, to stop them getting ill"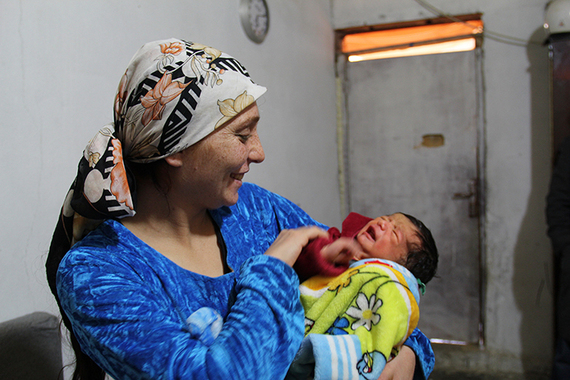 Khairia and her baby
Follow us for regular updates: Twitter @UNHCRIraq Facebook : www.facebook.com/UNHCRinIraq www.unhcr.org.uk
Calling all HuffPost superfans!
Sign up for membership to become a founding member and help shape HuffPost's next chapter