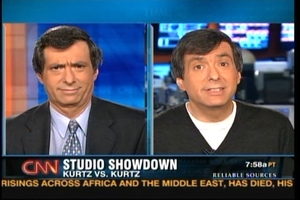 To paraphase A.J. Liebling, it's less of a challenge to get play on a TV show when you happen to be the host. Hence this Sunday's edition of "Reliable Sources" wherein Howie Kurtz devoted not one but two segments to his new book on the network news wars, Reality Show, or, I Know So Much About The Big Three Anchors It's Like I Was In Their Minds!* First he invited media critics David Folkenflik, Gail Shister and Frank Sesno to grill him on the book — which, in all fairness, falls squarely within his mandate on "Reliable Sources" and definitely merited exploration, and this seemed a nice way to handle it. Then, to close the program, he interviewed...himself, in a segment that was more than a little hokey but goofily endearing (if not exactly hard-hitting). Kurtz loses points for shamelessly sucking up airtime to shill for his book after not only being interviewed but also showing a number of clips of himself on other shows, but gains them back for stepping out of the comfort zone and taking a risk on doing something that will no doubt invite sneers from the sneering class (they're sharpening their knives right now, no doubt). But — he loses another point for being a wimpy interviewer and not answering his own question about who his favorite anchor is, though he gains a point for telling himself off for bringing it all back to Katie's looks (for which a point was deducted for asking it in the first place! Grrr.). Also, he appears to have only one sweater. We're not sure that helps him break even, but also, we'd bet he doesn't care — as Dan Rather once said, it's all about the airtime, and in that regard Kurtz more than comes out ahead.
REAL LIFE. REAL NEWS. REAL VOICES.
Help us tell more of the stories that matter from voices that too often remain unheard.