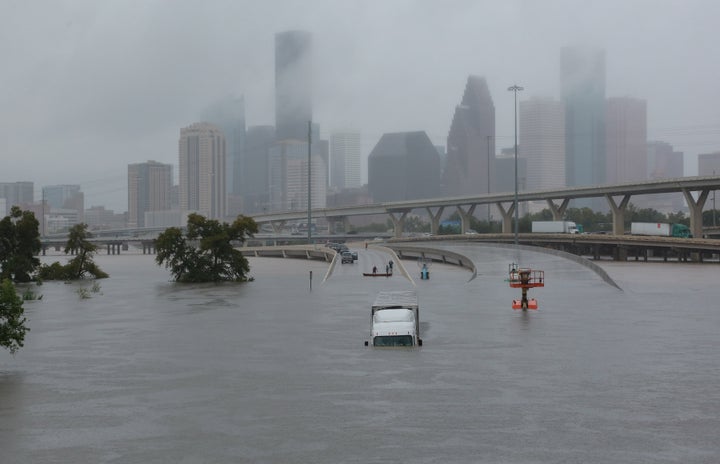 Sikhs come together when their community is in need, such as times like these ― of flooding, lost homes and other devastation ― when assistance is needed to help the people impacted by Hurricane Harvey.
In Sikhi, we are taught that in times of need, when volunteering and aid is needed in our community, we must come together and put in our full efforts to help others, with no discrimination of race, caste, creed or religion. In the Guru Granth Sahib, it says, ਸੇਵਾ ਕਰਤ ਹੋਇ ਨਿਹਕਾਮੀ ॥ ਤਿਸ ਕਉ ਹੋਤ ਪਰਾਪਤਿ ਸੁਆਮੀ ॥, which translates to, "One who performs selfless service without the thought of reward shall attain his lord and master."  
After the devastation caused by Hurricane Harvey, the sangat of Sikh National Center came together to organize a way to help those impacted. Along with the people of the sangat at Sikh National, the residents of Houston ― as well as sangats and individuals from other cities and states ― have come in to help out Sikh National Center to help aid Harvey relief. The sangat of SNC and others intend to help out however long it takes for Houston and its people to reach full recovery.
Some ways the sangat is helping out is by donating thousands of items to shelters and individual families in need of them; volunteering to come in to do miscellaneous tasks, like preparing meals to deliver to shelters or handing out meals at locations in need of them; inventory of all the donations; placing new donations in correct spots; helping to unload donations; set up shelter for those in need of it; delivering food and donations to other locations, etc.
When it comes to doing seva ― and gathering all the things that are needed to help carry out this act ― it wouldn't be possible without the abundant amount of help from Sikh sangats internationally. Houston sangat has received donations and aid through these hard times from San Antonio, Texas; Dallas, Texas; Fresno, California; Sacramento, California; Georgia; Seattle, Washington; Toronto, Ontario; and Vancouver, British Columbia. India also offered to help, as well.
Sikh National Center and the sangat have been preparing 1-2 meals daily to be taken to shelters, churches and to those in need. Around 1,000+ meals are made and served every day, and they plan to contribute these efforts throughout the whole process of restoration after Hurricane Harvey. These meals are served and donations are taken to people in need in Houston, Texas and also in other cities and towns, such as Baytown, Texas; League City, Texas; Corpus Christi, Texas; and Rockport, Texas.
Overall, help is being provided in any way that can benefit the community.
The Houston Sikh sangat and the Sikh sangat internationally intend to aid those in need until full recovery is reached in Houston, Texas. If anyone or any place is in need of aid, the Sikh National Center and the Sikh sangat of Houston will provide help in any way that is needed. In our Gurus' teaching, we are taught to do seva ― selfless service to those in need of it ― and to help out our community in times like these by coming together as one.
REAL LIFE. REAL NEWS. REAL VOICES.
Help us tell more of the stories that matter from voices that too often remain unheard.