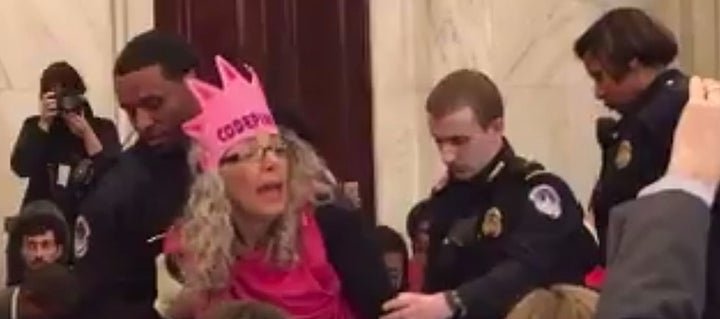 Jurors on the case against Desiree Fairooz—a protestor who laughed out loud during a Senate hearing on Jeff Sessions' Attorney General appointment, when Senator Richard Shelby (R-Ala.) said Sessions had an "extensive record of treating all Americans equally under the law," and then demanded to know why she was being physically removed and arrested—apparently felt forced to find her guilty. Some of them said it was not the laughter, although Justice Department attorneys believed the laughter was enough to justify a criminal charge, but the disruption after the laughter that forced their hands.
It's a slippery slope away from our civil rights when jurors are forced to deliberate on laws that should be challenged rather than enforced. What's next? If you fart out loud, you get 5 to 10?
And, it looks like laws about public conduct are being used in a discriminatory way. Not everyone is being held to the same standard. Remember South Carolina Representative Joe Wilson, Sr. who yelled, "You lie!" at President Obama in a joint session of Congress? His outburst was considered "disrespectful" and he got off with an apology.
In fact, these days, everyone should be laughing and challenging the obvious hypocrisy and alternative facts presented to us daily by the Trump Administration and members of Congress. Laughter is a great way to help people realize how absurd the situation is when officials lie with impunity. We have short memories. We should think back to the Chicago 7 and how satire and mockery were powerful tools used to sway public opinion in 1968.
We the people should not tolerate this kind of abuse of power. So, let's, at every opportunity, scoff, mock, satirize and laugh, so that unthinking people might start thinking. The First Amendment does not give you the right to slander someone, and sometimes it's not effective to disregard civility, but challenges must be made and people have to find ways to speak out. Let's do it in a more creative way so as not to be sucked up into the legal loop and drained of time and resources.
I suspect this protestor was unaware of the potential legal ramifications of her actions. Not that being aware would (or should) have stopped her. I think she was brave to do what she did. However, had she been aware, or perhaps more thoughtful about her plans, she might have come up with a more creative way to protest given the circumstances. It's always necessary to ask, "Do my actions have a chance of being effective or will they be alienating and dismissed?" Had she stopped at the laughter, she might have made a greater case in the court of public opinion.
We can't let false truths become the official record. Lies should be revealed and challenged at every opportunity. It's the system allowing them to continue unfettered that must be changed.
Support HuffPost
The Stakes Have Never Been Higher
Related
Popular in the Community