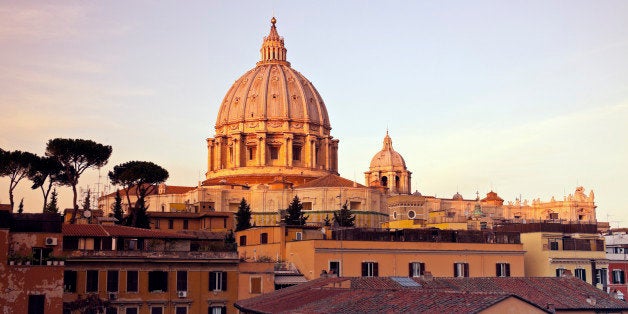 As a college graduation gift from my boyfriend's parents, I got to fulfill a dream I've had for a long time: I got to take a trip to Rome, Italy, to see some of the myriad beautiful and historic things contained in the Eternal City.
One day, my boyfriend and I visited St Peter's Basilica, which many consider to be the heart of Christendom. I was utterly awestruck by the beauty and grandeur of the edifice, and couldn't help but feel very small in the enormous structure. As I am quite religious, though my boyfriend is not, we did a bit of our ordinary routine when visiting churches. He, as an avid photographer, spends some time taking pictures and seeing the church as an artist, and I go around to all the various side altars, praying, translating inscriptions, lighting candles, and meditating on the various paintings and sculptures which people have created to decorate the space.
At St Peter's, we walked in through the Porta Santa, the Holy Door, open for the Jubilee Year of Mercy declared by Pope Francis. We entered, and then almost immediately, there is a side chapel reserved for prayer: The Chapel of the Most Blessed Sacrament. I entered, genuflected, and settled into one of the pews, kneeling before a consecrated wafer of bread, displayed in a golden stand called a monstrance. Now, I am not a Roman Catholic, and I do not believe the doctrine of transubstantiation as laid out by St Thomas Aquinas, who said that, as a result of a priest's consecration, the actual substance of bread is transformed into the body, blood, soul, and divinity of Christ, though the external accidents, or physical features of the bread, remain. As an Anglo-Catholic-leaning Episcopalian, however, I do believe that Jesus is truly present in the consecrated elements, though I do not try to explain the mechanism by which this is true; I embrace the Mystery involved.
Kneeling, then, before the Real Presence of Christ in consecrated bread, I began to pray. As less than a week had passed since the horrific violence against mostly Latinx queer and trans people at the Pulse nightclub in Orlando, my mind went quickly there. Being a queer man in a country whose language and culture were not my own, so soon after my fellow LGBT+ were gunned down by a madman in a space they perceived as safe, my sense of alert was certainly heightened in Rome, a place I was certainly not familiar with. I prayed for the repose of the souls of those who lost their lives in the tragedy, and for comfort and peace for their families. I prayed for those injured in mind, body, and spirit, that they will find relief, hope, and healing.
I then thought of the institutions which made such violence possible, and prayed for them, too. I prayed for an end to war, hate, and terror in all parts of the world. I prayed that marginalized people, whether because of socioeconomic status, race, religion, gender identity, sexuality, or any of the other artificial barriers we place between ourselves and the "other," would be allowed to have their voices heard. I prayed that I, as a white, cisgender man, will help where I can, and know when it is time (as it often is) for me to sit down, shut up, and listen and let other voices be heard. I prayed that our lawmakers in the United States would finally stand up and pass some of the legislation which is so desperately needed to curb gun violence, though I have already been disappointed on that front, even since my visit to St Peter's.
I prayed that the Church, Catholic and otherwise, will begin to take seriously the vital contributions of women and LGBT+ individuals, and see how they are so important to the life and mission of God's kingdom. I prayed that ministry and membership would be fully opened to the people on the margins, and that the next generations will have, as Laverne Cox so perfectly puts it, "possibility models" in the Church. I want little Black girls to have strong Black women priests and bishops as role models. I want trans Latinx people to have trans Latinx presiders in positions to inspire the youth of the Church to think, "That could be me someday." Continue that thought through every possible combination of identities, and we will finally have a true picture of what the Body of Christ looks like.
As I began to contemplate the damage my faith has done to people, I felt a few tears begin to stream down my face. Far too many people have been injured or harmed, or driven to injury or harm because they are told that God doesn't love them or that they are too lost for God to want them. This is NOT what Christianity is about.
I ended my prayer by thinking about my hope for the future. Despite the tragedies and failings of Christianity in the past, I remain optimistic about the good which can still be done. I think of the potential of my faith to help the sick find healing, the broken find wholeness, sinners like myself find forgiveness, make untouchables touchable, and welcome all to God's table and into God's fellowship. I prayed that all Christians, including and especially myself, will become more Christlike every day.
As the Invitation to Communion from one of the Iona Community's liturgies says,
So, come, you who have much faith, and you who have little, you who have been here often and you who have not been here for a long time, you who have tried to follow and you who have failed. Come, not because I invite you: it is God, and it is God's will that you who want God should meet God here.

May we, and the Church, always remember that it is our mission to invite, not to forbid. To love and to show love, not to judge or to deny. Jesus did it; we should try to do the same.
Calling all HuffPost superfans!
Sign up for membership to become a founding member and help shape HuffPost's next chapter