A weekly blog intended to share and preserve the most valued life lessons from the minds of the most experienced among us. The "hour late" represents the later stages of life. I will be speaking with people in their 70s and older, to find out what they think is important and worth passing on to future generations.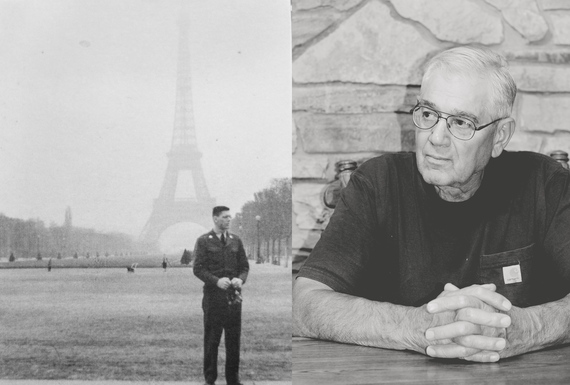 Name: Pete Ondrus
Born: 1933. Chicago, Illinois
Roles: Father, Grandfather, Great Grandfather, Husband, Korean War Veteran, Farmer, Local Politician
Pete is the son of Bohemian and Hungarian immigrants. He attended Michigan State Agricultural College until getting drafted into the Army in May of 1953. Upon being honorably discharged, he took over his father's dairy farm and grew it into one of the largest single family owned dairy farms in the state of Michigan. In 2000, he and his wife founded the cow-racing event "The Udder Race", formed the Mid-Michigan Cow Racing Association, and World Wide Cow Racing Association. They are in the Guinness Book of World Records for starting the first official cow racing association, and for having the world's fastest cow.
I asked Pete what he thought was an important lesson that was worth passing on to younger generations, this is what he said,
"I got into it with my daughter, Barb, the other day. She goes on and on about one of her own daughters, Paige. So I asked her if she ever takes time to talk to her youngest, Natasha. She talks about Paige all the time, but does she ever really take the time to appreciate Natasha? I personally got into a situation like Barbs' when our grand daughter, Annie, was here the other day. We were all doting on our youngest grand daughter, Khloie, in front of Annie. So I got up and gave Annie a big hug, and I told her that she was one of our grand-babies, and that we love and are proud of her too."
It is always amazing to me how far a little genuine appreciation goes.
Pete is my grandfather. He has always had a way with complimenting individuals on their strengths. He is a master of subtly building people up through words of admiration and gestures of appreciation. We don't always realize how big of an impact a few sincere words can have on the life of a person. I'm aware that I have daily opportunities to compliment someone and most of the time I convince myself that it isn't necessary. In reality, that brief moment could be what gets someone through their day. It could also allow them to appreciate the beneficial gesture of a compliment and begin to do that for others.
The next opportunity you get, let someone know that they are appreciated.
REAL LIFE. REAL NEWS. REAL VOICES.
Help us tell more of the stories that matter from voices that too often remain unheard.