We've entered the home stretch before COP21 -- the major UN summit to be held in Paris this November and December, where the world's governments intend to agree a legally binding action plan to tackle climate change.
Negotiations have dragged on for years. Many recall the disappointment of COP15, in Copenhagen, in December 2009. But this year, hope is on the rise again, and leaders are talking about reaching an ambitious deal.
As they should be: COP21 is one of our last chances to act, before climate change becomes irreversible. If we fail, our generation's legacy could become one of abiding injustice, to the voiceless of today and tomorrow.
But as a transparency expert from Kenya, I know that a deal in Paris is not the end-all: it is only the beginning.
The real challenge will come afterward, when governments will be required to implement a raft of solution to reduce their carbon emissions and prepare for climate impacts.
These solutions require ethical leadership and suitable levels of finance.
As such, they share common enemies: corruption, lack of accountability and lack of transparency.
One Word Missing From The Climate Conversation: Transparency
For a start, the majority of the countries most vulnerable to climate change are also most vulnerable to corruption: think of Bangladesh, or the Maldives. My country, Kenya, ranks a worrying 145 out of 175 on Transparency International's Corruption Perceptions Index.
I had the opportunity to attend the latest round of climate negotiations in Bonn last month. Beyond the rhetoric of ambition that you are likely to hear from diplomats in the lead-up to COP21, it is crucial that we take a long hard look at the current state of the negotiating text, to see where greater transparency is still needed.
In Bonn, there was a clear mismatch between the support expressed by rich countries for climate finance in theory versus their actual commitments. Several times, the U.S. tried to soften the negotiating text to make rich countries' finance commitments less binding.
Furthermore, developing countries asked for specifics on how rich countries plan to contribute the $100 billion/year they have pledged to mobilise by 2020. But we still don't know: there is no clear roadmap on how the target will be achieved.
Rich countries should do more than talk the talk, and be transparent about how the $100 billion target can now be met.
How will we know if climate finance is being properly spent?
Will anyone independently monitor whether countries are reducing their carbon emissions as much as they say they are?
On both counts, transparency will be an essential part of the agreement -- but we still lack the necessary language in the negotiating text to answer those questions.
We Need To Get Ready For A Post-COP21 World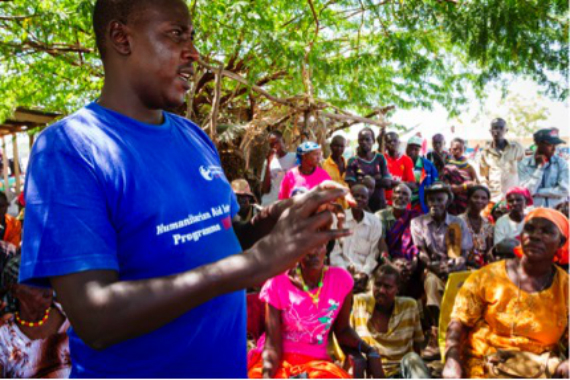 Corruption is a challenge in Kenya, and threatens our response to climate change -- but by delivering workshops (pictured above) to the public or government officials, we can make sure a climate agreement doesn't run into problems on the ground.
Photo credit: Transparency International
In my mind, there are three components to this: the first is to make progress on the issues I described above. Secondly, there should be a clear work plan for the 2015-2020 period, so delegates do not lose momentum after COP21. To our knowledge, no such work plan exists so far.
And while negotiators focus on the first two, there is a third aspect which civil society actors like me -- and my organisation, Transparency International Kenya -- can make their own: we need to forge relations of trust with our own governments to prepare for a post-COP21 world.
For example, we have been working with the Kenyan government on drafting a forthcoming Climate Change Bill, and developed a close collaboration with the government's National Environment Management Authority (NEMA).
NEMA will play a vital role in Kenya's response to climate change, particularly in shaping climate finance. It is the national contact and 'implementing entity' for the World Bank's Adaptation Fund and is seeking accreditation from the Green Climate Fund -- the new UN body expected to dispense much of the planned $100 billion a year.
Since first making contact with NEMA, we delivered several workshops to their staff on anti-corruption and transparency policies. We are now working together to create robust anti-corruption measures for climate finance: as the envelop of public funds is expected to grow fast, it is never too early to take precautions to ensure that every dollar, pound or shilling goes where it should.
In other words, we are helping our government get ready to deal with the practicalities that will follow the vision laid out by diplomats in Paris, which will need to face up to scrutiny on the ground immediately.
In the end, it will be up to citizens, like you and me, to make sure that a climate agreement is acted upon and respected. This climate agreement belongs to everyone -- so everyone must pitch in to make it work.
Calling all HuffPost superfans!
Sign up for membership to become a founding member and help shape HuffPost's next chapter