1. The Vision!
It all starts with "living life in a very authentic way," says Bill Tai, over our conversation at his law firm's conference room in the San Francisco peninsula where we discussed his viewpoint, just in time before he headed off to Sir Richard Branson's private paradise, Necker Island, in the British Virgin Isles (BVI), for the Extreme Tech Challenge XTC finals on Friday, 6 February.
I'd heard so much about the incredible magnetic effect Bill Tai has on everything he touches. He has found a way to be a venture capitalist, an avid kitesurfer with a social mission that goes beyond Burning Man's moop (matter out of place) that leaves no trace behind.
Bill's devoted to MaiTai Global's mission, captured in a phrase coined by his co-founder Susi Mai, to take it a step further than leaving no trace. It intends to leave each place they gather better off than before they came, "to leave behind a positive impact, not a nothing effect." For instance, having its community fund research efforts such as shark tagging BVI while kiting the BVI's, fueling the preservation of important wildlife such as birds of prey by funding organizations like Earthwings, while MaiTai snowkiting Utah, or building a school wing at Mariposas Montessori after kiting Cabarete Dominican Republic. With more to come at the end of this year in collaboration with the eminent Ocean Elders to drive more broadly based support of organizations committed to the preservation of the ocean and its ecosystems.
He lights up and is totally at ease when talking about his community, its very interesting members, the companies they create and the causes they fuel and fund -- but he is extremely private about talking about himself to the point of being shy. Many of the MaiTai community members say everyone knows him and loves him, but only Susi really knows him because he never talks about himself to anyone. What I was able to learn in our discussion is that he is drawn to new approaches to everyday problems that he feels are innovative and efficient. When first asked to introduce himself in front of a large MaiTai gathering with Sir Richard, all he could say was, "I am Bill Tai, and I am lucky, and that's probably all you need to know," before he sat down. As long as he is talking about something he is interested in, be it kiteboarding, a new technology, or a cause, he is completely at ease, talking, sharing in his amazingly self-aware, luminous, compelling way.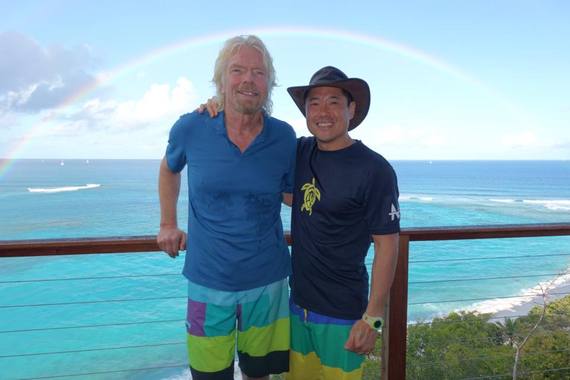 Sir Richard Branson and Bill Tai on Necker! Photo courtesy of XTC.
He's a natural at living the life he wants to and explains, "I find it hard to work on stuff I don't find exciting... Other people like to be part of it." Hence, the effect of a treasure chest of startups sprouting out of his and athlete wonder partner Susi Mai's, cocktail synonymous MaiTai, potent blend of business and pleasure. It's ingenious, positively infectious and very new establishment. Extraordinary things happen when you bring together extraordinary entrepreneurs with a similar ethos is core to Bill Tai's philosophy, "they are always smart, passionate, interesting and fun people," who have generated over $7 billion of market value in the past several years, out of an adrenaline sports-like driven fusion of passion for tech business, investing and of course, surfing on kites, be it against warm winds over the sea or over cold peaks in the snow!
2. From MaiTai to Extreme Tech Challenge!
The overall startup industry is roughly valued at $1 trillion according to Silicon Valley venture capitalists -- that's no small feat, and that is enough to create a magnetic effect. There's been an extreme shift in culture since 1991, when Bill first started as a professional investor he expands on the reasons why. He has a very logical framework for the evolution of the VC business industry, which he lays out in his presentation, next big wave of internet investment. We're moving towards the fifth wave, all about the Internet of Things and Big Data, which is very much where Bill is presently at with Treasure Data. What is the Bill Tai approach in this playing field? As our unstructured conversation continued, I started to see a pattern emerging. When you connect the dots you can see the big picture of his vision -- it's quite simple. Being engaged in every way, building the relationships occurs naturally, testing the product in the wild becomes the perfect launch pad. The new type of entrepreneur, like Zuckerberg, is young and all that goes with youth today, "finding enrichment through experience is a very natural fit," for what he's doing.
Eric Setton, cofounder of mobile app Tango, is precisely the result of this. After teaching him how to kite, Bill was impressed with both his deep technical background as well as his demonstrated ability to learn in real time on the water and offered, "if you ever start a company, count me in." Three years later, Eric took him up on his kind proposal and Bill offered to seed fund him on the spot. Lucky for him, Tango is now valued at $1.5 billion based on Venture Beat. He recognizes "smart, flexible entrepreneurs, willing to take calculated risks to navigate multi-variant environments," possibly before they even know it themselves.
Whatever you call him, the mastermind behind MaiTai Global, which has yielded epic results, or the visionary behind XTC, the largest international startup competition, which recently reached its grand finale, he has fused tech businesses meeting up through adrenalin sports to form a thriving community, all creating extreme impact through his community -- not only financially, but also philanthropically.
Diving deeper, I was curious to find out what the nuts and bolts were, how did it all happen? And what is Bill Tai's sweet spot? How does he stay inspired? It turns out the effect is contagious and he gets inspired, "Every time an entrepreneur reaches their vision. Chances to try more things. It's more fun to see others in the community hit it -- a new trick on the water, achieving a goal in their startup!"
Bill Tai is a genius who functions like an orchestra conductor. Able to weave together diverse people with a variety of strengths, bring out their greatest gifts. He has surrounded himself with gems. There are two amazing people that are central to MaiTai Global and XTC, they are Susi Mai and Kym McNicholas, both super femmes in their on respective rights:
Susi Mai, cofounder of MaiTai Global and XTC, has made a phenomenal difference. She personifies her kitesurfer legacy, with the psychology it takes to take big risks and understand extreme entrepreneurship -- energizing the community she's helped create, with her gift to bring everyone together.
Kym McNicholas, and Emmy award-winning journalist is XTC's brilliant, multi-talented Executive Director. Her business-tech knowledge is no short of legendary, with over twenty years covering the Silicon Valley. And Kym's athletic passion is waterskiing. I got to see her grace the delta with her signature backward-ski moves last September. It was when she was busy reviewing nearly 2000 applicants from over 100 countries around the world for XTC, which she painstakingly whittled down to twenty-five. She then went on to host, produce and MC the Semi Finals in CES in Vegas last month, and was instrumental in last Friday's XTC finals too.
3. Hitting it With Bill Tai's 2015 Wish List!
Initially, I wanted to kick off this story about living in this Bold New World, where we are hit with a deluge of extreme tech at such an accelerated pace. Something along the lines of, what's the social impact and how does it enhance our lives? I thought he would be a stellar example. I was somewhat surprised to hear that Bill himself doesn't identify with being bold, more analytical. Despite the contradiction, I had to cull through and find something else. Given it's still early in the year, I thought I would follow the inspiration trail and find out what Bill wants for 2015 -- hitting us with his wish list:
Business wish: I want all my companies to hit it -- perform to their best potential.
Environment wish: I'd like to marshal the energy, resources and community to really do good.
Personal wish: I want to get more consistent with a proper kite-loop.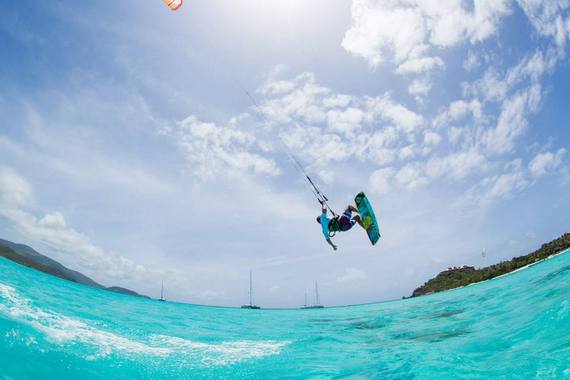 "To the truly engaged, work and play are one and the same." -- Bill Tai
He continued adding more about freedom and the ability to harness power in 3D, and he'd also like to learn gliding. At that point our time was up -- we could've kept talking about the Ocean Elders or getting comfortable while snow-kiting and loads more. Also, how the three Extreme Tech Challenge finalists, Breathometer, Doctor on Demand, and Wanderu, were going to pitch in front of an all-star panel of judges including Sir Richard Branson, the ultimate entrepreneur, adventurer, and CEO of the Virgin Group; Lars Rasmussen, Head of Facebook Search, Inventor of Google Maps; Veronica Serra, founding partner of Pacific Investments and Innova Capital Fund; James Lindenbaum, founder of Heroku and now also HeavyBit Industries; and of course, the inspiration and co-founder, his truly, Bill Tai. He kept me in the loop every step of the way, sharing in his generous open way the phenomenal XTC finals at MaiTai Necker. From the stories and pictures, it truly delivered as the idyllic setting for the largest international startup competition! As for the outcomes you might be wondering as I was. It seems that everyone's a winner! There was a tie for first place, two companies had 131 points (Breathometer and Doctor on Demand), and there was a third -- Wanderu, which Sir Richard offered to invest in.
I am very much looking forward to the next exciting wave of extreme impact. It is beyond exciting -- they are changing the lives of everyday people, in things we do not yet know!
Calling all HuffPost superfans!
Sign up for membership to become a founding member and help shape HuffPost's next chapter