On the anniversary of Rosa Parks' historic act of civil disobedience, when her refusal to move from her seat on December 1, 1955 sparked the Montgomery bus boycott and triggered the rise of the Civil Rights Movement, 81-year-old veteran and anti-mountaintop removal activist Roland Micklem was arrested by law enforcement authorities during his open-ended fast at the West Virginia state capitol in Charleston.
The bizarre charge: Failure to appear at an Oct. 13 summons that never arrived at his place of residency.
The Orwellian turns of events in the Appalachian coalfield uprising continue to pile up with increasingly bizarre twists. Consider these latest events:
An elderly war veteran is arrested during a quiet fast, mourning the destruction of mountaintop removal, while millions of pounds of explosives openly rip across the Appalachians in violation of mining and Clean Water Act laws.
Local West Virginia citizens are arrested in their own State Capitol and Department of Environmental Protection, while out-of-state coal companies are courted by West Virginia Governor Joe Manchin in a closed-door meeting.
Obama officials traveled to West Virginia to select the Christmas Tree for the White House, and yet no top level Obama official has ever visited a mountaintop removal operation where millions of trees have literally been clear cut and burned in mountaintop removal operations in Appalachia.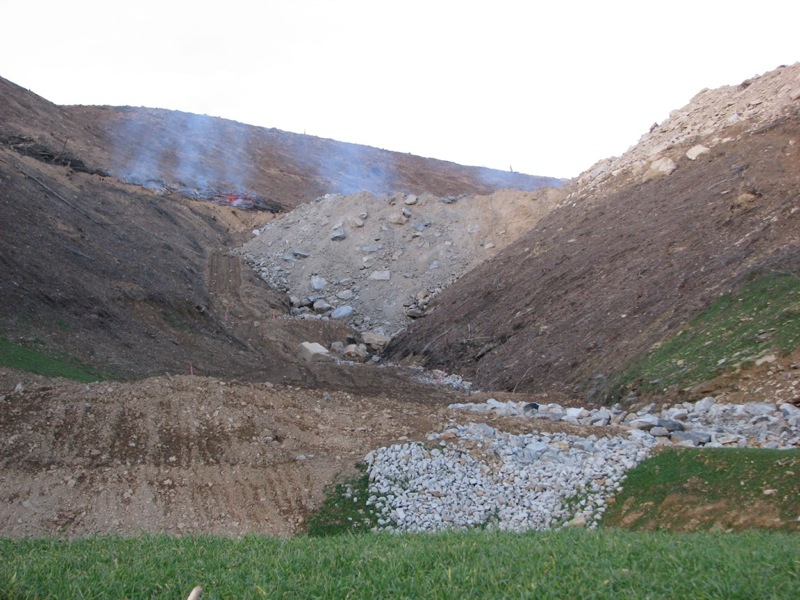 (Photo credit: Vivian Stockman, OHVEC)
Nonviolent protesters are arrested for "littering" at mountaintop removal sites and toxic coal slurry impoundments that have literally wiped out thousands of acres of hardwood forests, blown up mountain ranges, and poisoned the area waterways.
More nonviolent coalfield residents and protesters are arrested for "trespassing," while three million pounds of ammonium nitrate fuel oil explosives every day have led to forced relocations of American citizens, and the dangerous nightmare of blasting, fly rock and silica dust storms from mountaintop removal operations.
According to reports by the Climate Ground Zero campaign yesterday, "Roland Micklem was arrested this morning for failing to appear in court for allegedly trespassing on Walker CAT property during the Senior Citizen's March to End Mountaintop Removal. Micklem claims he never recieved a notice to appear, and he claims he never enter any marked 'No Trespassing' areas nor was he asked to leave while on Walker CAT property. His arresting officer, Chief D.B. Cox, mentioned other outstanding warrants but did not name those implicated. Micklem was released on his own personal recognizance and has returned to the State Capital."
Micklem is a true American hero; he has been arrested at the Massey Energy regional headquarters, and led a senior citizens march against mountaintop removal.
Here's an interview with Roland Micklem about his fast:
Micklem also released a letter:

For a former naturalist whose interest in and concern for the natural world has spanned over half a century, the loss of so many once common and beloved species has been traumatic and depressing, depressing to an extent that has resulted in a loss of enthusiasm for a field of study that had stoked my fires in bygone years.

My boyhood haunts, where I came to know the grosbeaks, warblers, and other once abundant members of the creature kingdom have been converted to shopping malls and housing tracts. A fisheries researcher would be hard put to collect more than two or three minnow species from the same waters that yielded twenty or more in my student years. The proliferation of motorized traffic in eastern Virginia--only one of many examples of how so-called progress has impoverished our lives-has all but decimated the populations of box turtles, snakes, and other creatures that have not learned to look both ways before crossing the highways. Air, soil, and water pollution, along with other forms of environmental degradation, have robbed us of our natural heritage and birthright, namely the infinite variety of life forms that once flew through our skies, swam in our waters, and enriched our space with their beauty, their voices, and their strange and fascinating ways.

In the year 2009, I am, and have been for several years, an environmental activist.

I have exchanged my academic interest in the world of nature for a commitment to see that some of it is left for succeeding generations to study and enjoy. My sorrow over the changes that self aggrandizing humanity has wrought have resulted in my decision to fast, and I will do so, as indicated in my statement, in a very public place before those with the power to bring about needed reform.

But I'm not without hope. I'm inspired and energized by the young people here at Climate Ground Zero, who at great personal risk are carrying on a campaign to stop mountaintop removal by nonviolent direct action. Despite the awesome challenge of climate change and other threats to the global ecology, there's a new awakening among people and a renewed commitment to save Mother Earth from the excesses of our own species.

I'd like to be a part of this commitment.
On December 7th, the opening day of the Copenhagen Climate Summit, citizens from across the coalfields and the country will converge on the embarrassing WV Department of Environmental Protection to call for an end to mountaintop removal on the historic Coal River Mountain. While providing less than 8 percent of our national production of coal, mountaintop removal mining has destroyed over 500 mountains, 1.2 million acres of hardwood forests, and jammed an estimated 2,000 miles of streams with mining waste.
For more information, see: savecoalrivermountain.org/
Until the crime of mountaintop removal is abolished, heroes like Roland Micklem, among many, need your support.
Popular in the Community