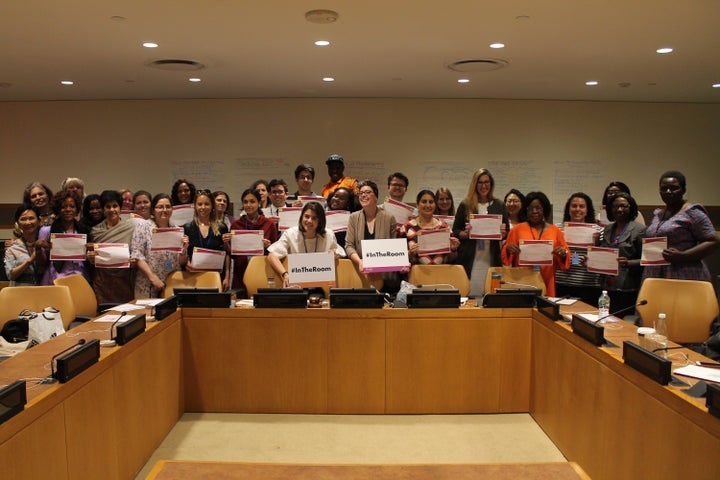 By Emily Bove, Executive Director of Women Thrive Alliance and Mónica de Pinto Ribeiro Hancke, Advocacy Manager at Women Thrive Alliance
It's a well-known strategy: in the name of security, a group of individuals or organizations, are kept out of a process, a location, or in this case, the United Nations' General Assembly (UNGA). The key group in this particular scenario? Non-governmental organizations, also known as NGOs. Last week, NGOs received information that their access to U.N. grounds during the upcoming General Assembly (September 12-24) would be more restricted than usual because of "security" reasons. The announcement cited the large number of government officials in town for the event and the subsequent need for increased security considerations.
And while we can all rally around the need to ensure our collective safety during high-level events, NGOs are clearly being left out of the "collective" side of things. On the official U.N. website, the message is clear: "the United Nations Headquarters will be accessible to United Nations staff and Member State delegations only..." and "annual ground passes of NGOs in consultative status with ECOSOC will not be sufficient to enter UN premises in New York" between September 15-24.
So where does that leave us as NGOs and women's rights advocates in particular?
First of all, it blatantly shows that our status ― as official as it may be ― doesn't carry much weight. Organizations with "consultative status with ECOSOC" means they have gone through the elusive yet much sought-after accreditation to gain almost unlimited year round access to U.N. grounds. This current restriction means that NGOs who have rightfully applied and obtained ECOSOC accreditation will not be able to exercise their right to do so. Rather, they will be required to obtain additional "special passes" given out on a first-come, first-serve basis on the day of each event.
Let us be clear; this is not just about the logistics of getting in and out of the United Nations. Advocating for women's rights and gender equality at the U.N. level is a complex game of networking, one-on-one meetings, being present during key discussions (even if one does not intervene), and yes, walking the corridors and sitting in the cafés at the U.N. to catch a delegate or a member of a permanent mission. Our participation and work aren't just informative; they are pro-active and reactive. And when we are physically left out of these spaces, we simply cannot do our work efficiently.
Second, this announcement adds on to a long list of restrictions and institutional deadlocks that advocates, civil society members, and NGOs have been experiencing within U.N. spaces for a while. Advocates and civil society organizations have experienced decades of frustrating logistical nightmares when it comes to access and participation in U.N. events and conferences, especially for those of us in the women's rights and gender equality space. Whether it's the long hours hundreds of women spend each year queuing outside to be able to obtain their passes for the Commission on the Status of Women (last year, in a snow storm) or the limited space for participants at events, we are used to having to master persistence and patience to be able to meaningfully participate in U.N. events. There have also been some indications that the ECOSOC accreditation process might not be as fair and transparent as it should be, straining the already fragile trust relationship between civil society and the U.N. body in charge of their participation.
But it's also important to remember that shrinking civic space, be it at the U.N. or elsewhere, is a gendered phenomenon. In the past years, women's rights advocates have denounced new patterns within U.N. procedures and events that reinforce the global trend of backlash against their agenda and rights. In March this year, U.N. Major Groups (civil society's formal channel to participate in high-level discussions), including the Women's Major Group, were informed that their position papers would no longer be printed or translated for Member State delegations, only emailed. In July, NGOs with ECOSOC status were surprised to hear they were no longer allowed access the second floor of the U.N. headquarters. While at face value these changes and restrictions may seem minimal, they are felt as targeted micro-aggressions that reinforce the same message: civil society, and women's rights advocates, in particular, can be U.N. stakeholders as long as they remain on the sidelines.
It is alarming that these restrictions are increasing under the leadership of a U.N. Secretary General who himself has championed the contributions of civil society in U.N. processes. While anyone can rationally understand the need to tighten up security for all (NGO representatives included) during important events like the General Assembly, advocates will not be fooled into thinking that their exclusion this September is for the greater good. NGOs deserve a seat at the table. As a Russian women's rights advocate once said: "When they shut the door, we come in through the window."
Calling all HuffPost superfans!
Sign up for membership to become a founding member and help shape HuffPost's next chapter